TS5, Surtees TS5 and Garner TS5; Surtees TS5A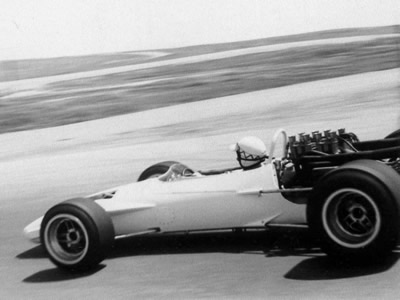 Late in 1968, Roger Nathan announced that he would be entering the new Formula 5000 with a Len Terry designed car. Terry started the design but the project soon changed hands as James Garner's AIR team needed a car for US Formula A and did a deal with John Surtees' fledgling operation to take over and manufacture the Nathan-Terry project.
According to John Surtees autobiography, he originally just acted as an agent between Len Terry and James Garner. Just five cars were to be built with two to be run by Team Surtees in the 1969 UK series and two by Garner in the US series. Garner, with partners John Crean and Don Rabbit, had struck a deal with AMC to provide engines.
The first four cars were built at Len Terry's Design Auto workshops in Poole with later cars being built at Surtees' base at Slough and then at the team's new premises at Edenbridge in Kent.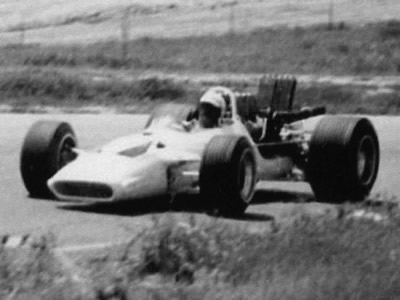 The car was rechristened the TS5 presumably for Terry-Surtees-5000, with the planned US cars being called Garner TS5. A prototype was tested in England by AIR driver Scooter Patrick during the winter and at the end of March 1969, Garner announced that his AIR team would be selling their Lola T70 Mark 3s and their new Can-Am Lola T162s to concentrate on the two-car TS5 Formula A team of David Hobbs and Scooter Patrick. However, the engines were behind schedule and when AIR's first two cars arrived, in the middle of March, they had to be fitted with Chevrolet V8s. A four-day test was organised at Riverside 14-18 April with team drivers Patrick and Dave Jordan but both cars suffered suspension failures and Crean decided to terminate the relationship with Surtees and commission Dan Gurney to build Eagles instead. Shortly after this, AMC pulled out and the whole project dissolved.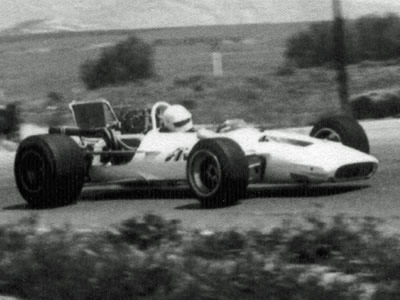 With three or four cars now complete and a fifth on the way, Surtees continued with the project, running a pair of TS5s in the UK and another pair in the US as Team Surtees entries. The car soon became known as the Surtees TS5 and after early successes with the works cars, Surtees put the TS5 into production and soon made his first sale, Mike Goth buying the freshly-completed fifth car. However, only two more were built and the only sales were of second-hand cars in the US. One of these was to Garner who had parted company with AIR in August 1969 and ran a TS5 for Scooter Patrick.
Thanks to Chris Townsend, Dave Jordan, Mark Harmer, Wolfgang Klopfer, Al Moore, Jeremy Jackson, David McKinney, Pete Stowe, Ian Hebblethwaite, Anthony Smith, Eli Solomon, Rob Fischetti, Hamilton Vose III, Todd Hankinson, Franz Guggemos, Chris Novatny, Wouter Melissen, Hugo Becker, Kelly Holtzclaw, D David France, Jim Bandy and Warwick Mortimer. All and any help would be gratefully received. Please email Allen at allen@oldracingcars.com if you can add anything.
Car
History
Current
owner
Surtees TS5
001

This car built by Len Terry (see Motoring News 21 Aug 1969 p12). Team Surtees UK 1969: driven by Andrea de Adamich (R1 - R7) and Taylor (R8 Zandvoort 10 Aug: won; and Oulton Park Gold Cup 16 Aug 1969: 4th). Not seen thereafter but not used as De Adamich went to US. Unlikely to be the de Adamich US car as his first race was only seven days after Oulton Park. More likely that de Adamich used TS5/04 and that TS5/01 was retired at this point. Chassis 001 is then likely to be the car sent to the US for James Garner's Cherokee Racing to run for Scooter Patrick (R10 Lime Rock and R11 St Jovite - crashed). The roll hoop on this car appears different to those on the later cars.

The car was sold by Garner to Harvey Lasiter (Studio City, CA), who had been sharing a McLaren M1A Can-Am car with Doug Hooper (Studio City, CA) for the past two seasons. Raced by Hooper in two Pro events (R4 Laguna Seca 14 Jun 1970 and R12 Mid-Ohio 27 Sep 1970) and by Lasiter in the SCCA National at Riverside 5 Jul 1970. Almost certainly the Surtees driven by Lou Sell (Fullerton, CA) at the SCCA National at Ontario Motor Speedway on 20 Sep 1970.

According to Kelly Holtzclaw, who hung out at Riverside as a kid and remembers waxing this car many times, this same Surtees was driven by Hooper, Ozzie Pohl and Mickey Fowler. He also says that Lou Sell drove the car on several occasions.

So from Lasiter and Hooper it passed to Eric S Pohl (Santa Fe Springs, CA) - also known as Ossie Pohl or Ozzie Pohl - SCCA Regionals 1970: driven by Pohl at the Willow Springs Regional 13 Dec 1970). Also driven by Sell in a National at Riverside 13 Feb 1971 and by Ozzie Pohl in the opening Pro race, at his local Riverside 25 Apr. Pohl crashed at Turn 7A when he turned into Skip Barber and ended upside down. The car was heavily damaged but Holtzclaw reports that it was later repaired and sold to Micky Fowler (Glendale, CA). Raced by Fowler in SCCA Nationals and Regionals in California from April to July 1972. Although he won at least one National, he is missing from the end of season points table. Advertised in Autoweek 19 Aug 1972 and 30 Sep 1972 ("leading So Pac National points").

Bought from Fowler by D. David France (San Anselmo, CA) and used in SCCA Driver's School to obtain his competition licence. As it rained and France had only slick tyres available, it wasn't an ideal choice of car for a novice! It was raced by France in San Francisco Regionals at Sears Point and Laguna Seca in 1973 (first known event being at Sears Point 22 Jul 1973) and then in Regionals and at least one National in the same area in 1974. Sold to his brother John France (San Anselmo, CA) and raced in Nationals at Sears Point, Portland and Laguna Seca in 1976. Used by John France in 1977 and its last known appearance was when he collided with Bob Allen in practice at Sears Point 13 Aug 1978 and ruptured the fuel tank on the Surtees, resulting in a fire that severely damaged the car. D. David recalls that after the crash and fire, John sold the car disassembled but does not know the name of the purchaser.

Subsequent history unknown but Andrew Sleutjes (Westlake Village, CA) bought chassis 001 in 2000. Based on information from John Surtees, Andy identified it as the car "originally sold to James Garner" and "later raced by the France brothers in local SCCA events".

Andy Sleutjes (US) 2003
Surtees TS5
002
Never seen in the UK so presumably AIR for US 1969. If so, it would have been white. An Autoweek (28 Jun 1969 p2) news item, reporting that AIR have switched to Eagles, says that the TS5s "have been returned to Surtees' TS Research and Development shop in England".

---

Possibly the white car used by Taylor at Sebring (US R13 28 Dec 1969).

---

This number used by F1R for the Serrurier-owned, Pretorious-driven Ford-engined TS5 that first raced in South Africa on 30 Mar 1970. Pretorious SA 1970 - Willie Ferguson SA 1971 (two races only; replaced by TS8) - Spencer Shultze SA 1971 (debut Coronation "100" 12 Apr 1971) - Team Wynns? for Jackie Pretorius SA 1972 (debut Coronation "100" 3 Apr 1972) - Nolly Limberis SA 1973 (from R1); SA 1974 (replaced briefly by M10B!); not seen in 1975.

The car was then sold to Phillip Smith and was used once for drag racing. On it's first run Phillip spun the car and hit the Armco barrier backwards, damaging the rear suspension. He then sold the original engine and stored the car in a barn for 27 years! From the beginning I have tried to buy the car from him. In 1990 I left SA to live in the UK. Last year Phillip contacted me to inform me that he had decided not to restore the car and was prepared to sell the car to me. It was in a poor state, but is now in the process of a nut and bolt restoration. It should be finished within the next few weeks. (Anthony Smith email 23 Aug 2004)

Bought in South Africa in 2003 by Anthony Smith and brought to the UK. The restoration was completed early in 2005.

Bought in the UK by Warwick Mortimer (Matakana, New Zealand) in 2009 and raced at Pukekohe, Hampton Downs and Ruapuna over the next four years, as well as in Australia for the 2011 Australian Grand Prix F5000 support race and in the UK at Oulton Park and Brands Hatch in 2011. Retained by Mortimer Aug 2013.

Warwick Mortimer (New Zealand) 2013
Surtees TS5
003
Team Surtees UK 1969: driven by David

Hobbs

. For first two races early April; then presumably to US for Hobbs/TS/Garner (DNS US R1 Riverside). Most likely to have been Hobbs' US car 1969.

---

Team Surtees for David Hobbs US 1969 (from R6 Elkhart Lake 20 Jul): seven races, wins at Donnybrook, St Jovite and Thompson. Then sold to Hamilton Vose III of RACE for the remaining canadian and US races of 1969 (debut Mosport Park Canadian R9 14 Oct 1969; also raced at Sebring US R13 28 Dec 1969). Reports at the time say that RACE bought one or two new TS5As for 1970 but Hamilton Vose recalls only the two ex-works cars. If he is right, this, or its sister ex-de Adamich car would be the one used by Vose in US 1970? If so, the 2-speed automatic at Riverside April 1970 (CP&A 23 May 1970 p5). Crashed at Sears Point June 1970 and sold, still damaged, to Ken Kloster.

Wrecked?
Surtees TS5
004
Team Surtees UK 1969: driven by Trevor

Taylor

at R3 Brands Hatch 11 May (pole but DNS); David Hobbs (R4 Mallory Park 26 May); Taylor (R5 Silverstone 15 Jun); Hobbs (R6 Mondello Park 13 Jul). Then disappears and may have gone to US for Hobbs although his first race in US was R6 Elkhart Lake 20 Jul, just seven days after Mondello Park. More likely the de Adamich car later in the season.

---

Team Surtees for Andrea de Adamich US 1969 (from R9 Mosport Park 23 Aug 1969): four races: best result second place at St Jovite behind Hobbs. Sold to RACE and driven by Rick DeJarld at Sebring in December. Advertised by Richard L. DeJarld (Joliet, Illinois) in March 1970 as "Former De Adamich car, identical to Hobbs' winner, 6 races only". According to Hamilton Vose, he did not buy new TS5As for 1970 so this car would have to be the John Martin "TS5A" in 1970.

Presumably then the complete car sold to Ken Kloster.

Unknown
Surtees TS5
005

Mike Goth US 1969 (four races; debut R6 Elkhart Lake 20 Jul); Tasman 1970 (crewed by Brian Burness and Joey Cavaglieri). Taken in part-exchange by Charlie Hayes for a Lola T190 by May 1970 and advertised by Hayes 23 May 1970. To Fred Phillips (New Orleans, LA) US 1970 (R9 Brainerd 16 Aug). Collided with Ron Grable in practice for R10 Lime Rock 7 Sep 1970 and Philips blamed for accident. Did not start and loaned car to Grable for the race; Grable finished 8th. Advertised by Phillips 30 Jan 1971 ("Late Surtees TS5 ... spares for nearly a complete extra car"). To Chris Cook (Holland, TX) US 1971 (5 races; debut R2 Laguna Seca 2 May 1971); US 1972 (1 race only: R3 Watkins Glen 18 Jun 1972). According to Rob van Westenburg's research, Cook reversed the car into the wall at Elkhart Lake and damaged the left rear. The TS5 was sold to Ron Franklin and his brother on Oklahoma soon after and was traded to John Barker (Denver) 1974 who restored it. To Frank Meyers (Colorado Springs, CO) 1988 - Rob van Westenberg (Morrison, CO) 1995.

Rob van Westenberg still has this car in July 2013.

Rob van Westenberg (USA) 2013
Surtees TS5
006
For Tetsu Ikusawa (DNA at R7 Koksijde 3 August 1969) but deal fell through. Team Surtees UK 1969 for Taylor (R7 Koksijde 3 Aug 1969) and Bell (R8 Zandvoort). Then handed to Team Elite for Taylor late season (R9 Snetterton 1 Sep 1969, R10 Hockenheim where said to be green and white, R11 and R12) - crashed at last race. Later "found to be more badly damaged than at first thought - Autosport 6 Nov 1969 pp22-23. Almost certainly the white car used by Taylor at Sebring (US R13 28 Dec 1969). Presumably sold in US for 1970 season to Sherwood Johnston. (Number given by F1 Register to Alex Blignaut's TS5 driven by Eddie Keizan in South Africa in 1972 but see TS5A/007.)
Unknown
Surtees TS5
007

Team Surtees US 1969: New for David Hobbs at Sebring (US R13 28 Dec 1969). Then Taylor UK 1970. Wrecked at Brands Hatch (AS 7 May 1970 p27) and with a new TS5A nearing completion for Taylor, the TS5 was sold to Robert Fischetti (Redondo Beach, CA): SCCA Nationals late 1970 (first seen winning a SCCA National at Ontario on 20 Sep 1970; 2nd Southern Pacific Division with 8pts); US 1971 (all 8 races plus both USAC Seattle races); US 1972 (DNQ at R1 Laguna Seca 7 May). Wrecked in practice at R2 Watkins Glen 1972.

Surviving parts of the car were used to construct the FA 101 Formula 5000 car that Fischetti raced in 1973.

Wrecked
Of these seven TS5s, it would appear that 001, 003, 004, 005, 007 and probably 006 stayed in the US. The only other car, 002, went to South Africa.
Surtees TS5A
The 1970 development of the TS5, dubbed the TS5A, appears to have only very minor changes. Motoring News (4 Dec 1969 p14) mentions only "revised front and rear suspension, simplified fuel and oil systems, increased braking efficiency, new magnesium steering rack, chassis mods, choice of Hewland LG500, 600 or DG300 gearbox plus many other detail modifications to improve efficiency and maintenance". A bragging war was going on with Trojan, who had stated their intention to build 50 M10Bs (they didn't manage half that) so Surtees said the initial batch of 15 TS5As "will probably be increased" and Autosport, the same week, said that 15 firm orders had been received from the US. Coverage of the TS5A in the UK specialist press was minimal and when it was mentioned in Autosport (4 Dec 1969 p2), there was no picture and Trojan had bought the facing page for a M10B advert. Between seven and ten TS5As appear to have been built.
In December 1969, Hamilton Vose III formed Royal American Competition Enterprises in Chicago and RACE were appointed mid-western importer of the new TS5A. Vose bought both of Team Surtees' 1969 US cars and was said to have three TS5As on order but Vose told the author in 2005 that he did not buy any TS5As. Fred Opert also ordered a car for John Gunn, and Gregg Young ordered a car, but the only other US order came from Mike Goth who traded his for a Lola T190 before it even raced. The only UK customer was Irish Racing Cars for Alan Rollinson.
At the end of the 1971 season, Alex Blignaut did a deal with Team Surtees to buy a pair of old TS5As. These were TS5A/007, the 1970 Hobbs US car used only for a hire deal in 1971, and the ex-Rollinson/Trimmer TS5A/008. Both were fitted with Ford engines for South Africa. With 001 and 009 having been wrecked, all the other surviving TS5As were in the US.
Car
History
Current
owner
Surtees TS5A
001
Team Surtees UK 1970 for

Taylor

and

Hobbs

(Zandvoort, International Trophy, Brands Hatch). Wrecked at Brands Hatch (AS 7 May 1970 p27)
Wrecked
Surtees TS5A
002
May be either the Mike Goth car or the Fred Opert/John Gunn car. However, it is distiunctly possible some of the numbers 002, 003, 004 and 005 were not used for a complete car.
Unknown
Surtees TS5A
003
May be either the Mike Goth car or the Fred Opert/John Gunn car. However, it is distiunctly possible some of the numbers 002, 003, 004 and 005 were not used for a complete car.
Unknown
Surtees TS5A
004
May be either the Mike Goth car or the Fred Opert/John Gunn car. However, it is distiunctly possible some of the numbers 002, 003, 004 and 005 were not used for a complete car.
Unknown
Surtees TS5A
005
May be either the Mike Goth car or the Fred Opert/John Gunn car. However, it is distiunctly possible some of the numbers 002, 003, 004 and 005 were not used for a complete car.
Unknown
Surtees TS5A
006

Gregg Young: entered for John Gunn US 1970 (two late season races, Mid-Ohio 27 Sep 1970 and Sebring 25 Oct 1970); then driven by Nestor Garcia Veiga at the Argentine GP 24 Jan 1971. To Bill Johnson (Kansas City, MO) for Jim Bandy (Grandview, MO) US 1971 (4 races; debut R1 Riverside 25 Apr 1971, entered by Bill Johnson Racing) and called the Spirit of Kansas City; SCCA Nationals (won at Mid-America Raceway 13 Jun and Hutchinson 8 Aug; Midwest Division: 5th with 9pts) then raced by Ron Stafford (Lake Lotawana, MO) SCCA Nationals 1971 (first seen winning FA class at Dallas International Motor Speedway 10 Oct 1971). SCCA Midwest Division: 3rd with 15pts; also 3rd at ARRC in TS5A - Fred Stout (Brentwood/St Louis, MO) US 1975 (failed to start twice). Entered by "J. Bland McCoy, High Ridge, Mo." at Elkhart Lake in 1975. Later 'purchased by unknown but went to England for restoration and racing'.

Unknown
Surtees TS5A
007

Team Surtees for David Hobbs US 1970 (8 races: debut R6 Dallas 5 Jul; won at R10 Lime Rock 7 Sep). Advertised by TS Research as "Hobbs' Continental winning car complete as raced ... at Fred Opert's" in February 1971.Returned to UK and leased by TS to Hervé Bayard UK 1971 (2 races: retired at R15 Oulton Park 18 Sep; 11th at R16 Brands Hatch 26 Sep).Sold to Eddie Keizan December 1971 and converted to Ford engines (the ex JW Mirage units). Prepared and run by Alex Blignaut for for Keizan SA 1972 (debut Killaney 8 Jan 1972); for Nols Niemann SA 1973 (R1 and R2 only; replaced by the TS8) - Peter Haller SA 1973 (from R3 Welkom); SA 1974; not seen in 1975. Later sold to "a chap in Durban", then to Brian Tyler and sold by him to Jon Reakes (UK) first seen in HSCC events 1987 but may have been racing earlier. Raced until 1995 at least (some time between 1987 and 1992, the car's livery changes from blue to red) including Donington Park 19 Jul 1987, Colerne sprint 1991, Donington Park 13 Sep 1992, Mallory Park 23 May 1993, Donington Park 3 Sep 1994 and Castle Combe on 5 Aug 1995. Via Brooks to Peter Kormann (Germany) 1997 - Frank Dennert 1999 - Franz Guggemos (Bavaria, Germany) 2005. Guggemos retained the car until March 2012 when he sold it to Klaus Fiedler (Wald, Switzerland). The car remained dark blue at that point and stayed based near Hockenheim. By 2013, Fiedler had repainted it in Hobbs' 1970 livery. Driven by Fiedler in the 2013 Solitude Revival.

Klaus Fiedler (Switzerland) 2013
Surtees TS5A
008

Irish Racing Cars for Alan

Rollinson

UK 1970 ("New" AS 4 Jun 1970 p4). Note that "TS5/008" is the number given by F1R to car used by Richard Sterne in South Africa in 1972. More likely to have been TS5A/008 (ex Rollinson 1970,

Trimmer

1971). Sold to Eddie Keizan December 1971 as a spare to TS5A/007 and converted to Ford engines (the ex JW Mirage units). Prepared and run by Alex

Blignaut

for Richard

Sterne

SA 1972 (debut Kyalami 3 Jun 1972) - Bob Thomas Racing for Rob

Thomas

SA 1973 (from R1) disappears mid-season; not seen in 1974 or 1975. Subsequent history unknown.
Unknown
Surtees TS5A
009
Trevor

Taylor

brand new car at Mondello 1970 (AS 28 May 1970 p12). Crashed Salzburg 1970 (AS 16 Jul 1970 p48) and written off (AS 30 Jul 1970 p3).
Wrecked
Surtees TS5A
'10'

Sold new to RACE but not used. It would appear that RACE continued to use their ex-works TS5s. This must be the car advertised by Hamilton Vose (Chicago, IL) in Autoweek 15 Apr 1972, described as a 1970 TS5A that "has never been out of our shop". The car then had a Weismann gearbox, indicating that it is the unassembled Surtees that was later owned by Donald Finlayson but again not raced by him. Finlayson sold it to Tom Snellback (of The Last Detail, North Chicago, IL) and it was restored for him by Baci Motorsports in the late 1980s. Raced by Snellback at Elkhart Lake in 1991 and advertised by him in September 1993. Snellback put the car into an auction at Elkhart Lake in 1999 where it was bought by Tom Juckette (Clive, IA). He was entered in a race at Elkhart Lake in July 2000 and also finished sixth in class at the BRIC event at Elkhart Lake in July 2001 in the #411 "1970 Surtees TS5 ". Juckette died in 2005 but the car was retained by his wife Linda Juckette until sold in March 2015 to Kyle Hallett (Gold Coast, Queensland, Australia), who has researched the car's history. Retained July 2015.

Kyle Hallett (Australia) 2015
Of the ten TS5As, it would appear that 002, 003, 004, 005, 006 and '10' stayed in the US. Of the other four, two were wrecked and two went to South Africa. As with the TS5s, none remained in the UK. However, the only TS5As that are known to have been in the US are Opert's and Young's, of which Opert's was wrecked. Possibly the three other numbers weren't used, a practice which was not uncommon amongst racing car manufacturers in this period. It is possible that only one TS5A continued in the US after 1970, Young's.
NB. No Surtees appear in SCCA National FA points tables for 1969. No Surtees appeared at the ARRC.
1970
Three mystery TS5As race during 1970: Fred Opert's for John Gunn (from R1 Riverside 19 Apr), RACE for John Martin (both from R4 Laguna Seca 14 Jun) and RACE's second car Rex Ramsey (only at R7 Elkhart Lake 18 Jul). As well as these raced cars, Mike Goth was said to have taken delivery of a car but part-exchanged it for a Lola T190. This TS5A was advertised by Hayes on 23 May 1970 alongside Goth's ex-Tasman TS5. So it is quite possible that one of the raced cars was ex-Goth, for example Gunn's late-season car.
Car
History
Current
owner
Surtees TS5A
'the Opert car'

Fred Opert (New Jersey) for John Gunn US 1970 (10 races: best finish 2nd place at R5 Sears Point 28 Jun and R6 Dallas 5 Jul). Wrecked in practice crash at R11 Mosport Park 13 Sep. Gunn moved to the Young America team with a new TS5A/006.

Subsequent history unknown but a damaged tub with Gunn's name on the side was with Rob van Westenberg (Morrison, CO) in 2003. This tub still with van Westenberg in July 2013.

Rob van Westenberg? (USA) 2013
Surtees TS5A
'the RACE/Martin car'
RACE (Chicago, IL) for John

Martin

(Bristol, Wisc.) US 1970 (9 races: debut R4 Laguna Seca 14 Jun; best finish 4th at R6 Dallas 5 Jul and R11 Mosport Park 13 Sep). Vose now advises that Martin's car was one of his ex-works TS5s, not a TS5A. It is then likely to be the complete car sold to Ken Kloster.
Surtees TS5A
'the RACE/Ramsey car'
RACE (Chicago, IL) for Rex

Ramsey

(Sherman Oaks, CA) US 1970 (one race only: R7 Elkhart Lake 18 Jul). Presumably entered by RACE as entered at #88. Possibly the former Hamilton Vose TS5 crashed at R5 Sears Point 28 Jun 1970 but more likely to be the second "TS5A" mentioned in RACE adverts. In Autoweek 1 May 1971, RACE advertise two TS5As: one complete and one dismantled. The dismantled car is said to be needing $750 of work - suggesting an accident - and is said to have only one race on it. Only the Ramsey car would appear to fit this description. Subsequent history unknown but quite likely to be one of the cars involved in the deal between Vose and Ken Kloster for Kloster's Ford GT40. If so, see 'the Kloster car'.
Also, four new TS5 combinations appear in 1970: Sherwood Johnston (from R1 Riverside 19 Apr) and Lou Sell (in Ozzie Pohl's TS5/001) joining Fred Philips in TS5/005 and Robert Fischetti in TS5/007. As five or six TS5s appear to have remained in the US and as Vose appears to have still had 003 and 004 in 1970, it would seem likely that Johnston's car must be chassis 006.
Car
History
Current
owner
Surtees TS5
'the Johnston car'
Sherwood

Johnston

(Scottsdale, AZ) and fitted with Ford engine. Entered in the US Pro series by J & B Racing (Phoenix, AZ) R1 Riverside 19 Apr 1970 to Road America 18 Jul 1970; also raced by Lou Sell (R5 Sears Point). Not seen again after the Road America race, from which it retired with a blown head gasket. The car was orange and was entered as #15. Subsequent history unknown. Sherwood Johnston died in November 2000.
Unknown
Jeffrey Kallenberg (Shreveport, LA) advertised a TS5 on 7 Nov 1970. This is very probably Phillips' TS5/005 as Phillips was also from Louisiana and his company, Phillips Energy Inc, is based in Shreveport.
1971
Of the six 1969 TS5s that appear to have been racing in 1970 (those of Vose, Martin, Phillips, Fischetti, Johnston and Pohl), Pohl kept the 001 he had recently bought from Harvey Lasiter, Vose's 003 was wrecked, the second Vose car (now thought to be 004) went to Ken Kloster, Phillips' 005 went to Chris Cook, and Fischetti's 007 was retained, so only Johnston's (thought to be 006) disappears at this point.
Of the TS5As, the Opert/Gunn car had been wrecked and the Young/Gunn 006 goes to Bill Johnson but the unraced Goth car disappears along with an unknown number of RACE cars. The Goth car may turn out to be the Young/Gunn 006 but that still leaves RACE's TS5As unaccounted for.
Just one new mystery appears: Nick Dioguardi's "TS5B". Dioguardi was based in Los Angeles, close to the homes of Harvey Lasiter, Doug Hooper, Lou Sell and Micky Fowler, but he cannot have been driving TS5/001 as he appears in the same race as Ozzie Pohl at Riverside in April 1971. As Dioguardi's first known outing was at Phoenix, he may have been picking up the Sherwood Johnston car, based nearby in Scottsdale.
Car
History
Current
owner
Surtees TS5B
'the Dioguardi car'
Nick

Dioguardi

(Glendale, CA) SCCA Nationals 1971 (first seen winning FA class at Phoenix 28 Feb 1971; also second at Willow Springs 14 Mar; retired at ARRC 27 Nov); US 1971 (all eight races); SCCA Nationals 1972 (won at Phoenix 27 Feb; Southern Pacific Division: 3rd with 11pts). Subsequent history unknown.
Unknown
Surtees TS5
'the Kloster car'

Ken Kloster (Toledo, OH) acquired two Surtees from Hamilton Vose in exchange for Kloster's Ford GT40 (chassis 1061), one of which was damaged from Vose's accident at Sears Point in June 1970. He raced one of these cars but only briefly as he crashed heavily in practice on his first 'Pro' F5000 appearance, at Mid-Ohio 5 Jul 1971. He ran off the course during ther Monday morning session "into dense trees" and was "hospitalised overnight with a broken shoulder and a 'slight broken neck'".

Howie Fairbanks (St Paul, Minnesota) bought all Kloster's remaining Surtees parts through his company Lightweight Engineering. Howie's recollection that that Kloster had both TS5/003 and TS5/004 from Vose and that it was TS5/003 that he crashed. Included in the parts Fairbanks acquired was a TS5 with no outer skins.

Fairbanks rebuilt the car to replace the 1969 McLaren M10A he had been using in SCCA Formula A and entered it at the 1975 Runoffs at the end of 1975, but actually raced the McLaren. He then used the Surtees in the SCCA FA class in 1976, 1977, 1978 and 1979. In 1980, Fairbanks sold the car to Richard Smith (Minneapolis, MN).

Nothing else known until sold by Porsche specialist Bruce Canepa (Santa Cruz, CA) to Jim Gallucci (Danville, CA). Then via InvestCar.com to Mark Harmer (Troy, MI) September 2001.

Using the SCCA number stamped on the roll bar, Harmer was able to trace the car back to Howie Fairbanks. Harmer tried to track down Ken Kloster, but was unsuccessful. Apart from the SCCA number, Mark reports that "The only other distinguishing marks on the car are the numbers stamped into the rear of the chassis and the rear crossmember, 004A".

It is still unclear whether this car is the car Kloster crashed at Mid-Ohio or was it the wreck from Vose's accident at Sears Point the year before. As Kloster bought two RACE cars, it would seem likely that this is TS5/004, the car used by de Adamich in the US in 1969 and then by DeJarld and then, presumably, John Martin in 1970. This matches its "004A" marking. However, that means that the two "TS5As" campaigned by RACE in 1970 were actually just the ex-works TS5s from 1969.

Retained by Harmer (Troy, MI) in 2009. Raced at Road America July 2013. Raced at the HAWK at Road America in July 2015 and at the Monterey Pre-Reunion a month later.

Mark Harmer (US) 2015
1972
It is still just about possible to track the known US TS5s and TS5As into 1972. Of the six TS5s in the US, Pohl's 001 went to Micky Fowler for 1972, Vose's 003 had been wrecked, the second Vose car (presumably 004) was still with Ken Kloster, Chris Cook still had 005, and Fischetti had retained 007. The missing car is 006, possibly the car Sherwood Johnston had raced in 1970 but now missing. Of the US-based TS5As, Bill Johnson's 006 was not seen in 1972 but is likely to have stayed in Missouri; '10' was still with Hamilton Vose's RACE; the Opert/Gunn car had been wrecked; and the original Goth-ordered car remains missing.
Of the earlier mystery cars, Dioguardi retained his car in California for the first few races of the 1972 SoCal season but it appears that it went to Stuart Forbes-Robinson later in the year.
Car
History
Current
owner
Surtees TS5/A
'the SFR car'

Stuart Forbes-Robinson (Huntington Beach, CA) US 1972 (3 races); SCCA Nationals 1972 (won at Willow Springs 17 Sep, DSQ at Phoenix 1 Oct; Southern Pacific Division: 5th with 9pts). SFR's own recollection was that "I bought it from Sam Winston and picked it up at Sam Posey's house in Dana Point, CA" but it now looks like he's remembering his later TS8, not this TS5.

Ed Pitz' report on the July 1972 Riverside Regionals for The Wheel said that SFR won the F/SCCA race in "his ex-Dioguardi FA Surtees" but the results of that race show Micky Fowler winning the race, not SFR. Either way, one of them had the ex-Dioguardi car. As we can now be confident that the Fowler car was the ex-Pohl TS5/01 that then went to D. David France, it must indeed be the ex-Dioguardi car that SFR is racing.

Unknown
1973
Two TS5s appeared in 1973, one just in an advert but the other was the ex-Micky Fowler TS5/001, already a stalwart of Southern California local racing which was moving its activites to the north of the state where it was driven by intrepid novice D. David France.
Car
History
Current
owner
Surtees TS5
'the Hancock car'
John C.

Hancock

(Austin, TX) advertised a TS5 in Autoweek 14 Jul 1973. Nothing more known. Note that the Cook car from 1971/72 was based in Holland, Texas.
Unknown
1975-1979
Two old Surtees appeared in 1975 but little was seen of either. One was the ex-Bill Johnson TS5A/006, now being raced by Fred Stout; the other Howie Fairbanks' ex-Kloster car which was entered for the Runoffs at the end of the season. Fairbanks continued to race his car through to the end of the 1979 season.
The later mystery cars
Car
History
Current
owner
Surtees
'the Thompson car'

Jack Thompson (Philadelphia, PA) bought a TS5 or TS5A from Bill "Murph" Mayberry's Car Care Co. at Lime Rock in the 1980s. Todd Hankinson, who looks after the car, found three paint schemes while restoring it: an original all-white scheme, then "a black bottom with candy red top and yellow pinstriping", and finally "light baby blue" over that. The car has a "TS3" marking which may imply it was TS5/003. If TS5/003 was originally an AIR car, the white paint would match. However, that should have red paint over it from when it was driven by Hobbs or De Adamich later that season. Research continues.

The restoration continues and by October 2013 Todd reported it was 95% complete.

Jack Thompson (US) 2013
A restored Surtees TS5 was advertised by 'Frank' from a Colorado Springs, CO number in Victory Lane Jan and May 1991.
Other sources include a feature on the TS5 in Autosport (6 Nov 1969 pp22-23), the F1 Register's F5000 books, Autoweek's classified columns and Autosport's 1971 season review (6 Jan 1972 pp7-13).
No room above for these but here is David Hobbs in the race winning Surtees TS5A at Lime Rock in 1971.
As a bonus, here are three more pictures of Jon Reakes' Surtees TS5A/007 in the paddock at HSCC meetings in 1987, 1992, 1993 and 1994.
These histories last updated on 21 May, 2016 .