Lola T330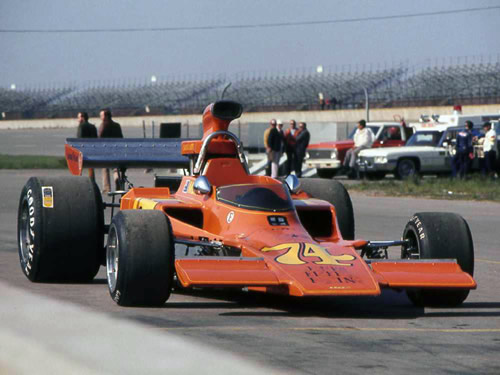 The Lola T330 was a major yet evolutionary improvement over the successful T300 featuring "a lower centre of gravity, lower cleaner shape, a more effective wing and an all-new three-quarter monocoque/tube chassis which boasts increased stiffness and strength while weighing less".
The T330 started Lola's total domination of F5000. Although 1973 was the formula's most competitive season, with the Chevron B24, McRae GM1 and Trojan T101 winning races and leading championships, the T330 would emerge as the season's top car, with Jody Scheckter abandoning his Trojan for a T330 to narrowly beat Brian Redman's works-supported T330 in the US series. In all three major series, the T330 took 11 wins from 35 races. The other 24 fell to five manufacturers: Trojan with 8, Chevron 7, McRae 6, Elfin 2 and one for Matich. The modified version built for 1974, the T332, would win consecutive UK, US and Tasman series.
Lola used chassis numbers HU1 to HU26 for T330s but the HU13 number would not have been used. Of the 25 built, five or six were destroyed: the Penske HU5, Col Trengove's HU7, Eddie Miller's HU9, Tony Adamowicz' HU10, Dick Kantrud's HU15 and Alan Kayes' HU17. It is possible Kantrud's HU15 survived.
Of the 21 that should still exist, 14 have been located and resolved so far with another couple of "mystery cars" found but unresolved. At least one more, maybe three more, were wrecked later so that just leaves about three orfour to find.
All and any help would be gratefully received. Please email Allen if you can add anything.
This reseach is based on the work of Wolfgang Klopfer, and his help and boundless enthusiasm for the task are very gratefully acknowledged. Thanks also to Rob Hall, Chuck Haines, Terry Healy, Marcus Pye, Curt Bond, Mark Beasy, Shayne Windelburn, Ray Bell, Chris Townsend, Jerry Entin, Colin Pool, Tony Barry, John Hawkins, Andrew Simpson, Flavio Tullio, Lee Huls, Ron Ige and Peter Brennan for additional information. Also thanks to Roy Woods Racing and Kastner-Brophy team manager Kas Kastner. Particular thanks to three-time champion Brian Redman and to former F5000 and Can-Am drivers Gerre Payvis, Jim Hawes, Bruce Langson and James Gutfreund.
Chassis
History
Current owner
Lola T330
HU1

Invoice date 11 Dec 1972 (sold to 'Gardner', colour 'Red'). Lola factory car end of 1972 - Max Stewart Tasman 1973 and 3 races in US 1973, also raced by Kevin Bartlett at R5 Watkins Glen; Australian Gold Star 1973 (from Surfer Paradise 2 Sep 1973); Tasman 1974; Australian Gold Star 1974 (from Oran Park 4 Aug 1974); won Australian GP 17 Nov 1974; driven by David Oxton New Zealand Tasman races 1975 but then back to Stewart for last two races of Tasman 1975 after his T400 flopped; driven by John Leffler, Stewart and Paul Bernasconi during 1975 - Ian Adams (Australia): raced in Big Winner series 1976, Australian Gold Star 1978, Rose City "10,000" 1978, Australian Gold Star 1979, Australian Gold Star 1980, Australian GP 1980 and probably in remaining F5000 events in 1981 and 1982. Retained by Adams until 1988 when sold to D'Arcy Russell (Aus). Historic log book issued March 1992 and subsequently raced in historics (e.g. Phillip Island 15 Mar 1997). Raced by Russell in the Formula 5000 Tasman Cup Revival at the Australian GP meeting 28 Mar 2009. Also raced in the Tasman Revival in 2009/10. Raced at Phillip Island Mar 2011 and Mar 2012, at Ruapana Park Oct 2012 and at Teretonga Feb 2013. Raced by Russell at the Phillip Island Classic March 2013, and again in March 2016.

Darcy Russell (Australia) 2016
Lola T330
HU2

Invoice undated (sold to 'Epstein', colour 'Yellow'). Tom Belso UK 1973 (17 races), UK 1974 (12 races), UK 1975 (9 races) - Theodore Racing UK 1976: for Alan Jones (2 early races only, won at Brands Hatch 19 Apr 1976); Theodore Racing US series: for Bruce Allison (R1 only) and as spare for Jones - Horst Kroll mid-1976 to replace damaged T300: US 1976 (3 races). Then converted to Can-Am specification and entered for Howard Kelly in Can-Am 1978 (6 races); then raced by Kroll in Can-Am 1978 (2 races); Can-Am 1979 (8 races); Can-Am 1980 (6 races); Can-Am 1981 (7 races); Can-Am 1982 (probably 8 races). Then rebodied with Frissbee bodywork as Kroll's "Frissbee KR3": raced by Kroll in Can-Am 1983 (6 races); Can-Am 1984 (10 races); Can-Am 1985 (6 races, 1 win at Mosport 2 Jun 1985); Can-Am 1986 (4 races, 1 win at Mosport 1 Jun 1986 and WON CAN-AM CHAMPIONSHIP). Probably used in 1987 CAT series (used by Kroll in at least 60 races). In total, 107 races: 38 with Belso, 2 with Jones, 1 with Allison, 60 with Kroll and 6 with Kelly ... With Chuck Haines 1990's?

Chuck Haines
(US)
Lola T330
HU3

Invoice date 26 Jan 1973 (sold to 'Haas/Kwech', colour 'Blue'). Horst Kwech (Gurnee, IL) raced a T300 in 1972 but there's no sign of him driving a T330. Hu3 was bought direct from Haas by Jim Gutfreund (Des Moines, Iowa) First seen in Autoweek 23 Jun 1973 advertised as "immediate delivery brand new T330 ... Great Plains Motor Racing". Raced by Gutfreund at R7 Elkhart Lake (Road America) in 1973 but then crashed at Road Atlanta and rebuilt on a new tub over the winter. Raced again by Gutfreund at Elkhart Lake July 1974. Gutfreund advertised the T330 ("lowest time 330 in US") in Autoweek 1 Feb 1975. Sold to Bob Earl (Orinda, California) and first raced at Road Atlanta (R6) 1975 (then a National at Sears Point prior to the last three 'Pro' races) but had been bought by Earl the previous winter (Formula Mar 1976 p10). Appeared once in 1976 (#19) at Riverside (R7). Advertised by Earl in Autoweek 25 Nov 1977. Dwight Zillig Can-Am 1978 (4 races, debut Watkins Glen 9 July 1978). Subsequent history unknown.

Unknown
Lola T330
HU4

Invoice date 15 Jan 1973 (sold to 'Haas/K.Eisle', colour 'Red'). Gary

Campbell

Tasman 1973: debut at Surfers Paradise Feb 1973 and then crashed badly in practice at Warwick Farm. Not seen again (DNA at Sandown Park and Adelaide). Bought by Bobby

Muir

(Australia), repaired and taken to US for R1 Riverside; Muir then teamed up with Jones-Eisert Racing for remainder of US season. For Clay

Regazzoni

at Seattle. Jones-Eisert Racing for Regazzoni UK 1973 (last race only) - AW

Brown

December 1973: for Damien

Magee

(UK) 1974. "Team disbanded" June 1974 and car advertised by A. W. Brown Racing - Martin

Birrane

(Adlards-Crowne Racing) June 1974. Retained by Adlards but unused in 1974 and 1975. Then, together with the Brabham BT43, passes to Chuck Jones (California). Advertised by Chuck

Jones

("ex-Muir, ex-Regazzoni") Autoweek 20 Mar 1976. Subsequent history unknown but bought from US by Martin

Birrane

in 1990. Retained to 2001 and featured in Motor Sport track test May 2001. Raced in FORCE Historic F5000 series (UK) 2001.
Martin Birrane
(UK) 2001
Lola T330
HU5
Invoice date 18 Jan 1973 (sold to 'Haas/Penske', colour 'Blue'). Penske for

Donohue

(US) 1973. Presumably the one destroyed in a fire.
Destroyed
Lola T330
HU6

Invoice date 29 Jan 1973 (sold to 'Haas/Hyams', colour 'Orange'). Colin Hyams (Australia, but raced in UK) 1973 - Trevor Twaites June 1973: UK 1973, UK 1974 and UK 1975: raced also by Brendan McInerny UK 1973 and UK 1974 ... John Jordan (UK): raced by Tom Belso in 1977; raced by Jordan in libre in 1978. Entered by Jordan for Dave Williams in libre racing 1983 (e.g. won his first race in the car at BRSCC Castle Combe 30 May 1983, retired at BRSCC Mallory Park 19 Jul 1983); for Tony Trimmer in the BRSCC Libre Championship from 1984 to 1989, winning the championship in 1986 and finishing second in 1987 and in 1988. Raced in occasional libre races through 1990's until engine failure at Snetterton in 1997. At some point between 1985 and August 1988, the T330 was dismantled and parts used by Dave Finnigan (Biggleswade, UK) to construct T332 "HU42" for Jordan team. Original HU6 chassis remained with Finnigan until early 2000 when sold to Richard Lines (UK). To Kevan McLurg (UK) for customer Dec 2005. NB. Meanwhile "HU42" was raced in FORCE Historic F5000 series in 2000 and 2001 by expatriate Irishman Frank Lyons (Felsted, UK).

The rebuild of HU6 was completed by McLurg by 2009 and a complete car restored by Motorsport Solutions NZ Ltd by July 2009 at which time it was owned by Wilco Racing (Rotorua, NZ). Raced by Brett Willis (Rotorua, NZ) in the 2009/10 Tasman Cup Revival series and again in the 2010/11, 2011/12 and 2012/13 series. Raced by Brett Willis (Rotorua, NZ) at Hampton Downs (NZ) in January 2013. Raced at the Monterey Pre-Reunion in August 2015.

Brett Willis (New Zealand) 2015
Lola T330
HU7

Invoice date 29 Jan 1973 (sold to 'Haas/C.Riley', colour 'Black'). Originally for Kevin

Bartlett

(US) 1973 but hardly used (only in practice at R4 Mid-Ohio 3 Jun 1973). To Roy Woods for

Adamowicz

(US) 1973 to replace car wrecked in practice at Watkins Glen. Crashed at R7 Road Atlanta and rebuilt on new tub for R8 Pocono. Sold in the Kent (Seattle) pit lane with a broken engine to Jim

Hawes

(Carlsbad, California): US 1974 (5 races). At the end of the the season, sold to Mike

Hall

(an Australian but resident in US who had been team manager of Chuck Jones' team, had driven a T332 at Ontario and had been US West Coast distributor for Elfin) for Bobby

Muir

in the Australian rounds of the 1975 Tasman series (car appeared entered by Peter Clarke Racing on entry lists). Crashed by Muir a few days before the opening race (Oran Park, 2 Feb 1975) and did not appear. Sold to Terry

Hook

(Aus) and rebuilt on T332 tub (tub '071-084' built by Ed Polley): entered by Peter Clarke Racing and raced by Hook in Gold Star 1975 (from Oran Park 27 Apr 1975); entered by Max Stewart Racing and raced by Hook Tasman 1976, Gold Star 1976, Australian Internationals 1977; entered and raced by Terry Hook Gold Star 1977 (then replaced with ex-Graeme Lawrence T332 HU28). Then for Col

Trengove

(Aus) 1978 (still owned by Hook?): raced in Gold Star 1978, Australian Internationals 1979, Gold Star 1979 (one race, DNQ), Australian GP only in 1980, entered for 1981 races but no results known. Trengove was killed driving the car in private practice at Adelaide International Raceway 28 Apr 1981. The car was effectively destroyed in the accident. ORC has been asked to keep the location of the remains confidential.
Destroyed
Lola T330
HU8

Invoice date 31 Jan 1973 (sold to 'Haas Racing/Hall', colour 'Red'). Haas/Hall (as #65) for Redman US 1973. This was theHall-modified car raced by Redman at R4 Mid-Ohio and is very probably the car he used for the rest of the season. The SCCA Log Book (19-845) shows that it next raced at a SCCA meeting at Riverside 9-10 Feb 1974 where the log book is signed by Mike Wallar or Wallen, then at R2 Mosport and R4 Elkhart Lake, where Larry Harley signs, and finally at R5 Ontario, R6 Laguna and R7 Riverside where the signature appears to be a "Jim Rury". The log book can't tell us whether this was Harley's race car or a spare to the T332 HU33 that his team also owned but it seems odd that a minor team such as Rogers Racing would haul a spare to each race. The absence of R1 Mid-Ohio suggests that Harley raced HU33 at Mid-Ohio and then switched to the T330, with the T332 reportedly having gone to Haas as a spare for Redman.

Bought from Richard Rogers by Ken Smith (NZ) for 1975 (first raced December 1974?) and then for New Zealand and Australian Internationals 1976; next raced Calder March 1977. To Chris Milton: raced Sept 1977 to Sept 1978. To John Blanden end of 1978: driven by Rob Butcher (Aus) from Feb 1979 to Mar 1982. To Bib Stillwell March 1988; raced at Albert Park Feb 1993, Philip Island Mar 1993; advertised Sep 1993. To Noel Robson (Melbourne, Aus) 1993. Raced by Andrew Robson in the Formula 5000 Tasman Cup Revival at the Australian GP meeting 28 March 2009, and at the Phillip Island Classic in March 2016.

Noel Robson (Australia) 2016
Lola T330
HU9

Invoice date 6 Feb 1973 (sold to 'Haas/Woods', colour 'Black'). Roy

Woods

Racing (Northridge, CA) for Tony

Adamowicz

US 1973. This car, still in its crate, sold to Eddie

Miller

to replace his T300 wrecked in the first round of the 1973 series. Miller crashed at Seattle 30 Sep 1973 and the wreck was sold to Fred Ige (Los Angeles, CA) and his partner as a pattern for a proposed new F5000 car. The surviving parts were sold off piecemeal and the surviving metal from the tub sold for scrap. The only remnant is the chassis plate which is now in the hands of Ige's son Ron.
Destroyed
Lola T330
HU10

Invoice date 6 Feb 1973 (sold to 'Haas/Woods', colour 'Black'). Roy Woods Racing (Northridge, CA) for Tony Adamowicz US 1973. Crashed at R2 Laguna Seca but rebuilt. Completely wrecked in practice at R5 Watkins Glen when an axle broke and replaced by Bartlett's new HU7.

Destroyed
Lola T330
HU11

Invoice date 14 Feb 1973 (sold to 'Formula Racing', colour 'Blue'). Eppie Wietzes US 1973 (all 9 races) and crashed badly at last race. To Dan Gardner (and Tom Gloy) and rebuilt during much of 1974. US 1975 (raced by Gardner at R3 Watkins Glen, R4 Road America, R5 Mid Ohio 9 Aug 1975 only). Last seen early 1976 advert in Formula (which stated it had a new tub in January 1975). Subsequent history unknown but possibly the car advertised in Can-Am spec by Fantasy Junction (Berkeley, CA) in October 1980.

Unknown
Lola T330
HU12
(now T332)

Invoice date 26 Feb 1973 (sold to 'Haas/Hogan', colour 'Blue'). Hogan Racing (St Louis, MO) for Brett Lunger UK early 1973 and US 1973 (crashed badly at R4 Mid-Ohio and replaced by "a new car", presumably a new tub so HU12-2); confirmed as the spare T330 in the Hogan transporter at the early 1974 US races and at Pocono 1975. Used by Hobbs at Long Beach 1975 updated to T332 spec. Possibly the "T332" advertised by Hogan in Autoweek 28 Feb 1976. If Hogan bought a T332C in 1976, then the 18 Sep 1976 advert is likely to refer to T332 HU30. However, HU12 might have remained as a spare car to the T332 in 1976, 1977 and even early 1978. Subsequent history unknown.

Sold at some point by Richard Pica (Melbourne, FL) to Chuck Haines (St Louis, MO). Rebuilt with a new (or restored) Tom Fredericks T332 tub but retaining HU12 plate and sold to Stan Redmond (Christchurch, NZ) [date unknown]. Subsequently sold by Redmond to Abba Kogan 2001. To Frank Lyons (UK) 2005, rebuilt by Simon Dockrey and raced at Donington Park April 2006. Raced by Judy Lyons at Hampton Downs in Jan 2012. For Judy at Thruxton April 2015.

Frank Lyons (UK) 2015
Lola T330
HU13
NO SUCH CAR IN LOLA INVOICE RECORDS
Lola T330
HU14

Invoice date 26 Feb 1973 (sold to 'Haas Racing', colour 'Crimson'). Haas (as #66) for

Redman

US 1973 (won the opening race; also driven by Kevin

Bartlett

at R2 and Derek

Bell

at R3). To Jerry

Hansen

(Wayzata, MN, US) October 1973: raced at SCCA Runoffs 1973 (Won); also for 1974, 1975 (winning both years' June Sprints). Also won Runoffs 1973-1976 inclusive. To Glenn

Brown

(Kent, WA, US) early 1976 (won a SCCA National at Kent [Seattle] 11 Jul 1976 and later advertised by Brown in Autoweek 7 Aug 1976). To Jerry

Hansen

again and used until Sep 1977 at least. Subsequent history unknown until bought from the late Ed Hemmings (Charleston, NC) by George

Hurd

(Bethlehem, PA) and used by Brian

Redman

in vintage racing in US: e.g. at HSR Mid-Ohio Aug 1993. Entered by

Hurd

for the Amelia Island Concours 2000. Retained by Hurd 2002.
George Hurd
(US) 2002
Lola T330
HU15

Invoice date 26 Feb 1973 (sold to 'Haas/Hogan', colour 'Blue'). Hogan Racing (St Louis, Missouri) for David Hobbs UK early 1973 and US 1973; Hogan Racing in UK 1974 for Hobbs, David Morgan, Derek Bell and Leer Verhoeven. Advertised by Hogan in Autosport 26 Sep 1974 and then in Autoweek 4 Jan 1975. To BIR co-owner Dick Kantrud (Land O'Lakes SCCA club) for 1975, used at Laguna Seca 1975 and Riverside. Finished SCCA season with six points. Retained for 1976 (5th in Central Division with 12 pts) but "written off in an accident during the August 1976 Road America F5000 race". However, T330 HU15 may have survived, as it is the number observed by Tom Erwin on the Nagel-bodied Can-Am Lola of Jerry Karl at Watkins Glen in 1978. Erwin then notes Pat McGonegle's 1979 Can-Am car as "ex-Karl".

Destroyed? 1976
Lola T330
HU16

Invoice date 20 Feb 1973 (sold to 'Butterworth', colour 'Bl/Wh'). Entered by John Butterworth for Guy Edwards to race in the 1973 UK series in Barclays livery. Edwards won at Zandvoort and at Brands Hatch at the end of the season. Sold to Nick Wattiez and raced extensively in F5000 and in libre racing in 1974. To Chris Oates (Notts) for 1975, and entered for Leen Verhoeven in the British F5000 series up to May 1975. Oats then took the car to the US where it was driven by Brett Lunger at Long Beach (DNS) and by Gus Hutchison at Laguna Seca and Riverside.

It has been suggested that the car was then sold to Theodore as spare car, and could then have been the car used by Patrick Tambay at Riverside 1976, but photographs indicate that this was the team's T332 HU34. This confusion is probably explained by HU34 being, like HU16, an ex-John Butterworth/Guy Edwards car. Also note that "HU16" was reported as the chassis number of Kevin Bartlett's T332 in the 1977 Rothmans series (Autoweek 12 Mar 1977 p8) but this was his T330 HU22 rebuilt on a T332 monocoque and carrying the overstamped chassis plate from his old T300 HU16.

Subsequent history unknown.

Unknown
Lola T330
HU17

Invoice date 12 Mar 1973 (sold to 'Henley Forklift', colour 'White'). Ian Ashley (UK) 1973; Shellsport Luxembourg for Ian Ashley (UK) 1974; Shellsport Luxembourg for Tony Trimmer (UK) 1974; Richard Oaten for Ian Ashley (UK) 1975 as spare for T400; Richard Oaten for David Purley Australian Internationals 1976 (crashed badly at Adelaide). To Ian Ward: rebuilt and raced by Alan Kayes (UK) 1976 (Snetterton August 1976) and 1977, but crashed at Thruxton in Jujne 1977 and destroyed. According to Tony Barry, the useable bits were sold off and the mangled tub thrown away. Replaced by the ex-Holland T400.

Scrapped 1977
Lola T330
HU18

Invoice date 12 Mar 1973 (sold to 'Epstein', colour 'Yellow'). Jackie Epstein's Shellsport Luxembourg (UK) 1973: driven by for Gijs van Lennep, Tony Trimmer, Clive Santo and Ray Allen; Shellsport Luxembourg (UK) 1974: driven by Lella Lombardi; Shellsport Luxembourg (UK) 1975: driven by John Turner (Stalbridge, Dorset), Keith Holland and Richard Scott (R15 Mallory Park 12 Oct only). Turner finished fifth in final race but the car does not appear again. Turner cannot remember where the car went but is pretty confident that it went to the US where someone was planning to use it in Can-Am.

The next steps in the car's history are still unclear but in 1977, HU18 was bought by Allen Karlberg (Portland, OR) for Jim Burnett to race. Karlberg cannot remember who he bought the car from. It did not race and was damaged in a fire when the right front of the monocoque was melted away. It would not have been economic to repair at that time so spent the next 36 years sitting in storage. Unlikely though this story sounds, there are a number of features on the car that suggest that this is indeed HU18.

In February 2013, Karlberg sold it to Peter Brennan (Surrey Hills, Victoria, Australia) and the car was shipped to Australia, arriving at Brennan's garage in August. Restored over the next year, and had its first outing in November 2014. Raced by Brennan at the Phillip Island Classic in March 2016.

Peter Brennan (Australia) 2016
Lola T330
HU19

Invoice date 21 Mar 1973 (sold to 'Haas/Penske', colour 'Blue'). Penske for Mark Donohue (US) 1973. The second Penske AMC-powered car that appeared from June 1973 (debut at R4 Mid Ohio). Bought by Pete Knab (Dayton, Ohio) for 1974 but not raced (Mid Ohio program 1974 p11). Dan Furey still with AMC engine in late 1974 (starting Laguna Seca R6) and again in 1975. Entered by Gerre Payvis with AMC in F5000 1976 and later used in Can-Am 1979. Possibly the 'Frissbee' driven by Drake Olson for Payvis in Can-Am 1984. Retained by Payvis 2006 and being prepared for vintage racing.

Gerre Payvis (USA) 2006
Lola T330
HU20

Invoice date 28 Mar 1973 (sold to 'Haas/Heinz', colour 'Yellow'). An article in Autoweek 14 Apr 1973 said "It looks like the Florida Citrus Commission is in racing as sponsor for Dave Heinz and his new Lola T330 for the L&M". Heinz did not appear. HU20 subsequently raced by Bob Lazier US 1973 from R3 Michigan 20 May onwards. Run for Lazier by Wilbur Bunce (Formula Jan 1977 p19). Used by Jody Scheckter to win Watkins Glen round. Advertised by Lazier (then Torrance, CA) in Autoweek 8 Dec 1973.

Believed to have been bought from Lazier in 1974 by Arlon J Koops (Denver, CO). Raced by Koops in the US series in 1974 (three races) and 1975 (six races). This car was observed by Tom Erwin to have a 'OU-812' chassis plate at Pocono 1975. Retained for US 1976 (four races). Entered by Koops in the Trois Rivieres Can-Am race in 1977 and almost certainly his 'Blitzen S100' entered later that season. Sold in 1982 to Lee Huls (Englewood, CO): ran once as a F5000 at Pueblo Motorsports Park and then converted to Can-Am using a body bought from Larry Johnson. Run through the 1983 and 1984 seasons, qualifying for the 1984 Runoffs. Run once in ASR in 1985 and then converted back to F5000 for vintage racing since then. Huls still holds the Pueblo Motorsports Park ASR record at 1:36.330 set in the Lola on 31 Aug 1986. Raced at the Pueblo (CO) F5000 reunion on 6 May 2001. Also run by Huls at Road America in July 2012 and at the HAWK at Road America in July 2015.

Lee Huls (USA) 2015
Lola T330
HU21

Invoice undated (sold to 'Epstein', colour 'Viking Orange'). Jackie Epstein's Shellsport Luxembourg for Clive Santo (UK) from May 1973; Clive Santo UK 1974 - Gerry Amato (Bickly, Kent) UK 1975 - Robin Smith (UK) Feb 1977: raced in UK 1977 - Jacques Marquet (Liege, Belgium) probably 1977: painted gunmetal grey and used it "for less than 2 hours in 20 years" on test days. Retained until 1999/2000 when sold to former SCCA driver and instructor Don Halliday (San Diego, CA). The car remained in the UK when it was rebuilt by Simon Hadfield (Shepshed, UK) who retained its original 'crossover' injection. Initially painted in 'Mario Andretti tribute' Viceroy colours and raced by Hadfield in the FORCE Historic F5000 series in 2001. Later reliveried back to Shellsport colours and numbered '208. Don Halliday died in May 2012, since when the car has been owned by wife Debby and daughter Liz, also a racing driver. In early 2015, the car was on display in the Donington Museum.

Halliday family (UK) 2015
Lola T330
HU22
(later T332)

Invoice date 6 Jul 1973 (sold to 'Haas/Bartlett', colour 'Red'). Kevin Bartlett (Aus) 1973. The second car, invoiced about three weeks after Bartlett had sold HU7 to Adamowicz. Wore the chassis plate from Bartlett's T300 HU16. First raced in Australia Sep 1973; Tasman 1974 (crashed in practice at Pukekohe and effectively written off, Bartlett badly injured); both repaired (T330 rebuilt on T332 tub and called T332 HU22 thereafter) for Gold Star from August 1974 ... "borrowed back from new owner" for last two races of Tasman 1975 after new T400 flopped - Bruce Allison March 1975: Gold Star 1975 New Zealand and Australian Internationals 1976, crashed and heavily damaged at Oran Park 1 Feb; "rebuilt with new tub flown from England" (Surfer Paradise program p9) in time for Sandown Park 15 Feb; Gold Star 1976 - Kevin Bartlett: Australian Internationals 1977 (driven by Alan Jones at Surfers after wrecking HU61) - Johnnie Walker (Aus) September 1977; Australian Internationals 1978; Australian Internationals 1979; Gold Star 1979 (last seen Sandown 9 Sep 1979).

The history of the car in the early 1980s is unclear but it was said to be in a museum at some point. It re-emerged with Bob

Minogue

(Aus) in 1987, when it was raced by Barry

Ward

at Amaroo Park and Sandown historic race meetings. Sold to Paul

Cromarty

(Aus) and raced in club libre events in Victoria, and then in historic F5000 up to 1994. Sold to Adrian

Whapham

(NZ) in 1994 or 1995 and raced in historics in New Zealand - Stan

Redmond

(Christchurch, NZ) by 2001 (still wearing the HU16 chassis plate). To Peter

Sundberg

, an ex-pat Swede living in New Zealand, in 2009.

Note that Max Floreani (Victoria, Aus) has a T332 chassis that is believed to be one of the original crashed tubs, most likely the second chassis. This tub was purchased as a spare tub by Noel Robson when he bought T330 HU8 from Bib Stillwell. It was being built up by Floreani during 2001.

HU22, still wearing the chassis plate 'HU16' that it wore in 1973, retained by Peter Sundberg (Auckland, NZ) in January 2013. Raced by Sundberg at Hampton Downs (NZ) in January 2013.

Peter Sundberg (New Zealand) 2013
Lola T330
HU23

Invoice date 24 Jul 1973 (sold to 'Haas', colour 'Viking Orange'). John Walker (Aus) and fitted with a Repco Holden V8. Raced in the Australian Gold Star 1973 (debut Adelaide 7 Oct 1973) and the 1974 Tasman series but severely damaged at Surfers Paradise 1 Sep 1974. This car then, in effect, divided: the original chassis being put aside and later rebuilt (see HU23(A) below) and a new T332 rolling chassis being bought and taking over the HU23 chassis plate (see HU23(B) below).

Divided
Lola T330
HU23 (A)

The original T330 tub was retained by John Walker and partially rebuilt. Later sold "in bits" to Paul Cromarty early 1988 but unused. Sold to Noel Robson 1990 - Russell Spokes 1993 - Brian Beasy (Lilydale, Victoria, Australia) 1995, and retained until his death in June 2013. Stored by his son Mark Beasy, but in 2016, Mark was working on the remaining parts needed to complete the car. Still with Mark Beasy in April 2016.

Brian Beasy (Australia) 2016
Lola T330
HU23 (B)

Built/rebuilt on new T332 tub or T332 rolling chassis, and fitted with the rear end from the original HU23, including the Repco Holden V8 engine. Raced by John Walker in the 1975 Tasman series but severely damaged again at Sandown Park and rebuilt with a new Lola-supplied tub again. Then raced in the 1976 Australian Internationals and at later races at Calder and Wanneroo Park in March 1976. Sold to Peter Edwards and raced in the 1977 Australian Internationals, the 1977 Gold Star, 1978 Australian Internationals, 1978 Gold Star, 1979 Australian Internationals, 1979 Gold Star, 1980 Gold Star ,1980 Australian Grand Prix, and the 1981-82 Arco Graphic series. It was at the last Australian F5000 race in March 1982.

Sold to Bernie Van Elsen 1982 and stripped and used by K & A Engineering to build the "Veskanda" sports car. The T332 tub was not used and remained at K&A until bought by Peter Bick 1986. Then to John Maher and then to Gary Dickenson (Eltham, Victoria, Aus) about 1987. restored by Dickenson and sold via Terry Healy to Rick and Rob Hall of Hall & Hall in England in 2001. Sold to Mike Wrigley and raced in FORCE Historic F5000 series in 2001 and 2002. To Neil Glover (Ansty, West Sussex) March 2007 and raced in the HSCC Derek Bell Trophy 2008, the Phillip Island Classic in Australia March 2010 and the Australian Grand Prix support race March 2010. Raced in HSCC races at Oulton Park June 2011 and Brands Hatch July 2011. Glover won the Derek Bell Trophy in this car in 2013. Present at the Silverstone HSCC Finals in October 2014 as a backup for his newly-acquired Chevron B37.

Neil Glover (UK) 2014
Lola T330
HU24

Invoice date 13 Aug 1973 (sold to 'Sid Taylor', colour 'White'). Sid Taylor for Jody Scheckter (US) late 1973 bought by Scheckter with his race winnings as an alternative to his Trojan T101 (WON CHAMPIONSHIP). With Jerry Entin 1973 and to at least August 1974. Leased to Nestor Garcia Veiga late 1974 (3 races). Sold to John Korn (Novato, CA, US): driven in US 1975 (first reported race Riverside National 17 Feb 1975 - Formula Mar 1975 p28). Advertised by Korn in Autoweek 8 Nov 1975 and 21 Feb 1976. Korn bought a T332C in September 1976.

Advertised by Lance Nist (Santa Ana, CA) 7 Aug 1976 ("Formerly Doctor John Korn's car"). Oddly, Entin (Palm Springs, California) advertised a T330 "in as new condition" in Autoweek 23 May and 30 May 1976 - could he have got the car back from Korn? Then to Doug Correa (TX): first seen raced in SCCA National FA events in 1978, winning the Texas World Speedway "Super-National" on 29 Apr 1978 and appeared in Runoffs that season. Sold to Gerre Payvis for Can-Am but only used as a back-up car.

Then to Mark Bailey March 1986: CAT series 1987 (1 race only: R1 Willow Springs 3 May 1987) - Rick McLean January 1990 - Mike Yancheck (Romulus, Michigan) August 1990. Fully restored and won its class at the Meadow Brook concours d'Elegance. It was advertised on Yancheck's behalf by Bud Bennett of RM Motorsport (Wixom, Michigan) around 2000, and sold via Bennett to Flavio Tullio (Padova, Italy) in August 2004. Retained by Flavio and Matteo Tullio April 2016.

Flavio Tullio (Italy) 2016
Lola T330
HU25

Invoice date 7 Sep 1973 (sold to 'Haas', colour 'Red'). Unknown. Possibly the Settember car (see 'The 1974 mystery cars' below). Possibly the "brand new still in crate" T330 advertised by Chuck Jones Racing (Costa Mesa, CA) in Formula Magazine Vol 1 No 6, Mar/Apr 1974.

Unknown
Lola T330
HU26

NO SUCH CAR IN LOLA INVOICE RECORDS. This number has been used in connection with a spare Evan Noyes T332. Also said by Motoring News to be Max Stewart's 1974 Tasman car. This number observed by Tom Erwin on the Lola T330 run by John Benton in 1974 (said to be "Ex Roy Woods" in one place). Roy Woods had run Tony Adamowicz during 1973. First raced by John Benton (Santa Ana, California) at R1 Mid-Ohio 2 Jun 1974. Used throughout 1974 (#22), 1975 (#22) and 1976 (#22). Prepared by Jack Hoare. Advertised in Formula June 1977 (p55), Aug 1977 (p14). Subsequent history unknown but see the SFR car below.

Unknown
The 1973 mystery cars
The one mystery car in previous editions of this page is now known to be HU3.
Another mystery about 1973 is the advert in Autoweek on 17 Feb 1973, at a time when only the first ten T330s had even been built: "Lola T330 Formula 5000. Sacrifice price.". The phone number doesn't help, it was the Santa Ana area of Orange County, south-east of Los Angeles, where many F5000 teams were based.
The 1974 mystery cars
Just one T330 was used in the US in 1973 but unknown in 1974: the ex-Lazier HU20 which was briefly missing on its way to Koops. HU25 is also unexplained. Settember's 'OU-812' may therefore be HU25 but it is unclear why it would carry a non-standard chassis plate.
Car
History
Current owner
Lola T330
'the Settember car'

First raced by Tony Settember (for Hone Overdrive) at Mosport Park (R2) 1974. Tom Erwin observed the chassis number of this car at Watkins Glen 1974 to say "OU-812". Quite possibly HU25 but also possibly the original HU12. Raced by Settember throughout 1974 (#4). Advertised by Hone Overdrive (Whittier, California) in Autoweek 4 Jan 1975 ("Lola T330 as new 1974 - six Pro races only"). This suggests this is not one of the cars used in 1973 - pointing towards it being HU25 or an extensive rebuild of a crashed car - for example the original HU12 as suggested by the chassis number. The Hone Overdrive advert also says "parallel rear suspension as 332", suggesting a late T330 or an upgraded car.

In a previous version of this page, the next owner was identified as Arlon Koops, based on Tom Erwin's observation of the number 'OU-812' on the Koops car at Pocono 1975. However this number may just indicate a replacement chassis - "Oh, you ate one too" - and may not be unique. In October 1994, a previous owner of Andrew Simpson's Lola T330 was told by Tony Settember that Settember sold his car to Dick Workman. We also now know that Koops had HU20 and got his car from Lazier. Despite the 'OU-812' number being on Koops car in 1975, this information from Settember is more likely to be definitive. It is not possible that Koops and Workman shared a car as they were in different places on 10 August 1975: Workman at Westwood and Koops at Mid-Ohio.

To Dick Workman (San Francisco, California): not raced in Pro series but raced at Sears Point National 6 Apr 1975, won the Willow Springs National 13 Apr 1975, second at Riverside National (date unknown - car described as T332) and third at SCCA/CASC Westwood Nationals 10 Aug 1975 (car described as Workman Motors T330/2). Workman ended the 1975 SCCA season with 30 pts, easily winning the Northern Pacific Division FA title. He had a major accident in practice at Long Beach in September 1975 (see Autosport 2 Oct 1975 p11) which left Workman in hospital with broken ribs and second degree burns. Jim Hawes has suggested that Workman had the Gardner HU11 but Workman's first race in 1975 was before HU11 vanishes. However, it is possible that Workman bought HU11 to replace the car wrecked at Long Beach.

Raced by Workman in SCCA Nationals 1976 (6th in Northern Pacific Division with 17 pts). Sold to Bruce Langson 1977 or 1978, converted to Can-Am T333CS bodywork and used in SCCA Nationals. Stolen "in fall of 1979" and never recovered. Mentioned in 1980 Road America Can-Am program but this may have been using out-of-date material. Subsequent history unknown but possibly broken up and sold for spares.

Missing
Joseph Schultz is reported is having a T330 at R5 Ontario 1 Sep 1974. However, at R7 Riverside 27 Oct 1974, Schultz is reported as having a T300 so his Ontario car is assumed to be a T300 also.
The 1975 mystery cars
All the 1975 mystery cars have now been resolved. The only T330 used in the US in 1973 or 1974 but then unknown in 1975 and 1976 is the mysterious HU25.
The F1 Register's 'Fact Book' on F5000 describes Garth Pollard having a T330 at Long Beach and Laguna Seca in 1975 and again at Riverside in 1976. It appeared at #73 both years. Pollard (of Cobble Hill, BC, Canada) advertised this car in Autoweek on 29 Nov 1975 and stated that it was a T300. When he advertised it again, still in F5000 form, on 5 Mar 1977, he stated it was the ex-Hobbs T300.
The 1976 mystery cars
One or two more mystery cars appear in 1976. Of the cars above, HU4, HU11, HU12 (probably), HU16 and HU24 (part of the year) are unexplained in 1976.
Car
History
Current owner
Lola T330
'the 1976 Gordy Oftedahl car'

First raced by Bob Lazier Mosport (R2) 1976. Cannot have been the same car Lazier ran in 1973 as that was by then in Arlon Koops' hands. Fours races in total that season. Subsequent history unknown but quite possibly the 'T332' Oftedahl ran in Can-Am for various drivers in 1977. See the 1977 Oftedahl car.

Unknown
Lola "T331/32"
'the Fautch car'
Raced by Gary

Fautch

(Bloomington, MN) in a Regional at Brainerd 31 May 1976. It was entered at #34 as a "Lola T331-32". #34 was the number used by fellow Minnesotan Gordy Oftedahl for the mystery T330/T332 that he ran for Bob Lazier later in the season and it is probably not a coincidence that Fautch raced one of Oftedahl's Trans-Am Chevrolet Camaros in 1978 and one of his Pontiac Firebird in 1985. Very probably the Oftedahl car.
Unknown
Other mystery Lolas in 1976 include the T192s of Dean Vetrock and Larry McNeil (both at Hoosier National 18-19 Sep 1976 - Formula Dec 1976 p42). McNeil ran his T192M to second place at the Runoffs (Formula Jan 1977 p37) while Vetrock's T192 was fourth.
The 1977 mystery cars
Just one more Lola T330 in 1977, a car used only in SCCA Formula A events.
Car
History
Current owner
Lola T330
'the SFR car'
Stuart

Forbes-Robinson

bought a spare Lola T330 or T332 tub from John Benton's operation (see T330 HU26), picking up the tub from Bill Jongbloed's shop. As Benton had acquired the ex-Redman championship winning T332C by this time, could "Benton's spare tub" refer to T330 HU26? SFR completed the car with "a bunch of different parts" and the engine from one of his brother's Can-Am deals. First raced in SCCA events in 1977. Won the Formula A class at the 1977 Runoffs where it was pictured for a Champion advert in livery very close that that of John Benton's HU26. The car was later crashed by SFR at Laguna Seca and sold, less engine, to Lance Nist. Nist reports that the tub was disassembled for the steel.
Destroyed
Also seen in 1977: the T192 of Leland Sheldon continued in the SCCA South Pacific Division and the three T192s of Larry McNeil, Dean Vetrock and Daniel Kampo were all at the Road America June Sprints (Formula Aug 1977 p41).
Other mystery cars
Car
History
Current owner
Lola T330/Frissbee
'the Pool car'

Colin

Pool

bought a "Frissbee" Can-Am from Bruce

Trenery

in late 1986 or early 1987 to use in Thundersports. The car turned out not to be a Frisselle car with rocker suspension and ground effect tunnels but a Lola T330 with a Frissbee body and Pool had no success with it. In fact, he hated it! He sold the car to Chuck

Haines

in the US around 1989. The car was advertised by Pool in Dec 1988 as "originally converted from Newman/Budweiser T333CS". This is curious as it's been described elsewhere as a T330 and all the Newman T333CS Lolas were turned into Spyder NF10s. However, it is possible that a Spyder got into private hands and was then converted to Frissbee form.

Unknown
Lola T330
'the Joseph Hernandez car'

A mystery car. It has been suggested that it was first owned by Dan Dierking (Glendora, CA), and that it was raced by Tony Settember, driving for "the Tony Cisert team in Costa Mesa". Bills of sale with the car show that it was sold by Joseph Hernandez (Burbank, CA) to Frederick C. 'Rick' McLean in June 1983, and then to George Conway (Los Angeles, CA) in July 1984. It was later acquired by Chuck Haines, and he sold it to Mike Collins (Colorado) in 1995, who sold it to Andrew Simpson (Houston, TX) in 2001.

This car was at this stage very unusual in having aluminium bodywork and side radiators, suggesting it had been modified at some point for Can-Am. Simpson had the car rebuilt by Bud Bennett's RM Motorsport, and then ran it in CVAR events at TWS. It was next seen in 2007, when owned by Scott Monroe (Seabrook, TX), who stated on f5000registry.com that it had been restored by RM Motorsport for Andrew Simpson, and had been run recently at TWS. By 2009, it had been sold to Don Roose (Bainbridge Island, WA) and was now described as "Chassis HU14A", but the link to T330 HU14 did not correspond to the claimed history of Tony Settember and "Tony Cisert", that had been associated with the car since Simpson's ownership. It was sold by Roose via Symbolic Motors in December 2011 to Brad Hoyt (Wayzata, MN), and this would presumably be the "T332" that Hoyt raced at Road America in July 2012. The car was offered for sale by Bray Hoyt in December 2012.

Brad Hoyt (USA) 2012
Contrary to many reports, the Super Saloon "Skoda" of Mick Hill (Drayton, UK) and mechanic Charlie Harris, constructed early in 1979, used T330 suspension but not a T330 chassis. For full details of this very hairy vehicle, see Autosport 12 Apr 1979.
A huge array of sources have been used to construct these histories. Notable among these are the notebooks of Tom Erwin, kindly made available by Bill Green, and Autosport's 1973 F5000 Review, from their 24 Jan 1974 edition.
More pictures
These histories last updated on 10 June, 2016 .