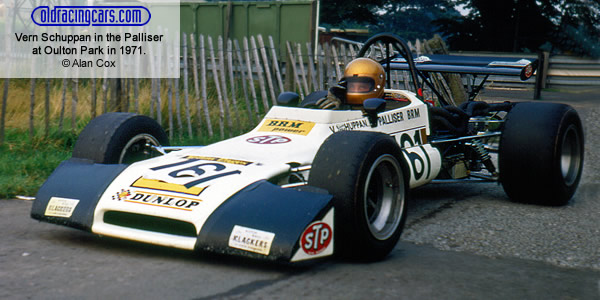 British Formula Atlantic 1971
Although there was no lack of cars or engines, Formula Atlantic started slowly due to uncertainty over whether the new formula could succeed between F2 and F3. Formula Ford and F3 cars supplemented the grid at the first race and most of the cars this season were converted F2, F3 or even Formula Ford cars.
Yellow Pages sponsored the inaugural season and the championship became a battle between Vern Schuppan in the works Palliser and Cyd Williams in Graham Eden's Chevron B18C. Schuppan put together a string of first and second places and almost had the title in his pocket by September. Williams then won three on the trot but was too late the catch the Australian. Clive Santo and John Gillmeister also ran Pallisers but achieved little; with sales dwindling despite Schuppan's title victory, Palliser Racing Design folded early in 1972.
Brabhams were predictably the most numerous on the Atlantic grids and would have won any constructors title from Palliser, Chevron, March, Lotus and Royale by sheer weight of numbers.
The races
07 Mar 1971 > Brands Hatch

21 Mar 1971 > Oulton Park

28 Mar 1971 > Mallory Park

12 Apr 1971 > ARCO Trophy at Castle Combe

02 May 1971 > Brands Hatch

30 May 1971 > Brands Hatch

31 May 1971 > Snetterton

20 Jun 1971 > Brands Hatch

27 Jun 1971 > Snetterton

03 Jul 1971 > Oulton Park

04 Jul 1971 > Brands Hatch

24 Jul 1971 > Castle Combe

01 Aug 1971 > Snetterton

15 Aug 1971 > Mallory Park

28 Aug 1971 > Oulton Park

30 Aug 1971 > Castle Combe

12 Sep 1971 > Brands Hatch

18 Sep 1971 > Oulton Park

03 Oct 1971 > Silverstone

09 Oct 1971 > Castle Combe

10 Oct 1971 > Snetterton

24 Oct 1971 > Mallory Park

31 Oct 1971 > Brands Hatch

27 Dec 1971 > Yellow Pages Trophy Race at Brands Hatch

Yellow Pages Formula Atlantic Championship events shown in bold

Table 'oldracingcars.watn2' doesn't exist