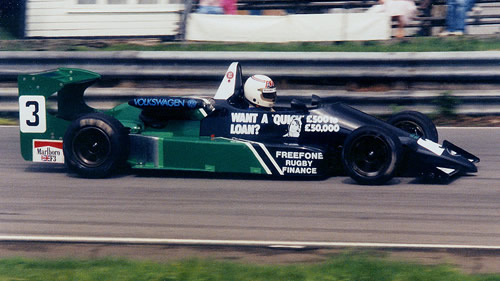 British Formula 3 1985
There were three big changes to Formula 3 in 1985, flat bottomed cars became mandatory in an attempt to eliminate ground effects, the European series was cancelled and Ralt finally got a rival with the arrival of Reynard. Using a revolutionary (for F3) carbon-fibre monocoque, Reynard could not produce cars at Ralt's rate but Adrian Reynard had a knack for producing cars that won on their debut and the 853 kept up that record, Andy Wallace winning the opening race. The cancellation of the European series had the affect of greatly strengthening the national series, notably the British, French and Italian.
A simple points table disguises rapidly swinging fortunes. Reynard pilot Russell Spence led at the the mid-season break with 55 pts from Andy Wallace on 50, Mauricio Gugelmin in a RT30 on 41 and Tim Davies with another Reynard 34. But Reynard's early season edge evaporated as Ralt developed new front suspension for the RT30. Also front-runner Spence suffering a setback with Peter Macintosh's PMC Motorsport folding, leaving the Yorkshireman to quicky build another team. A mistimed move to Ralt compounded his problems but Wallace was also suffering, his Reynard having lost its spark. Ralt drivers took over: Gerritt van Kouwan won three races after the break and notched up 40 pts; Dave Scott won two races and scored 36 pts. Gugelmin's Ralt was sorted by Dick Bennetts and with two races to go he held a narrow lead in the title race on 66 pts with Spence and Wallace tied on 64. All the momentum was now with the Brazilian and he won the last two races easily to win a deserved championship.
The races
03 Mar 1985 > Silverstone

10 Mar 1985 > Thruxton

24 Mar 1985 > Silverstone

08 Apr 1985 > Thruxton

14 Apr 1985 > Donington Park

21 Apr 1985 > Zolder

06 May 1985 > Thruxton

27 May 1985 > Thruxton

09 Jun 1985 > Silverstone

23 Jun 1985 > Brands Hatch

21 Jul 1985 > Silverstone

28 Jul 1985 > Donington Park

11 Aug 1985 > Snetterton

17 Aug 1985 > Oulton Park

26 Aug 1985 > Silverstone

01 Sep 1985 > Spa-Francorchamps

15 Sep 1985 > Zandvoort

13 Oct 1985 > Silverstone

Table 'oldracingcars.watn2' doesn't exist