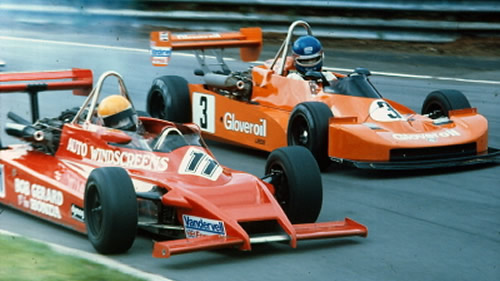 British Formula 3 1979
Only two teams appeared properly prepared for the 1979 season, Project Four and Team Tiga with drivers Chico Serra and Andrea de Cesaris. It would be Serra's consistency that saw him take the title after an number of avoidable accidents and mistakes dropped De Cesaris from contention. 18-year-old Mike Thackwell was also very consistent and won four of the last eight races in his works March.
With honours divided, British F3's run of projecting its champion straight into F1 stopped with Serra. The Brazilian progressed instead to F2 with the Project Four team, moving into F1 a year later with Fittipaldi. Ironically this was the first time there was a single British championship, the BARC and BRDC championships having merged for 1979.
Ground effect reached F3 in 1979 but none of the constructors could easily adapt the new technology to production cars. The March 793 'pod' car was basically a 783 with wing-profile sidepods and flexible - or sometimes sliding - skirts, but the narrow 783 tub lent itself well to this adaptation, and the 793 won all but one race in Britain. March also built a 79C, a F3 version of the 792, but testing proved it was not competitive. The overweight Chevron B47 was also a wing-car version of a 1978 car but in this case the sidepods were too narrow to be effective and it managed just one wet-weather win. After dominating 1978, Ralt almost vanished from F3 in 1979 as their prospective customers waited in vain for the new ground-effect RT3 to become available. A scaled-down version of the F2 RT2 design, the car showed promise in testing. The Argo JM3 also proved quick on occasions and it was these two designs that looked best placed to challenge March in 1980.
The races
04 Mar 1979 > Silverstone

11 Mar 1979 > Thruxton

25 Mar 1979 > Silverstone

01 Apr 1979 > Snetterton

08 Apr 1979 > Donington Park

16 Apr 1979 > Thruxton

07 May 1979 > Brands Hatch

20 May 1979 > Race of the Year at Donington Park

26 May 1979 > Monaco GP F3 Race at Monte Carlo

28 May 1979 > Silverstone

10 Jun 1979 > Brands Hatch

17 Jun 1979 > Cadwell Park

01 Jul 1979 > Silverstone

14 Jul 1979 > Silverstone

15 Jul 1979 > Radio Trent International F3 Trophy at Donington Park

05 Aug 1979 > Snetterton

12 Aug 1979 > Mallory Park

27 Aug 1979 > Silverstone

02 Sep 1979 > Leinster Trophy at Mondello Park

09 Sep 1979 > John Player Raceday at Donington Park

15 Sep 1979 > Oulton Park

30 Sep 1979 > Thruxton

07 Oct 1979 > Silverstone

28 Oct 1979 > Thruxton

03 Nov 1979 > STP-Link Formula 3 Race at Thruxton

Championship events shown in bold

Table 'oldracingcars.watn2' doesn't exist