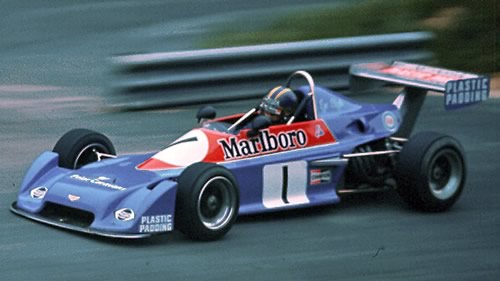 British Formula 3 1977
The success of the European Championship, now in its third season, stole some of the limelight from the British championships in 1977 and the continuing divide between the BP-sponsored BARC title and the Vandervell-sponsored BRDC title cannot have helped.
Stephen South started the season in dominant form in the March 763 he had raced in 1976 and led both championships into July. After wrecking the 763 in an accident with Derek Daly, he moved over to a March 773 and the BP series turned into a three-way fight with Daly and Swede Eje Elgh, both in Chevron B38s. Daly led into the final round and clinched the title by winning after his rivals dropped out. South's consolation was the Vandervell title. Both drivers moved into F2 for 1978 but only Daly was able to secure a proper budget.
March remained narrowly the most numerous car on the grid, with 190 starters, from Chevron with 175 and Ralt with 148, but there was a significant shift to the Ralt RT1 during the season, with Derek Warwick, Nelson Piquet and Elio de Angelis all swapping to the Woking marque. Chevron won ten races, March nine and Ralt four. The only other constructors to feature in England were Lola, whose T570 was hauled into fourth place at one race, and Anglia Cars' new Argo JM1 which impressed with a handful of minor placings.
The races
06 Mar 1977 > Silverstone

13 Mar 1977 > Thruxton

26 Mar 1977 > Oulton Park

03 Apr 1977 > Silverstone

11 Apr 1977 > Thruxton

01 May 1977 > Brands Hatch

21 May 1977 > Monaco GP F3 Race at Monte Carlo

29 May 1977 > Brands Hatch

06 Jun 1977 > Silverstone

07 Jun 1977 > Donington Park

19 Jun 1977 > Thruxton

25 Jun 1977 > Gran Premio della Lotteria at Monza

08 Jul 1977 > Donington Park Trophy

10 Jul 1977 > Cadwell Park

16 Jul 1977 > Silverstone

31 Jul 1977 > Donington Park

07 Aug 1977 > Snetterton

27 Aug 1977 > Donington Park

29 Aug 1977 > Silverstone

04 Sep 1977 > BRSCC Trophy at Mallory Park

11 Sep 1977 > Brands Hatch

25 Sep 1977 > Mallory Park

01 Oct 1977 > Silverstone

16 Oct 1977 > Donington Park

30 Oct 1977 > Thruxton

13 Nov 1977 > Gone in 60 Seconds Formula 3 Trophy at Thruxton

Championship events shown in bold

Table 'oldracingcars.watn2' doesn't exist