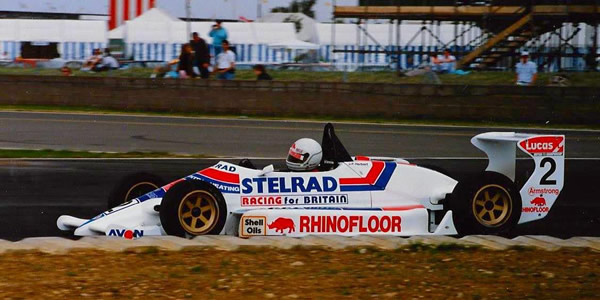 British Formula 3 1987
At last Eddie Jordan Racing won the title. After five years of losing out to West Surrey Racing, Dave Price Racing and Madgwick Motorsport, Jordan secured continued sponsorship from Stelrad, and added the driving services of highly regarded Johnny Herbert. For many years, F3 had seen little technical variation, with Ralt RT3s and John Judd Volkswagen engines being the standard choice, but the emergence of Reynard and the arrival of new engines from Toyota and Alfa Romeo meant that the key in 1987 was getting the right package. The EJR package of Reynard 873 and Spiess-tuned VW gave Herbert a narrow edge which he exploited by winning five races.
Ralt and Reynard shared the 18 race wins evenly between them. Ralt's leading runner was Bertrand Gachot, but Gary Brabham, Martin Donnelly and future World Champion Damon Hill all won races in the new Ralt RT31. Field sizes were down slightly from 34 to 32, and concerns were expressed about the level of promotion from the BARC and BRDC. A threat was expected from the new Vauxhall/Opel/Lotus series which, with the benefit of hindsight, need not have given anyone sleepless nights.
The races
08 Mar 1987 > Silverstone

15 Mar 1987 > Thruxton

05 Apr 1987 > Brands Hatch

12 Apr 1987 > Silverstone

20 Apr 1987 > Thruxton

04 May 1987 > Silverstone

17 May 1987 > Brands Hatch

25 May 1987 > Thruxton

07 Jun 1987 > Silverstone

28 Jun 1987 > Zandvoort

05 Jul 1987 > Donington Park

12 Jul 1987 > Silverstone

02 Aug 1987 > Snetterton

09 Aug 1987 > Donington Park

16 Aug 1987 > Oulton Park

31 Aug 1987 > Silverstone

06 Sep 1987 > Brands Hatch

13 Sep 1987 > Spa-Francorchamps

18 Oct 1987 > Thruxton

Table 'oldracingcars.watn2' doesn't exist