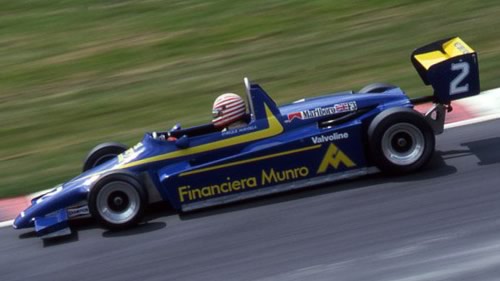 British Formula 3 1982
The 1982 season was one of significant transition in F3. March had decided not to build cars for F3 for the first time, ending a successful run of 264 cars over 13 seasons. The new kings of F3 were Ralt who were responsible for three-quarters of the grids in 1982, as well as virtually every place on every podium. Only a Euroracing, a car built from one of last season's March 813 and then dominating the European series, interrupted Ralt's domination.
Winners during the 1982 season included Tommy Byrne, who was walking away with the championship before his head was turned by F1, Enrique Mansilla, Dave Scott, Roberto Moreno and Martin Brundle. Byrne returned to the F3 series just in time to snatch the title from the grasp of Mansilla. Emanuele Pirro took Euroracing's win at Silverstone in June and a young Ayrton Senna stopped by to win the November Thruxton.
The races
07 Mar 1982 > Silverstone
14 Mar 1982 > Thruxton
21 Mar 1982 > Silverstone
04 Apr 1982 > Donington Park
12 Apr 1982 > Thruxton
25 Apr 1982 > Mallory Park
02 May 1982 > Snetterton
31 May 1982 > Silverstone
13 Jun 1982 > Marlboro European F3 Trophy at Silverstone
20 Jun 1982 > Cadwell Park
27 Jun 1982 > Silverstone
11 Jul 1982 > Brands Hatch
01 Aug 1982 > Mallory Park
07 Aug 1982 > Oulton Park
15 Aug 1982 > Brands Hatch
30 Aug 1982 > Silverstone
12 Sep 1982 > Snetterton
26 Sep 1982 > Oulton Park
03 Oct 1982 > Silverstone
10 Oct 1982 > Brands Hatch
24 Oct 1982 > Thruxton
13 Nov 1982 > Thruxton
Championship events shown in bold
Championship table
| | | | | |
| --- | --- | --- | --- | --- |
| 1. | Tommy Byrne | Murray Taylor Racing Ralt RT3/81 | 101 pts | 7 wins |
| 2. | Enrique Mansilla | West Surrey Racing Ralt RT3/82 | 98 pts | 4 wins |
| 3. | Dave Scott | Mint Engineering Ralt RT3/82 | 74 pts | 3 wins |
| 4. | Martin Brundle | David Price Racing Ralt RT3/82 | 60 pts | 2 wins |
| 5. | James Weaver | Eddie Jordan Racing Ralt RT3/81 | 53 pts | |