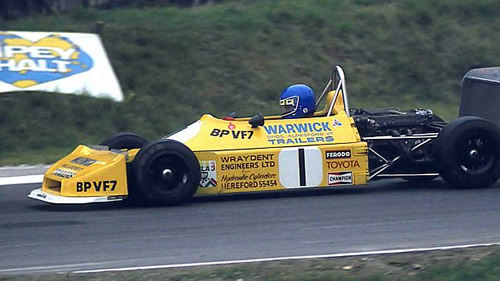 British Formula 3 1978
After four seasons in which each British F3 Champion had progressed straight into F1, much was expected of the 1978 crop, led by Derek Warwick, the nearly man of 1977, and Brazilian Nelson Piquet Soutomaior. Warwick won four of the first five races in his 1977 Ralt RT1 but was then distracted by the 'opportunity' to try a March 783. By the time he returned to his Ralt, Piquet was on a streak of seven successive race wins and the BP title was lost. Piquet worked hard with engineer Greg 'Pee Wee' Siddle to develop the RT1 and had the edge on Warwick from then on but Warwick rarely finished lower than second and was able to wrap up the Vandervell title.
Piquet kept up British F3's record by landing a F1 drive at Brabham. Warwick had to prove himself all over again in F2 before entering F1 with Toleman.
The Ralt RT1 won 24 of the 28 British races. March couldn't get anywhere with the 783 and Chevron focused their efforts abroad, rewarded by winning the Monaco GP support race. Stefan Johansson was competitive with the new Argo JM1 and competent entries were made for Wheatcroft and Ehrlich chassis.
The races
05 Mar 1978 > Silverstone (Vandervell Round 1)

12 Mar 1978 > Thruxton (BP Round 1)

19 Mar 1978 > Silverstone (Vandervell Round 2)

27 Mar 1978 > Thruxton (BP Round 2)

09 Apr 1978 > World Cup International F3 Race at Donington Park

16 Apr 1978 > Brands Hatch (BP Round 3)

22 Apr 1978 > Oulton Park (BP Round 4)

30 Apr 1978 > Donington Park (BP Round 5)

01 May 1978 > Silverstone (Vandervell Round 3)

06 May 1978 > Monaco GP F3 Race (BP Round 6)

14 May 1978 > Mallory Park (BP Round 7)

20 May 1978 > Oulton Park (Vandervell Round 4)

29 May 1978 > Thruxton (BP Round 8)

11 Jun 1978 > Brands Hatch (BP Round 9)

25 Jun 1978 > Cadwell Park (BP Round 10)

02 Jul 1978 > Paul Ricard (BP Round 11)

09 Jul 1978 > Silverstone (BP Round 12)

15 Jul 1978 > Brands Hatch (BP Round 13)

23 Jul 1978 > Donington Park (BP Round 14)

13 Aug 1978 > Mallory Park (Vandervell Round 5)

26 Aug 1978 > Donington Park (Vandervell Round 6)

28 Aug 1978 > Silverstone (Vandervell Round 7)

23 Sep 1978 > Silverstone (Vandervell Round 8)

24 Sep 1978 > Snetterton (BP Round 15)

30 Sep 1978 > Silverstone (Vandervell Round 9)

07 Oct 1978 > Brands Hatch (Vandervell Round 10)

15 Oct 1978 > Mallory Park (BP Round 16)

29 Oct 1978 > Thruxton (BP Round 17)

11 Nov 1978 > Plastic Padding Formula 3 Trophy at Thruxton

British championship events shown in bold

Table 'oldracingcars.watn2' doesn't exist