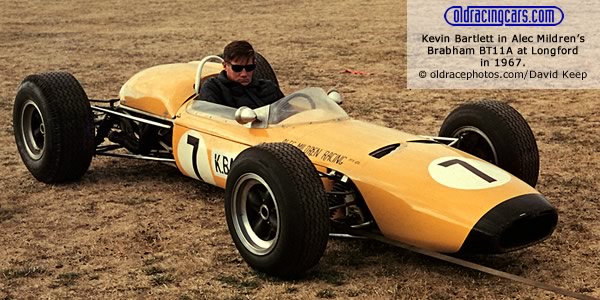 Australian Gold Star 1967
Like Bib Stillwell before him, Spencer Martin retained his Gold Star title and then announced his retirement. However, his victory in the Bob Jane Racing Brabham BT11A-Climax was far from straightforward as the competition was definitely strengthening. Scuderia Veloce had acquired the Repco V8-powered Brabham BT23A that Jack Brabham had run in the Tasman series and installed Greg Cusack in the seat. R.C. Phillips also had a Repco V8 installed in the Brabham BT14 he entered for John Harvey and a third V8 was nestling in the back of Leo Geoghegan's Lotus 39 although that was not enough to cure its reliablity problems. Martin and fellow BT11A-Climax driver Kevin Bartlett were just on the pace of the Repcos but the reliability of Martin's car gave him the edge.
At the end of the season, another very quick F2-based Tasman Brabham arrived in Australia in the form of Alec Mildren Racing's Brabham BT23D with Alfa Romeo Tipo 33 V8 engine for Frank Gardner to drive in the Hordern Trophy. He dominated the race with John Harvey in second; Harvey having moved across to Bob Jane's team to take over Martin's drive.
The races
25 Jun 1967 > Lakeside

27 Aug 1967 > Surfers Paradise

17 Sep 1967 > Sandown Park

09 Oct 1967 > Mallala

12 Nov 1967 > Symmons Plains

03 Dec 1967 > Hordern Trophy at Warwick Farm

Table 'oldracingcars.watn2' doesn't exist