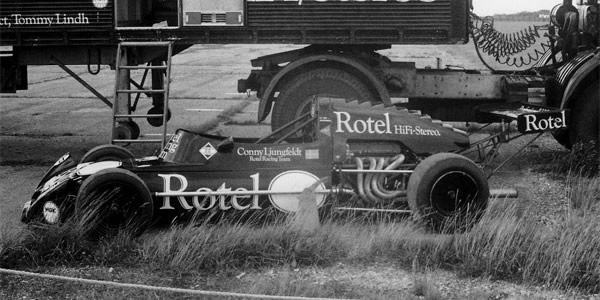 Swedish Formula 3 1975
Tore Helle's well-funded Rotel Racing Team dominated the 1975 Swedish series, with reigning champion Conny Andersson very successful in F3 across the continent in a new March 753, and his young teammate Conny Ljungfeldt winning the domestic title in Andersson's old 743. As well as the two domestic races that he won, Andersson also won the Swedish GP support race at Anderstorp in June, and a round of the Italian series at Casale in September.
Gunnar Nilsson had looked like he might win the 1975 championship but after winning the opening round, he decided to concentrate on the high-profile BP Super Visco championship in Britain. Thanks to winning that championship, not to mention a very successful late-season cameo in Formula Atlantic, he was propelled straight into F1 in 1976.
Apart from Andersson and Nilsson, few Swedes had the latest equipment, but Ingvar Carlsson went well in a new GRD 375. Although Marchs won all the races in Sweden in 1975 using Novamotor's Toyota engine, the bulk of the grids were made up of old GRDs and Brabhams fitted with Ford twin cam engines.
The races
27 Apr 1975 > Knutstorp
11 May 1975 > Mantorp Park
08 Jun 1975 > Polar Grand Prix of Sweden Formula 3 at Anderstorp
15 Jun 1975 > Kinnekullering
13 Jul 1975 > Falkenburg
17 Aug 1975 > Kinnekullering
24 Aug 1975 > Wrangler Grand Prix at Jyllands-Ringen
31 Aug 1975 > Kvällspostens Newsrace at Knutstorp
Svenska Formel 3 Mästerskapet events shown in bold
1975 Svenska Formel 3 Mästerskapet table
| | | | | |
| --- | --- | --- | --- | --- |
| 1 | Conny Ljungfeldt | March 743 - Toyota 2T-G Novamotor | 28 pts | 2 wins |
| 2 | Conny Andersson | March 753 - Toyota 2T-G Novamotor | 25 pts | 2 wins |
| 3 | Ingvar Carlsson | GRD 375 - Ford twin cam Neil Brown | 15 pts | |
| 4 | Claes Sigurdsson | Brabham BT41 - Toyota 2T-G Novamotor | 12 pts | |
| 5 | Gunnar Nilsson | March 753 - Toyota 2T-G Novamotor | 9 pts | 1 win |
| 6 | Håkan Alriksson | GRD 373 - Ford ohc Holbay | 8 pts | |
| 7 | Anders Olofsson | GRD 373 - Ford twin cam Novamotor | 7 pts | |
| 8= | Ulf Svensson | Brabham BT41 - Ford twin cam Novamotor | 5 pts | |
| 8= | Lars-Åke Olsson | Merlyn Mk22 - Ford twin cam Vegantune | 5 pts | |
| 10 | Jan Ridell | GRD 372 - BMW M10 Billgren | 4 pts | |