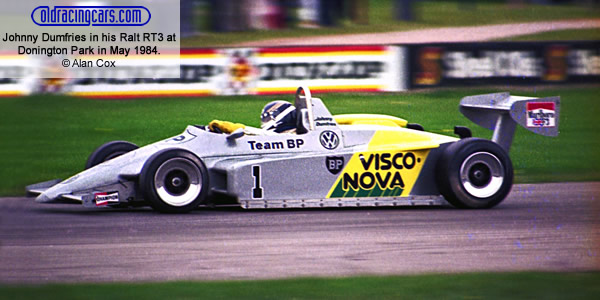 British Formula 3 1984
John Colum Crichton-Stuart got the drive at Dave Price Racing in 1984 and ran away with the British title, leaving behind an admitedly weaker field than in previous seasons. Styling himself "Johnny Dumfries" for racing purposes after his inherited title "Earl of Dumfries", he clinched the title with three rounds left to run. Russell Spence had been his closest rival for much of the year but his Glenn Waters Ralt was pipped for second place in the championship by the consistent Allen Berg at Eddie Jordan Racing. With the benefit of hindsight, it is clear that this was not a vintage year; none of this season's crop established themselves in F1.
Dumfries moved up to F3000 but had no success at all at the level. Despite that, he was employed by the Lotus F1 team where he fared no better in 1986. He then moved into sports cars and was a Le Mans winner in 1988 as part of the Jaguar squad. He later adopted the name "John Bute".
The races
04 Mar 1984 > Silverstone
11 Mar 1984 > Thruxton
01 Apr 1984 > Silverstone
15 Apr 1984 > Zolder
23 Apr 1984 > Thruxton
07 May 1984 > Thruxton
20 May 1984 > Donington Park
28 May 1984 > Silverstone
01 Jul 1984 > Snetterton
08 Jul 1984 > Donington Park
18 Aug 1984 > Oulton Park
27 Aug 1984 > Silverstone
01 Sep 1984 > Spa-Francorchamps
16 Sep 1984 > Zandvoort
23 Sep 1984 > Brands Hatch
30 Sep 1984 > Thruxton
07 Oct 1984 > Silverstone
1984 Marlboro British Formula 3 Championship table
Points table from Autosport 8 November 1984 p35.
Ralt's domination increased, the only competitor to the RT3/84 being the previous year's RT3/83. Some teams prefered the 1983 model, with its rocker-arm front suspension, to the pull-rod 1984 version. Cor Euser scored one solitary point for Magnum.
Autosport continued to count consecutive vistories for the RT3, the run now extended to 71. After the setback of 1983, when both Ayrton Senna and Martin Brundle had used Toyota engines, the John Judd-built VW powerplant swept the board in 1984.
A Class B was introduced for 1984 which only allowed cars built before March 1983. Keith Fine, using a RT3/83, won nine times from 12 starts to win the class.