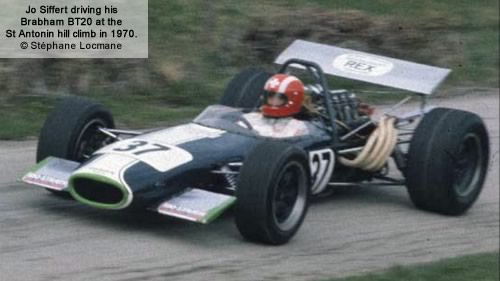 French Hill Climbs


Championnat de France de la Montagne
The Championnat de France de la Montagne started in 1967 but there was already a long tradition of course de côte in France. At first the championship was only for sports cars but it was soon opened to single-seaters and the title was won by F2 cars for nine successive seasons from 1969 to 1977. There was then a period of 19 years when it was won by Martinis, generally in BMW-engined F2 specification but nearly all custom built for hillclimbing, a parallel to Pilbeam's domination of British hillclimbing over a similar timeframe.
The best known champions have been Jimmy Mieusset, four-time champion in the 1970s, Marcel Tarrès, 11-time champion in the 1980s and early 1990s, and Lionel Régal, five-time champion before his death at Saint-Ursanne, Switzerland, in August 2010. The only champions to achieve wider fame were Belgian Hervé Bayard who competed in F5000 and in sports cars, and Guy Fréquelin who was second in the 1981 World Rally Championship two years after winning the hill climb title.