Alfa Romeo 179D car-by-car histories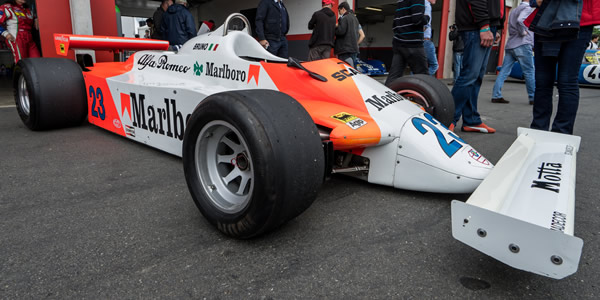 After starting the 1981 season with the very disappointing Tipo 179C, Alfa Romeo introduced two new cars during the year, which can be interpreted as a Tipo 179D. However, Alfa Romeo record-keeping was so poor during 1981, these histories can only be regarded as conjecture.
Autodelta were, in the words of Doug Nye, "always wary of disclosing chassis details". Grand Prix International put it slightly differently, commenting that "the Alfa Romeo team isn't as helpful as handing out chassis numbers as other teams". However, it is possible these journalist were being polite, and the reason Autodelta couldn't say is that they didn't know. Another commentator saw an Alfa Romeo technician noting down the result of one test on a sheet that mentioned neither the chassis number nor engine number, leaving him to wonder how any changes could possibly be assessed. Mario Andretti and Bruno Giacomelli were the drivers for 1981, but the team struggled to make the 179Cs work without the sliding skirts that had been banned for 1981. At the British GP, an "entirely new" car was introduced which was generally referred to as 179D/01, although it may have been an updated 179C. This car was used by Andretti until he wrecked it in Holland, after which a second 179D was built for him, initially referred to as 179D/02/05, hinting at it being a fifth 179C that had been updated to become 179D/02. However, it is hard to state that with very much confidence. Gerard Ducarouge joined the team from Ligier with four races to go, and fitted more effective sidepods to the disparate collection of 179B, 179C and 179D that he inherited, but his energies were directed into an all new carbon-fibre design for 1982.
Car
Total
Race
Starts
Grand
Prix
Starts
Grand
Prix
Wins
First Race
Present Location
1
1
Dutch Grand Prix
(30 Aug 1981)
Unknown
4
4
Italian Grand Prix
(13 Sep 1981)
Unknown
Autocourse usually make sense of individual car histories with the yearbook's end-of-season 'Chassis Log Book'. However, in 1981 they admitted defeat with Alfa Romeo and said it was "impossible to list the chassis used". Grand Prix International made an heroic attempt at the impossible, and the histories given here are based on GPI's 'Cockpits' section. However, there are many things in GPI that do not make sense, the most obvious being that the "new" 179D/01 that appeared for Giacomelli in practice in Argentina is surely not the "entirely new" 179D/01 that appeared for Andretti at the British GP. Here, that earlier car is regarded as being an updated 1980 179. Sport Auto, another usually impeccable source, used numbers that are very different, but also that make very little sense. Autosport apparently parroted Autodelta's official line that Andretti always drove 179C/02, Giacomelli 179C/03 and that the spare was always 179C/01; and continued to quote those 179C chassis numbers even when the 1980 cars were in use for five races from the French GP onwards.
But then, when all seemed lost, Autosport and Sport Auto found some logic, albeit a different logic to that being used by GPI. The 1980 cars that appeared at the French GP, which were 179Bs to GPI, appear to have been regarded as 179Ds by both Autosport and Sport Auto. On that logic, the "new" car at Silverstone therefore had to be a 179E. Autosport initially called it 179E/04, implying it was an updated version of 179C/04, but then took to calling it 179E/01. Sport Auto initially called it 179D/01, then moving to 179E/04. However, this moment of lucidity soon passed, and Andretti's car was back to being called a 179D at the Dutch GP. If Autosport and Sport Auto were on to something here, then maybe the 179D should be called the 179E, and maybe it was just an updated version of the 179C. Here, GPI's line is preferred but, to quote Doug Nye again, "at best individual car identities are supposition".
Please contact Allen Brown (allen@oldracingcars.com) if you can add anything to our understanding of these cars.
These histories last updated on .