Antares 1972 Indy car-by-car histories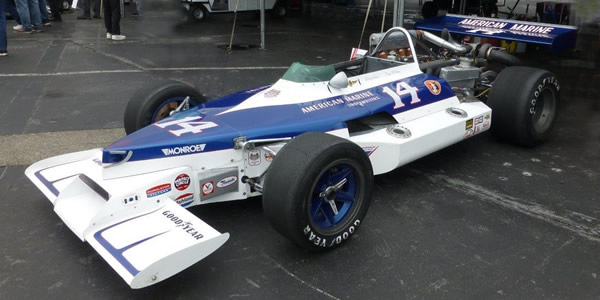 One of the most innovative cars ever to appear at the Indy 500, the Antares simply contained too many new ideas at once, and could not be sorted out in time. A more orthodox reworking of the design raced on through the 1970s, qualifying for the Indy 500 as late as 1979.
Antares Engineering was formed in Detroit in 1971 by Don Gates, credited with the Chaparral 2J "sucker" car. He was joined by another Chaparral alumnus, Mike Pocobello, a chassis designer who had been Chaparral project engineer at Chevrolet, and had been brought into the Chaparral team to try to make sense out of the very advanced and very slow Chaparral 2H. With such heavyweight reputations, the company was quickly approached by Pat Patrick to build a car for the Indy 500. Patrick convinced Lindsey Hopkins to split the cost of development, and Antares started work on the car in September 1971. The Antares was a very advanced design, and incorporated a lot of innovations. The car was the first to be designed using a computer, and first to use on board instrumentation and telemetry, six years before Tyrrell did the same in F1. It also used a composite honeycomb material, Bondolite, an aluminium/balsa sandwich developed by Goodyear in the 1950s for aerospace applications. Bondolite was designed to be glued, not riveted, but this technique caused alarm when the teams' chief crews saw it, and much of the cars were reskinned. The biggest innovation was the shape, with a boat-shaped nose and "nostril" air intakes below the prow, but as well as the aerodynamic innovations, there were also suspension innovations, many of which had to be replaced when they proved ineffective, and a Weismann 4-speed gearbox. The first test of the prototype car at Ontario revealed serious aerodynamic problems, and the top cowling and nose were significantly re-engineered by Chuck Looper at the request of Hopkins' driver Roger McCluskey.
The prototype arrived at Indy as Hopkins' #14 entry for McCluskey, and was joined on 9 May by two more cars, a second car to be Hopkins' #10 Gilmore Racing entry for Wally Dallenbach, and a #42 Pat Patrick entry for Swede Savage. McCluskey did much of the running as the other two drivers preferred to use their older Eagles, and he struggled to get the car up to speed. They finally got it sorted for the second qualifying weekend, when he set the 14th fastest time, placing him 20th on the grid. He went very well during the race, running as high as fourth place before the engine failed. Dallenbach was forced to use his car when his Eagle was bumped, but it was not quick enough.
Chassis
History
Current owner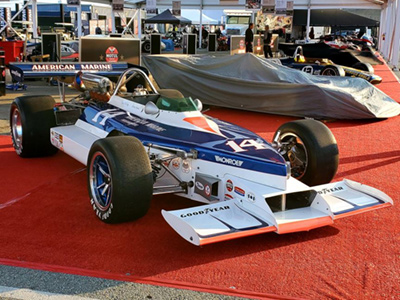 Sold to Lindsey Hopkins and entered at the 1972 Indy 500 as the #14 American Marine car for Roger McCluskey. McCluskey qualified in 20th spot on the grid but retired with a burnt valve. The car was not used again and, according to a history written by Kevin Triplett, the #14 Antares remained at Hopkins' workshop and was cannibalized for common parts. The remainder of the car was eventually sold to Jim Robbins who intended to modify it into a rear engine sprint car until USAC outlawed such cars after the 1973 season. It was sold to a lawyer in California and remained on the west coast until it was restored to original McCluskey livery by Rolla Vollstedt in the 1990s. Then sold to Michael McKinney (Kennewick WA) some time before 2007. Appeared at the IMS in May 2013 for a historic exhibition. On display at the Historic Indycar Exhibition in May 2016. On display at Monterey in August 2021. Still with McKinney in September 2021.
Driven by: Roger McCluskey. First race: Indianapolis Motor Speedway (R3), 27 May 1972. Only one recorded race.
Michael McKinney (USA) 2021
Sold to Lindsey Hopkins and entered at the 1972 Indy 500 as the #10 Gilmore Racing car for Wally Dallenbach. Dallenbach qualified Hopkins' 1970 Eagle for the race instead of the Antares but was forced into the Antares when the Eagle was bumped. The Offy engine blew during its qualifying run so it did not make the race. According to a history written by Kevin Triplett, this car and the Swede Savage car were returned to Antares Engineering and remained there until the two cars were bought by Ed Finley, Gary Miller and Keith Shuck in 1975. This ex-Dallenbach car was not used in 1976 but returned to the Indy 500 in 1977 when Ken Mahoney and Doug Beiderstedt had joined as part owners. Raced by Ed Finley in 1977 and 1978, then in 1979 by Frank Weiss and Eldon Rasmussen who managed to qualify it for the 1979 Indy 500. Reappeared a handful of times in 1980 and 1981 and then sat at the workshop of Ken Mahoney (Peru, IL) for some years. This car and all Mahoney's other Antares bits were acquired from him at some point by Jack Layton (Howell, Michigan), and he sold this ex-Dallenbach to Bob McConnell (Urbana, OH). By 2012, the car was fully restored in 1981 Roman Wheels #87 livery. Still in McConnell's collection in 2021.
Driven by: Wally Dallenbach, Ed Finley, Frank Weiss, Eldon Rasmussen, Jan Sneva, Rich Vogler, Dick Ferguson, Milt Harper, Bob Harkey and Phil Caliva. First race: Ontario Motor Speedway (R1), 25 Mar 1979. Total of 7 recorded races.
Bob McConnell (USA) 2021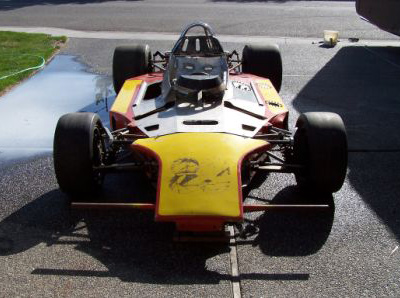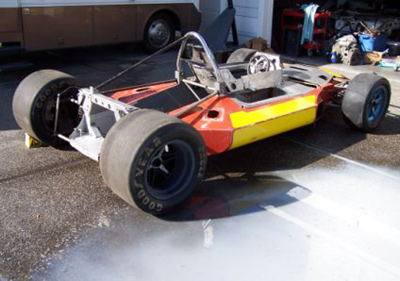 New for Pat Patrick's Michner Petroleum team and entered at the 1972 Indy 500 as their #42 car for Swede Savage. Like fellow intended Antares pilot Wally Dallenbach, Savage focused on his 1970 Eagle and qualified that for the race. The Antares was significantly revamped in time for the Ontario race in September but was no quicker and Savage did not attempt to qualify it. Together with the Dallenbach car, it was bought by Ed Finley, Gary Miller and Keith Shuck in 1975 and fitted with a Chevrolet V8 for Finley to drive in 1976. It was not used again but was later stored with the Dallenbach car at the workshop of Ken Mahoney (Peru, IL). All Mahoney's Antares bits were acquired from him at some point by Jack Layton (Howell, Michigan), and the ex-Savage car and other parts went to someone called Al in Grand Rapid, Michigan. He later sold all his Indy stuff to Bill Wiswedel (Holland, Michigan), who sold the Antares stuff to a guy in the Chicago area who was planning to fit a Chevrolet engine and use the car in vintage racing. The tub and spares were acquired some time before 2007 by Michael McKinney (Kennewick WA), also the owner of the more complete ex-McCluskey car. Still with McKinney in September 2021.
Driven by: Swede Savage and Ed Finley. First race: Milwaukee Mile (R10), 17 Aug 1975. Total of 4 recorded races.
Michael McKinney (USA) 2021
After the 500, the little-used Dallenbach and Savage cars were returned to Antares for modification. A more orthodox nose was fitted, and the radiators were repositioned to the sides. In this form, the #42 car was used in testing at the Ontario California 500 in September by Savage, but found to be no faster. Ed Finley later got hold of these two cars, and raced the former #42 in 1975 and 1976, before changing over to the former #10 car when the other car was stolen from a paint shop. In 1978, Frank Weiss acquired both these cars and commissioned Eldon Rasmussen to rework them for an attempt at the 1979 Indy 500. When Weiss failed his rookie test, Rasmussen took over the car and quickly developed it to the point that he was able to qualify it in the last spot on the grid. Weiss did race it a few other times, but without success. It returned with later owners in 1980 and 1981, but never looked like qualifying.
Acknowledgements
Thanks to Michael McKinney and Bill Wiswedel for their help with this article.
These histories last updated on .