Argo JM5 car-by-car histories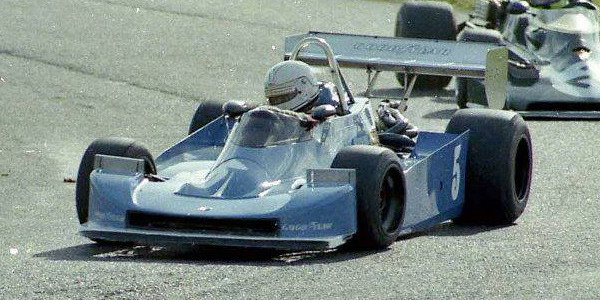 Argo built three Formula Atlantic cars in 1979 and 1980, the first two called Argo JM5s and the third called an Argo "JM8". It makes sense to cover all three cars together.
Argo constructors Anglia Cars were busy building Argo JM3s for Formula 3 and JM4s for Formula Super Vee in 1979, but also squeezed in a Formula Atlantic project for Northern Irishman Mike Nugent, which was called a JM5. Nugent was not competitive in the car in the Irish series and it was returned to the factory to be rebuilt into what was called a "JM8", although it was not related in any way to the JM8 Formula 3 car built for 1981. A second JM5 was built for Nick May to use in the British Formula Atlantic series, but he only raced it once. Dave Rackham then tested it a few times but never raced it, and it has finally hired out for Nick Adams to drive at two races at the end of the 1980 season, with the idea that it would replace Adams' disappointing March 80A. Both the Nugent and Adams cars were then sold to the Seattle area where they remained racing for many years.
If you can add to our understanding of these cars, or have photographs that we can use, please email Allen at allen@oldracingcars.com.
Chassis
History
Current owner
New to Mike Nugent (Cookstown, County Tyrone, Northern Ireland) and raced in the 1979 Irish Formula Atlantic series, replacing the Modus M3 with which Nugent had won the 1978 title. At some point this car returned to the Argo factory and was extensively reworked, re-emerging with chassis number "JM8-044-FA". It is assumed that this happened over the 1979/80 close season, as the two chassis numbers either side of this were new JM6s for the start of the 1980 season. Chassis 032 is thought to have been consumed in this process.
Driven by: Mike Nugent. First race: Mondello Park, 16 Apr 1979. Total of 9 recorded races.
Rebuilt as 'JM8-044-FA'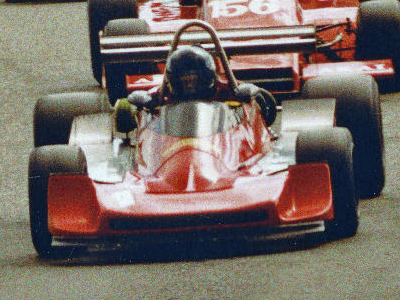 Built late in the 1979 season and invoiced to Nick May, who drove it in the Brands Hatch Formula Atlantic race in October 1979. Then to Dave Rackham and tested by him, but remained unused until Rackham advertised it in August 1980. It was finally raced by Nick Adams, and run for him by Colin Bennett Racing, in two races in September and October 1980. Sold to Jim Blackwell (Seattle, WA) and raced by him in ICSCC events in 1981, then advertised in June 1982. Raced once more by Blackwell in 1985 after his newer Argo JM9 was damaged at Portland. Also raced by Larry Dunn (Lake Stevens, WA) in local WCAR events in 1987. The car was still owned by Blackwell in 2010.
Driven by: Nick May, Nick Adams, Jim Blackwell and Larry Dunn. First race: Brands Hatch (R15), 14 Oct 1979. Total of 17 recorded races.
Jim Blackwell (USA) 2010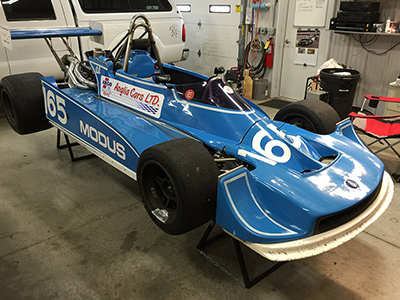 Believed to be a new car supplied to Mike Nugent for 1980, built on a new monocoque but incorporating parts of Nugent's previous JM5. The monocoque of the new car was wider and longer than on the older car, extending either side of the engine. This car appears in Argo records as "JM8-044-FA" and was described by Nugent as a JM8, but it is not related to the 1981 F3 car that also used that designation. Raced by Nugent in the Irish Formula Atlantic series in 1980 and at one raced at the start of 1981, but Nugent went off on warm up lap. Then sold to Jim Burnett (Bellevue, WA) and raced by him in WCAR events in 1983 and 1984. The car remained with Burnett until his death in May 2012, at which point both Burnett's Argos were acquired by Allen Karlberg (Seattle, WA), who raced the "JM8" in 2013. Sold to Douglas Schumacher (Cedar Rapids, Iowa) in early 2015, and he ran it at Road America later that year, only for it to be damaged when a freak gust of wind blew a golf cart onto it. Raced at Mid-Ohio in 2016 and at again Road America in 2017, then taken to Kirkistown in 2019 where it was tested by original owner Mike Nugent. Bought by Nugent, and in the process or restoration in Northern Ireland during 2020.
Driven by: Mike Nugent and Jim Burnett. First race: Kirkistown, 29 Mar 1980. Total of 14 recorded races.
Mike Nugent (Northern Ireland) 2020
Acknowledgements
My thanks to Chris Townsend for his work on all the Argo models, to Robert St John Cooper for providing the Argo production records, and to James Blackwell, who explained the American lives of the two surviving cars. Thanks also to Allen Karlberg, John Blackwell and Douglas Schumacher for the information provided, to Simon Hadfield and Dan Rear for keeping us straight, and to Con Connolly, Tom Johnston and Doug Schumacher for the use of their photographs .
These histories last updated on .