Argo JM9 car-by-car histories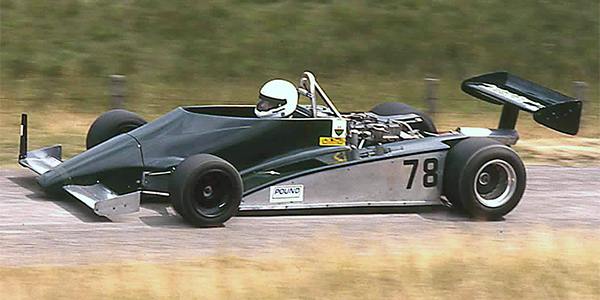 Argo built three Formula Atlantic Argo JM9s for 1981, based on the Formula 3 JM8. Like the F3 cars, the Atlantic cars were well off the pace of the Ralts.
After the success of the Formula 3 Argo JM6 in 1980 in the hands of Roberto Guerrero and Thierry Tassin, there were plenty of potential customers for the new 1981 JM8. However, the JM6 had been a "pod car", with ground-effect sidepods attached to a conventional monocoque, and for 1981 Argo would need a full ground-effect car. The resulting Formula 3 JM8 was conventional, with a slim aluminium monocoque, a single fuel cell behind the driver, and inboard suspension all round using bottom wishbones and top rocker arms. Three Formula Atlantic derivatives were also built, but these were not as developed as the F3 cars, and when the F3 cars proved to be bulky, overweight, and lacking straight-line speed, the company had to commit all the resource it had available to attend to the JM8's problems.
The first two JM9 customers were Tyrrell Arnold, who would run his car in the Irish Formula Atlantic series, and Ivor Goodwin who entered his for Irish Formula Ford champion Colin Lees in the British series. Arnold won first time out, albeit against meagre opposition, and Lees showed some promise at first, impressively second fastest in practice at Brands Hatch in April, but the car was withdrawn from the race "due to major mechanical and chassis failures having been suffered over the last few weeks". After a return to the factory, the Goodwin JM9 performed better, running in second place at Brands Hatch on 25 May, but Lees' sponsorship money then ran out and Ivor Goodwin replaced him with Desiré Wilson in July. Her performance was typically combative, but the Argo remained off the pace of the Ralt RT4s. John Lewis was then given a few outings in it before Goodwin abandoned the project.
Tyrrell Arnold's car was sold to Argo enthusiast Jim Blackwell in North America, and the Goodwin car went to ground for a few years before reappearing in hillclimbs.
If you can add to our understanding of these cars, or have photographs that we can use, please email Allen at allen@oldracingcars.com.
Chassis
History
Current owner
New to Tyrrell Arnold to race in the 1981 Irish Atlantic series, then to Jim Blackwell (Seattle, WA) in 1982 and raced in WCAR events in 1984 and 1985, then Marty Knoll (North Vancouver, BC) who raced it in WCAR in 1986 and 1987. Then to Terry Edwards in 1987-88 and from him to Gary Milligan (Richmond, British Columbia) who used it as the basis of the Buick-engined Lotus Europa with which he won the National Autocross Championship in 1994.
Driven by: Tyrrell Arnold, Jim Blackwell and Marty Knoll. First race: Kirkistown, 28 Mar 1981. Total of 20 recorded races.
Unknown
New to Colin Lees (Magherafelt, County Londonderry, Northern Ireland) and raced in the British Formula Atlantic series, run by Ivor Goodwin's Goodwin Racing with backing from Carcover. After Lees left the team, it was raced later in the season by Desiré Wilson and John Lewis. It was next seen in sprints and hillclimbs, driven by Neil White in 1987 and 1988, when it used a 2-litre BD-series engine. Then to Barry Goode (Malvern, Worcestershire) for 1989 and 1990, and sold by him to Simon Frost (Brechin), who raced it in 1994 and 1995 with a Vauxhall engine and with the sidepods removed. Then run by Mick Lancashire (Jersey) between 1996 and 1998 in the 1600cc class. Then hillclimbed by Laurie Ritchie (Studley, Warwickshire) between 2000 and 2013 using a QED-built 2-litre Vauxhall engine. Advertised by Ritchie in December 2013 and January 2014.
Driven by: Colin Lees, Desiré Wilson, John Lewis, Neil White, Barry Goode and Simon Frost. First race: Brands Hatch (R1), 15 Mar 1981. Total of 15 recorded races.
Unknown
In addition to the above, an unknown Argo JM9 was driven by Graham Brown.
Acknowledgements
My thanks to Chris Townsend for his work on this model, to Robert St John Cooper for providing the Argo production records, to former JM9 owner Jim Blackwell, to Steve Wilkinson for details of the hillclimb car, to Tom Johnston for information on the car in the Pacific northwest, and to Chuck Sieber.
These histories last updated on .