Arrows A2 car-by-car histories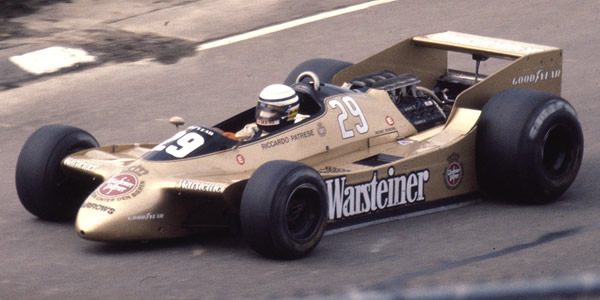 The Arrows A2 was Tony Southgate's brave attempt to create a 'second-generation' ground effect without conventional front or rear wings. Unfortunately, it was too ambitious for such a small team to fully develop, and was soon abandoned.
Tony Southgate had been the first designer to follow Lotus's ground-effect ideas when he produced the "wing-car" Arrows FA1, but by the time it raced, Lotus had already taken the science to a new level with their venturi-effect Lotus 79. Other teams, notably Williams and Ligier, improved on the Lotus 79 at the start of 1979, so Southgate attempted to leapfrog again, producing the striking Arrows A2, with full-width underfloor section enabled by angling the entire engine and gearbox. The car was designed without a conventional front or rear wing, the former being mounted on the front suspension and the latter very low and in between the rear wheels. Although much of Southgate's thinking was along the same lines as Colin Chapman's new Lotus 80, the A2 borrowed some sidepod ideas from the Ligier JS11, and air flow separation ideas from the Ferrari 312T4. Like the Lotus 80, also intended to be a "second-generation" ground-effect design, the car suffered from porpoising. Combined with the very reclined seating position, this made the A2 very uncomfortable for the drivers. The cars first appeared at the French GP but unlike Lotus 79, which was tested and developed extensively before it first raced, the A2 arrived untested. With insufficient budget for the development necessary, the A2 experiment was soon ditched, and Southgate started work on a completely orthodox ground-effect design for 1980. Curiously, nobody has ever tried to make an Arrows A2 work for historic racing.
Car
Total
Race
Starts
Grand
Prix
Starts
Grand
Prix
Wins
First Race
Present Location
7
7
French Grand Prix
(1 Jul 1979)
Monaco 2011
6
6
French Grand Prix
(1 Jul 1979)
Nürburgring museum (Ring°werk) (Germany) 2022
Arrows A2/3
(no races recorded)
Unknown owner (Japan)
Detailed specifications of the Arrows A2 can be found on ultimatecarpage.com. Giorgio Piola's full description of the car can be found in Grand Prix International No 8, pp52-53.
Please contact Allen Brown (allen@oldracingcars.com) if you can add anything to our understanding of these cars.
These histories last updated on .