Arrows A3 car-by-car histories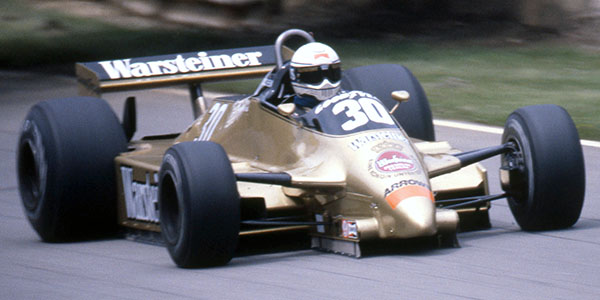 After the dead end of the A2, Arrows returned to an orthodox F1 design with the 1980 Arrows A3. Riccardo Patrese took a magnificent second place at Long Beach, but the team faded back to midfield later on.
Tony Southgate and his deputy Dave Wass worked together on the conventional A3, which was well-built, narrow, compact and well-balanced, and proved to be very quick in a straight line. Riccardo Patrese and Jochen Mass remained as drivers for 1980, and the A3 was successful at first, with Mass scoring second place in the Spanish GP to prove Patrese's second at Long Beach was no fluke. However, as other teams got their skirt systems working better, the Arrows fell back down the grid. Southgate left the team in September 1980, and Wass took over as chief designer. After the team lost its Warsteiner sponsorship, Wass had to rework the A3 for 1981, and Patrese found the car worked much better without skirts, taking pole position at Long Beach and leading comfortably until fuel feed problems intervened. After this promising start to the season, Arrows were a victim of the renewed tyre wars that followed Goodyear's shock withdrawal from F1, ending up on uncompetitive Pirellis. Siegfried Stohr was out of his depth in the second car, but Jacques Villeneuve Sr fared no better.
The locations of all six cars are known today. Four are in running condition, a fifth is complete, and the sixth is completely dismantled.
All of the A3s have their true chassis number stamped into the base of the rollhoop, and all six cars today retain those unique identifiers. However, the chassis plates on the cars were wrong in several cases, with two cars having the same number on their plate. Those plates are likely to remain on the cars, but as of August 2017, all six owners know the true identity of their cars. A previous version of this page showed A3/3 and A3/5 as a single entity, and A3/2 and A3/4 also as a single entity. This was on the advice of former factory personnel but as all six cars are now known to exist, this cannot be right.
The race histories shown here have been reworked using the chassis numbers recorded in Autocourse, Grand Prix International, Sport Auto, Motoring News, and Autosport. However, it is clear that Arrows swapped chassis plates a great deal, so the exact story may never be known.
Please contact Allen Brown (allen@oldracingcars.com) if you can add anything to our understanding of these cars.
These histories last updated on .