Arrows A6 car-by-car histories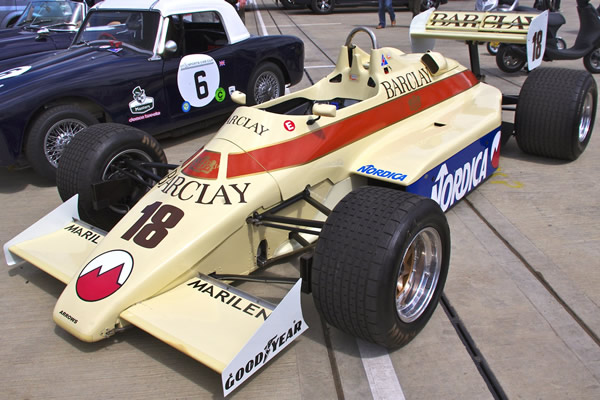 Arrows were one of the last teams to secure a contract for turbocharged engines, so the 1983 Arrows A6 had to use Cosworth DFV engines. These cars were later used in Formula 3000, and after that in a Belgian racing school.
Although the monocoque of the A6 was essentially the same as the late-1982 Arrows A5, the aerodynamics were completely new. New flat-bottomed rules had been introduced for 1983, so the wide sidepods of the A5 were initially replaced by short stubby sidepods on the A6s, but different lengths were tried during the season. The Ragno sponsorship had gone, and the cash-strapped team arrived at the opening GP with two completely untested cars. Lead driver Marc Surer was sick for most of the weekend, and could only qualify 20th. However, after medical treatment he was eighth fastest on full tanks in the warmup session, and started brilliantly, running 13th in the early stages. He fought with Jacques Laffite's Williams FW08 for much of the race, and although the Williams driver pulled away in the final stages, Surer finished an impressive sixth, scoring the team's first point in quite some time. Alan Jones was convinced to come out of retirement and drive the second A6 at Long Beach. Despite having gained quite a few pounds, he qualified 12th, with Surer 16th. Both A6s again went very well on full tanks and Surer was third at one stage before finishing fifth. Jones gave up, exhausted.
Jones drove again for the team at the Race of Champions, finishing third, but the money was not available to keep him on. Chico Serra returned to drive the second car, until he was replaced by Thierry Boutsen in May. Surer continued to impress, scoring another point for the team at Imola, but with no main sponsor, there was little money for development. The team slipped further and further back. A new A7 with BMW engine was not ready for the start of the 1984 season so the well-used A6s saw prolonged service. They were then converted for use in Formula 3000 in 1985, before being used and abused in a Belgian racing school. Most of the cars needed new monocoques after that, produced in Bolton, and then started careers in historic racing. At least one more A6 has been built, but there is probably a second and may even be a third.
Car
Total
Race
Starts
Grand
Prix
Starts
Grand
Prix
Wins
First Race
Present Location
2
1
Race of Champions
(10 Apr 1983)
Not disclosed
6
6
Brazilian Grand Prix
(13 Mar 1983)
Not disclosed
8
7
Brazilian Grand Prix
(13 Mar 1983)
Not disclosed
20
16
Belgian Grand Prix
(22 May 1983)
Not disclosed
9
9
British Grand Prix
(16 Jul 1983)
Not disclosed
Arrows A6/R
(no races recorded)
Not disclosed
Please contact Allen Brown (allen@oldracingcars.com) if you can add anything to our understanding of these cars.
These histories last updated on .