Arrows FA1 car-by-car histories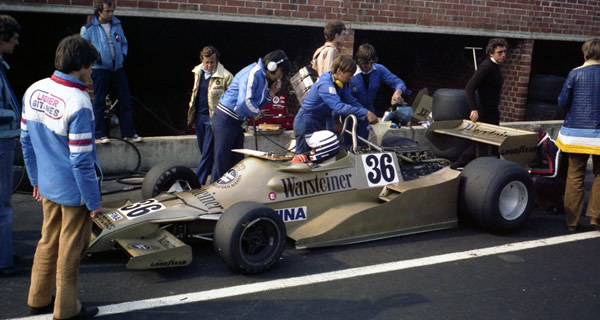 The Arrows FA1 was the first car from the new Arrows team, to be driven by Riccardo Patrese and Rolf Stommelen. It was only the second "wing-car" to appear, after the Lotus 78, but it was soon adjudged to be a copy of Tony Southgate's Shadow DN9, designed before Southgate left Shadow for Arrows, and was banned.
Tony Southgate had briefly worked for Lotus while the Lotus 78 "wing-car" concept was being developed, so he was the first designer to attempt the same ideas. Like the 78, the FA1 used inverted wing sections in sidepods, rather than the venturi design which Lotus would soon introduce with the 79. The combination of Riccardo Patrese and "wing-car" technology made Arrows impressively competitive for such a new team. At only their second race, Patrese put the FA1 into the lead of the South African GP and was cruising to victory until his engine exploded 15 laps from the chequered flag. Points at Long Beach and Monaco were scant consolation. The FA1's best result came at Anderstorp for the Swedish Grand Prix, where Patrese qualified fifth, behind only the two Brabham BT46 fan cars and the revolutionary Lotus 79s, and held off Ronnie Peterson's 79 to finish second behind Niki Lauda's Brabham. The court case and the need to start work on a replacement car halted the FA1's development. The cars were dismantled, and the tubs and components were handed over to Don Nichols. Many years later, Pete Racely located a set of original FA1 bodywork in a pub near Northampton, and acquired a tub and various components from Nichols to build up a complete FA1. This beautifully reconstructed car took the identity 'FA1/1'.
Car
Total
Race
Starts
Grand
Prix
Starts
Grand
Prix
Wins
First Race
Present Location
4
4
Brazilian Grand Prix
(29 Jan 1978)
Dismantled 1978
4
4
South African Grand Prix
(4 Mar 1978)
Dismantled 1978
5
5
Belgian Grand Prix
(21 May 1978)
Dismantled 1978
5
5
Spanish Grand Prix
(4 Jun 1978)
Dismantled 1978
Arrows FA1/1-R
(no races recorded)
United Kingdom 2019
Please contact Allen Brown (allen@oldracingcars.com) if you can add anything to our understanding of these cars.
These histories last updated on .