Atlanta 1972 Indy car-by-car histories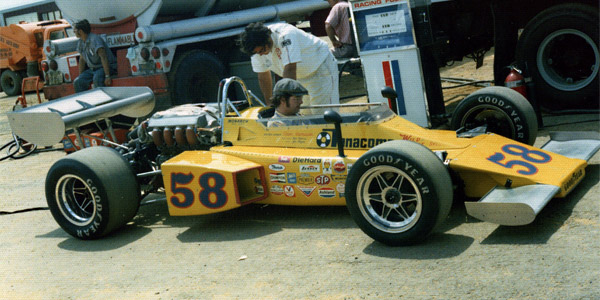 Built by ex-Team Lotus crew members Mike Underwood, "Chalky" Fullalove and "Rabbit" Bartils at Gene White's workshop in Atlanta, the 1972 Atlanta was an unsuccessful attempt to copy the 1971 McLaren. Eldon Rasmussen rebuilt two of them in 1974, naming them Ras-Cars, and they remained in use for many years.
After the dominant performances of the McLaren M16 in 1971, several teams were keen to acquire McLaren copies for 1972. Englishman Mike Underwood, Irishman Eamon 'Chalky' Fullalove and Australian Graeme 'Rabbit' Bartils formed Atlanta Cars Inc to fabricate five McLaren copies, working at Gene White's workshop in Atlanta, GA. The three were all veterans of the British teams' invasion of Indy racing, having all been together in the Lotus Indy team of 1967. Underwood had been Jim Clark's chief mechanic in 1967, but left in 1968, disillusioned with the BRM H16 project. He worked for Frank Williams and designer Len Terry in England, before returning to the US in 1970 as part of BRM's Can-Am project. He stayed in the US and joined the Vel's Parnelli Jones team to work with George Bignotti and Jim Dilamarter as a chassis specialist and stayed with them through 1971. Fullalove had taken a different route, moving to Clint Brawner's team to work with Mario Andretti in 1969, then on Brawner's unsuccessful Scorpion project in 1970, before joining the McLaren team to be crew chief on Denis Hulme's McLaren M16 in 1971. Bartils also worked at McLaren in 1971.
Gene White was a wealthy Firestone tyre distributor from Atlanta, GA, who held Firestone's racing tyre concession for the US South East, and set up his racing team in December 1966, with Lloyd Ruby as lead driver, former Goodyear racing manager John Laux as team manager and Dave Laycock as crew chief, assisted by George Morris. Laux acquired a Formula 1 Brabham BT11, which Laycock used as the template for a series of Mongoose cars. Ruby won first time out in a Mongoose at the start of 1967, but only won three more races in five seasons after that. With a generous budget from Firestone, White's operation became more ambitious in 1971, as he entered stock car racing with a Pontiac for Cale Yarborough. White also ran a second Mongoose in the USAC series for Yarborough in 1971, but the latest Mongoose was not a success, and in July White dropped Laycock and moved the operation from Laycock's workshops at Avon, Indiana to White's base in Atlanta, Georgia. White and Ruby would need new cars for 1972, and as the McLaren M16 had been the dominant car of 1971, the new Atlanta Cars operation was the perfect answer. However, White was taking no chances and also flew to England to buy one of Lola's dramatic-looking new T270 Indy cars, scheduled for April delivery.
Drivers Ruby and Yarborough were retained for the 1972 season, with an Atlanta being built for each of them to start the season, and a Lola to be ready for the Indy 500 as an insurance policy. White also showed the Atlanta plans to AJ Foyt, whose Coyote cars had been a little off the pace for the last three seasons, and he also ordered two Atlantas, as a backup to the new Coyote being designed for him by Bob Riley. There was also a suggestion that Clint Brawner might run an Atlanta for Art Pollard, especially if White opted to run the Lola. Unfortunately for White and Foyt, somebody had miscalculated the finances of the Atlanta Cars operation, and it folded in April, leaving just one complete car plus parts for two more. White picked up the pieces, keeping the complete car for Ruby and a second incomplete car to be built up for Carl Yarborough, and sending a monocoque and parts for a third car to AJ Foyt.
Ruby raced his Atlanta at the opening race of the season, and at the Indy 500, where he finished a respectable sixth, but crashed the car at Michigan and after that, he preferred his Lola. Yarborough was dropped by the team, and Jimmy Caruthers only drove Yarborough's car once. The Gene White team folded at the end of 1972, and the two cars were sold to private teams. Foyt did not appear often in 1972, so his Atlanta was never raced, the team preferring to focus on their Eagle-like 1972 Coyote.
Of the three cars built, one has been restored and one was destroyed, leaving one still to find. If you can add to our understanding of these cars, please email Allen at allen@oldracingcars.com.
Chassis
History
Current owner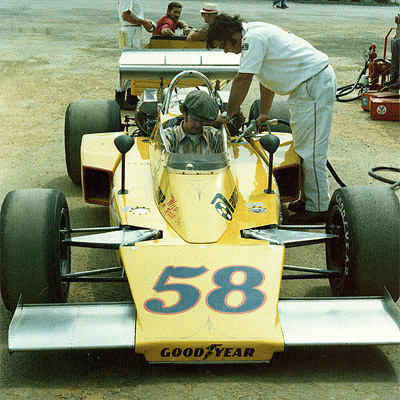 New for Lloyd Ruby at the Jimmy Bryan 150 at Phoenix in March 1972, where it was Gene White Racing's #5 Wynns entry, and then used by him at the Indy 500, where he finished sixth. Ruby then tried the team's Lola T270 at Milwaukee, and tried both cars in practice at Pocono before it was rained off. He then crashed the Atlanta before the race at Michigan in July, and used the Lola for the rest of the season. Almost certainly the Atlanta-Ford sold to Loyd Meek's Quality Racing Team for 1973, where it was due to be enginered and raced by Eldon Rasmussen, but Rasmussen did not appear in the car until Texas in October, where it went very well. Rebuilt by Rasmussen as a "Ras-Car", and thereafter described as a 1974 car. Raced by Rasmussen in the 1974, 1975, 1976, 1977 and 1978 seasons, although he generally only appeared for the longer races at Indianapolis, Ontario, Pocono and Michigan. This is believed to be the car that was demolished in Rasmussen's huge accident at Pocono in 1979.
Driven by: Lloyd Ruby, Billy Shuman and Eldon Rasmussen. First race: Phoenix International Raceway (R1), 18 Mar 1972. Total of 23 recorded races.
Wrecked 1979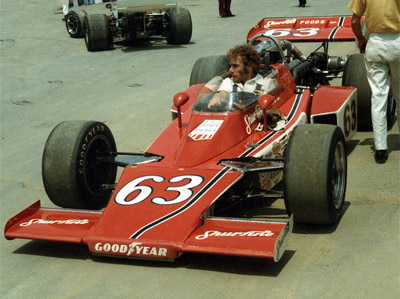 Completed by Gene White Racing after Atlanta Cars closed, and first seen as the team's #21 Bill Daniels GOP for Cale Yarborough at the 1972 Indy 500. Yarborough was then "asked to step down", and the car was converted from Ford to Offy power for team leader Lloyd Ruby to try in practice at Pocono. It was raced by Jimmy Caruthers as the #52 Wynn's Special at Ontario in September. Almost certainly the Atlanta-Offy sold to Larry McCoy Sr's Eastern Racing for his son Larry McCoy to drive in 1973, backed by James Bidwell's Shurfine Foods. Converted by Eldon Rasmussen to Ras-Car specification for 1974, and raced by McCoy and others up to 1977. To Frank Fiore for 1978, and his #87 Machinists Union entry for Jerry Karl, Phil Threshie and Al Loquasto that season. Then to Buddie Boys, a Calgary trucking magnate, and entered for Bob Harkey at the 1980 Indy 500, but he could not get enough speed out of it. The last that was heard of the car was just before the Milwaukee race, when the engine was said to have blown up during testing. Subsequent history unknown.
Driven by: Cale Yarborough, Jimmy Caruthers, Larry McCoy, Bob Harkey, Jerry Sneva, Jerry Karl, Phil Threshie and Al Loquasto. First race: Indianapolis Motor Speedway (R3), 27 May 1972. Total of 27 recorded races.
Unknown
New to AJ Foyt, and entered for the 1972 Indy 500 as the J.H. Greer #82 car, but did not arrive. The car was fitted with a Foyt-Ford V8 engine, and was entered at Indy a year later for Jim McElreath to drive, but he did not complete a qualifying attempt. It was brought out again in 1974, still as the #82 entry, and was driven by George Snider at Ontario Motor Speedway in March, at Phoenix two weeks later, and also at the Indy 500, where Snider qualified 13th but retired early. Photographs show that it was also raced by Sammy Sessions at Michigan, wearing #83. For 1975, the Atlanta was sold to Carroll Cheek (Bowling Green, Ohio), fitted with a Chevrolet engine, and entered in a couple of USAC races at Phoenix for Formula B racer "Butch" Harris (Houston, TX) to drive, Harris having driven Cheek's Supermodified racer. Harris ran the car in practice at Phoenix in November 1975, but could not qualify. In early 1977, it was sold to George R. Boyd (St Joseph, IL) and the Chevy engine was replaced by a Foyt-Ford acquired from Tom Frantz. Frantz was given the chance to qualify it at the 1977 Indy 500, but he spun during practice and Jerry Karl, Bob Harkey, and Mel Kenyon were all given a try in the car. It went well during the month but Kenyon was unable to rediscover that speed during his qualifying run. The car was retained by Boyd in his garage for over 40 years until his death in January 2018. Six months later it was sold to restorer John Mueller.
Driven by: Jim McElreath, George Snider, Sammy Sessions, "Butch" Harris, Bob Harkey, Jerry Karl, Mel Kenyon and Tom Frantz. First race: Ontario Motor Speedway (R2), 3 Mar 1974. Total of 6 recorded races.
John Mueller (USA) 2021
The 1974 Ras-Cars
Eldon Rasmussen first came in contact with an Atlanta when one was sold to Loyd Meek's Quality Racing Team for 1973. It was not seen until the race at Texas World Speedway, where it was described as "a new Atlanta McLaren". By early 1974, Rasmussen was describing the Atlanta as a "Ras-Car" and entered it as the "Money Needed Spl". According to Tim Coffeen, who worked for Rasmussen in 1974, Rasmussen main change to the car was to fit Eagle rear suspension to the car. He made the same changes to the Offy-engined Atlanta raced in 1974 by Larry McCoy. These cars were progressively modified and updated by Rasmussen through 1974, 1975, 1976, 1977 and 1978, by which time Rasmussen was still qualifying for the odd race in his, and Frank Fiore was running the other Rascar for various drivers with Machinists Union backing.
When CART split with USAC at the start of 1979, USAC held on to the 500-mile races at Indianapolis and Pocono, despite having insufficient entries to fill the grid. CART runners were allowed at Indianapolis, but at Pocono in June 1979 USAC was facing its smallest field for a 500-mile race since 1925. Any available car was pressed into service, and Rasmussen was urged to start his Rascar, despite not having been present for qualifying. Although the car had only just been completed following a rebuild to use a Chevrolet engine, he was denied permission for a few practice laps before the race. On lap 59 of the race, Rasmussen crashed heavily, the rear wing reportedly breaking off, and the car buried itself into first turn wall. Rasmussen was cut out of the car unconscious and transferred by helicopter to hospital where he was found to have a broken ankle, rib injuries and concussion. He did not race again but continued in the sport as a well-respected engineer. The Rascar was completely demolished.
Acknowledgements
My thanks to Simmo Iskül, Gerry Measures and Michael Ferner for their original research, to owner John Mueller for filling the gap in the history of his car, to George Boyd's son Rick Boyd, and to Jim Knerr for his photographs. Much of the background information in this article has been constructed from newspaper reports, and information from Hungness Yearbooks.
If you can add to our understanding of these cars, please email Allen at allen@oldracingcars.com.
These histories last updated on .