ATS D1 car-by-car histories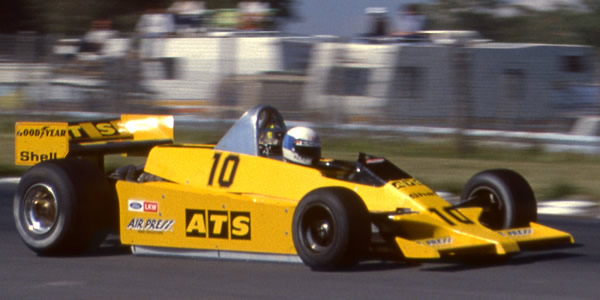 John Gentry stayed with ATS in 1978 after the split with March, and designed a "wing car" for the team, the ATS D1. Jochen Mass destroyed the prototype in a testing accident, after which Keke Rosberg drove a second D1 in the two North American GPs
For most of the 1978 season, ATS used the ATS HS1s, which were Penske PC4s modified by Robin Herd and then developed by John Gentry, formerly of Shadow and Tyrrell. Gentry designed a new "wing car" for ATS, the ATS D1, but left the team after the German GP, before his creation was complete. The D1 was first seen at the Dutch GP where it was ready in time for second practice. There was not enough time to get it working properly, but despite failing to qualify, team leader Jochen Mass was encouraged by it. The following week, the team tested the car at Silverstone but Mass was badly injured when the car abruptly turned sharp left as it neared Stowe Corner, and slammed into the concrete marshal's post. The D1 was completely destroyed in the accident, and Mass suffered leg and shoulder injuries. A second car was built up just in time to be shipped out for the two North American GPs, where it was to be raced by Keke Rosberg. This revised model had a stronger monocoque, repositioned radiators behind the front wheels, rocker arm rear suspension, and a new 'up and over' exhaust. Rosberg qualified 15th at Watkins Glen, and also got the car going well during the race in Canada, setting the fifth fastest lap of the race.
Gustav Brunner was brought in to redevelop the remaining D1 for 1979, when it was renamed as the ATS D2. No D1s therefore exist.
Car
Total
Race
Starts
Grand
Prix
Starts
Grand
Prix
Wins
First Race
Present Location
(Dutch Grand Prix)
(27 Aug 1978)
Written off, Silverstone test session 1978
2
2
United States Grand Prix
(1 Oct 1978)
Rebuilt as ATS D2/02
Please contact Allen Brown (allen@oldracingcars.com) if you can add anything to our understanding of these cars.
These histories last updated on .