Beattie P1100 history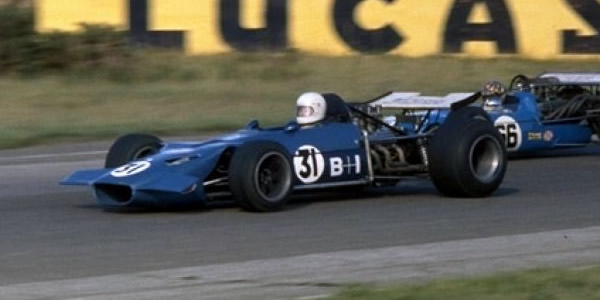 Chas Beattie Projects built a monocoque Formula 5000 car for Lingard Goulding for 1970, utilising the running gear and engine from Goulding's crashed Lola T142. The car was destroyed in an accident the following year.
Chas Beattie had been chief mechanic of Chequered Flag's Formula 3 team, and had designed the team's Gemini Mk 5 cars in 1967 for the DAF transmission. When Chequered Flag's relationship with DAF broke down, Beattie left and formed Chas Beattie Projects, based in the railway arches at Stamford Brook in London, right next door to Tony Kitchiner, who had been Chequered Flag's workshop manager and took over the main workshop. A Formula Ford design that he had been working on at 'The Flag' became the Beattie Mk 1 for 1969. Among Beattie's 1970 projects were the P6000 Formula Ford, and the P8000, a monocoque sports car fitted with a Janspeed 1.3-litre BMC engine for the short lived F100 sports racing category.
Beattie's P1100 Formula 5000 car was a commission from Dubliner Lingard Goulding and his partner Jim Fitzgerald. For the 1970 season, Goulding had decided to move up to Formula 5000, and bought the works development Lola T142 that had been raced in 1969 by Mike Hailwood. The car was equipped with a Traco-modified Chevrolet V8. The Lola T140/142 range were unforgiving cars, and Goulding had a number of incidents in the T142, the first coming when he crashed in practice for his first F5000 event at Brands Hatch in March 1970. He crashed it again in practice at Castle Combe in early May, and this time the Lola was badly bent, so Goulding approached Beattie to build a replacement. The resulting Beattie P1100 was a monocoque, fabricated from 18-gauge L72 aluminium, with the Lola T142's rocker-arm inboard suspension mounted on the front of the tub, and the Chevrolet engine bolted to the rear bulkhead. A steel frame supported the rear suspension, aided by a bracket from the bottom of the rear bulkhead to the gearbox. The Hewland LG gearbox of the Lola was replaced with a DG300, on which was mounted the rear wing. The dry-sump Weber-carbureted Traco Chevrolet was carried over from the Lola. As well as Beattie, New Zealander Bruce Smith was credited with much of the work on the car, as well as its later preparation.
After being shaken down by Roy Pike at Silverstone, the car was taken over to Mondello Park for its race debut in a libre race on Monday 3 August 1970. Goulding was troubled by fuel splashing into the cockpit, but carried on to finished third. Six days later, he gave the car its F5000 debut at Thruxton, finishing 13th, and raced it four more times that season, his best result coming at Snetterton where he qualified tenth and finished eighth. Despite plans to sell the car and replace it with an all-new Beattie design, the car was updated to 'B' specification and Goulding retained it for 1971. He appeared less often in 1971, and it was only his fourth appearance in a F5000 race when he crashed heavily at Mallory Park in early July. According to Irish motor racing historian Edward Fitzgerald, Goulding walked away, leaving it to somebody else to clear up the wreck, and does not know what became of the remains.
Chassis
History
Current owner
Built mid-1970 for Lingard Goulding to race in Formula 5000, and in occasional libre races. Retained for 1971 in 'P1100B' specification, but crashed heavily by Goulding at Mallory Park in early July and written off.
Driven by: Lingard Goulding. First race: Mondello Park, 3 Aug 1970. Total of 9 recorded races.
Written off 1971
Aged 30 at the time the Beattie was created, Lingard Goulding was more properly known as William Lingard Walter Goulding, the eldest son of Sir (William) Basil Goulding, and heir to his Baronetcy of Millicent in Clane in the County of Kildare and Roebuck Hill in Dundrum in the County of Dublin. Lingard was due to follow his father into the highly successful family business, but after three years running Rionore Jewellery decided that business was not for him, and became a teacher. He was later headmaster of Headfort Preparatory School in County Meath for nearly 25 years, and chose not to succeed to his late father's title.
Please contact Allen Brown (allen@oldracingcars.com) if you can add anything to our understanding of these cars.
These histories last updated on .