Brabham BT10 car-by-car histories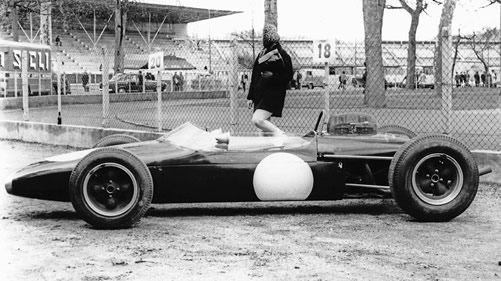 For the new 1964 1000cc Formula 2, MRD built the new Brabham BT10, a short-chassis evolution of the BT6, which rivalled the Lotus 32 as the leading F2 car of 1964.
The first new 1964 Brabhams to emerge were the Formula 3 BT9 design and only one BT10, a works car for Denny Hulme, was ready for the Pau F2 race in early April. A second car appeared for Jack Brabham at Aspern a week later, as did a first Ford Austria car for Jochen Rindt. Other customer cars would appear later, including two cars for Roy Winkelmann Racing and an Écurie Ford France car for Jo Schlesser. Jim Clark and the Lotus 32 started the season on top but Rindt's win at Crystal Palace in mid-May showed that the BT10s could match the Lotus and from Reims in July onwards, Jack Brabham's own car was established as the car to beat. Jack ended the season virtually tied with the Scot; each had four wins, two second places and three pole positions. A number of cars were sold near the end of the season, including those of Walter Habegger and Dennis O'Sullivan which were primarily for use in F3. A further car was built for Tasman racing where it wore the non-standard plate 'IC-6-64', and two cars headed off to Japan where they would inform Japan's budding racing car industry.
In 1965, Charlie Lucas acquired three BT10s and converted them for Formula 3 where they were highly successful, leaving very few BT10s in F2 in 1965.
If you can add anything to our understanding of these cars, please contact Allen Brown (allen@oldracingcars.com).
Chassis
History
Current owner
Brabham BT10
F2-1-64
The first BT10 was ready for the Pau GP where it was a Brabham Racing Organisation entry for Denis Hulme. This is presumably the car he drove all season, winning at Clermont-Ferrand in July and Zolder in August. Charles Lucas acquired this car for 1965, converted it to F3 specification and ran it for Piers Courage, who won eight races that season. It was then sold to Mike Keens and raced by him in F3 throughout the 1966 season. Keens bought a new BT21 for 1967 and the subsequent history of the BT10 is unknown after Keens advertised it in February 1967.
Driven by: Denis Hulme, Piers Courage, Jonathan Williams, John Cardwell, Mike Beckwith and Mike Keens. First race: Pau, 5 Apr 1964. Total of 68 recorded races.
Unknown
Brabham BT10
F2-2-64
Jack Brabham drove F2-2-64 at the Aspern F2 race in April 1964, qualifying on pole and winning Heat 2, before it was handed over to Roy Winkelmann Racing for Alan Rees to drive through the rest of 1964. Rees won at Reims in July in this car. This was then one of three BT10s bought by Charles Lucas for F3 and was raced by Jonathan Williams during 1965. Williams won three races that year but also crashed heavily at Reims in July and will have used other cars until F2-2-64 was repaired. Also driven by Williams in the Argentine Temporada in early 1966. Williams drove the works De Sanctis F3 car during 1966 and the BT10 is believed to have been sold in Italy. Subsequent history unknown.
Driven by: Jack Brabham, Alan Rees, Jonathan Williams and Peter Gethin. First race: Aspern, 12 Apr 1964. Total of 42 recorded races.
Unknown
Brabham BT10
F2-3-64
Entered by Ford Austria for Jochen Rindt in F2 in 1964, winning at Crystal Palace in May. Then sold to Stirling Moss Auto Racing Team and converted to F3 specification for Charles Chichton-Stuart to drive in 1965. Sold to Robin Darlington (Ruabon, Wales) after the 1965 season and raced by him at the Boxing Day Brands Hatch meeting. Appeared only very briefly at the start of 1966 but Darlington did not like it and bought a F2 BT16 instead. Unknown after March 1966.
Driven by: Jochen Rindt, Jo Bonnier, Charles Crichton-Stuart and Robin Darlington. First race: Aspern, 12 Apr 1964. Total of 43 recorded races.
Unknown
Brabham BT10
F2-4-64
Willment Autos bought F2-4-64 for Frank Gardner to use in F2 and also in occasional F1 races when fitted with a 1.5-litre twin-cam. It was also used at one early-season F3 race. Taken out to the South African Internationals in December 1964 and fitted with a 1500cc Ford twin cam for Paul Hawkins to race in the Rand GP. Remained in South Africa, still as a Willment entry but managed by Bob Olthoff and fitted with a 1600cc twin cam as South Africa had adopted 3-litre F1 a year early. Driven by Tony Maggs but crashed heavily at the Natal Winter Trophy at Roy Hesketh in late June. (The Formula 1 Register recorded F2-4-64 as the chassis number of the red-and-gold F3 Brabham of Chris Jackson in 1966 but this seems likely to be a typo.)
Driven by: Frank Gardner, Paul Hawkins and Tony Maggs. First race: Mallory Park, 17 May 1964. Total of 22 recorded races.
Wrecked 1965
Brabham BT10
F2-5-64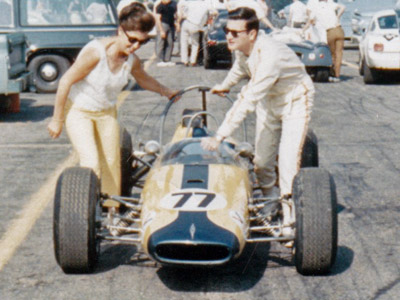 Bought by Frenchman Jacques Maglia for F2 in 1964 but Maglia did not like the car and in September, he swapped it for David Prophet's Lotus 32. Prophet had also bought a BT10 so kept F2-5-64 as a rental car; it was driven by Syd Fox at Snetteron in late September and then by Bill Bradley, Bruno Deserti and Peter Sutcliffe in F2 in 1965. Raced again by Bradley in early 1966, but last seen in F2 in July 1966. Sold via Fred Opert to Eva H Kirk (Toledo, Ohio), and raced for her by Allen Treuhaft (Toledo, Ohio) in Central Division Formula C from 1967 to 1969, still using its SCA engine. Treuhaft recalls that the car was bought late 1966 or early 1967 from Opert to replace a Cooper that had become obsolete since the arrival of the ex-F2 SCA engines. Treuhaft ran the car in Opert's colours of yellow with a wide blue stripe. When raced by Treuhaft, the car was fitted with one of two special Cosworth SCA engines built for Team Lotus with Lucas fuel injection. History then unknown until 1972 when its SCCA Log Book shows that it was sold by Harry C. Kahn to F. Nelson Petrey and raced at Lime Rock, Bryar and Watkins Glen. It was later purchased from the Franklin Institute (Philadelphia Transportation museum) by Ian Carpenter who sold it to Rafael Costa. The car was maintained by David Irwin (Evergreen, CO) for Costa but at the time believed to be a BT16. Later acquired by Irwin. Sold to Mark Shillingburg (Evergreen, CO) late 2007. Still with Mark in October 2021.
Driven by: Jacques Maglia, Syd Fox, Bill Bradley, Bruno Deserti, Peter Sutcliffe and Allen Treuhaft. First race: Mallory Park, 17 May 1964. Total of 39 recorded races.
Mark Shillingburg (USA) 2021
Brabham BT10
F2-6-64
Bought new by Jo Siffert and raced by him at Reims in July but Siffert focused on F1 and the BT10 was entered it for Franz Dörfliger at Zolder in August and Vallelunga in September. It is then unknown until recorded as the car driven by Andrea de Adamich in early 1966. Presumably the car then driven by teammate Francesco Ghezzi after De Adamich acquired a BT18. Then very probably the basis of the "Ippocampo" F3 car driven by De Adamich and others in 1967 which was described as being ex-Siffert. Subsequent history unknown but this could also be the 1964 F2 Brabham with Cosworth MAE advertised by Fred Opert in October 1969.
Driven by: Jo Siffert, Franz Dörfliger, Andrea de Adamich, Francesco Ghezzi, Guffanti, Alessandro Angeleri and Guglielmo Bellasi. First race: Reims, 5 Jul 1964. Total of 21 recorded races.
Unknown
Brabham BT10
F2-7-64
Bought by John Coombes and raced by Graham Hill for John Coombs Racing in F2 in 1964. It was then acquired by Charles Lucas Racing and converted to F3 specification for Lucas himself and then for Peter Gethin later in the season. Almost certainly the 1964 F3 car raced by Mike Knight in 1966 as part of the École Pilotage Winfield team (also driven by Robs Lamplough and Tico Martini) but had returned to England by October when it was shared by Alex Trotter and Louis Parsons over the next 12 months. P&M advertised this car for sale in Autosport 17 Nov 1967.
Driven by: Graham Hill, Charles Lucas, Peter Gethin, Robs Lamplough, Michael Knight, Tico Martini, Alex Trotter and Louis Parsons. First race: Reims, 5 Jul 1964. Total of 48 recorded races.
Unknown
Brabham BT10
F2-8-64
Jack Brabham returned to F2 in July with a new car, F2-8-64. He was immensely successful in this car, finishing second in each of his first two races but then winning four successive races in August and September. This car car then went to Normand Limited for Mike Beckwith to drive in 1965. Unknown after the 1965 Boxing Day Brands Hatch meeting.
Driven by: Jack Brabham and Mike Beckwith. First race: Reims, 5 Jul 1964. Total of 27 recorded races.
Unknown
Brabham BT10
F2-9-64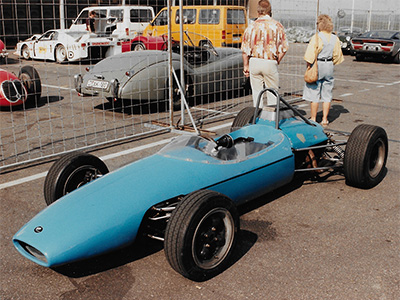 Jo Schlesser stayed with Brabham for 1964, moving into F2 with a new BT10 entered by Ford France. He first appeared at Enna in August and won in this car at Vallelunga in September. Retained for 1965. Used briefly by Guy Ligier twice in 1966 after Schlesser acquired a new Matra MS5. According to later owner Malcolm Cook, it then moved to a consortium Scuderia Michel from 1966 onwards and was later acquired by Bernard Quellien in the late 1970s. In 1990, he sold it to Jeremy Agace who retained it until 2008. Then to Grant Wilson, who restored it and sold it to William I'Anson (Cirencester, Gloucestershire) in 2009 and raced by him at Silverstone July 2010. To Malcolm Cook 2013. Raced by Cook at the Grand Prix de Pau Historique in May 2013, at the Goodwood Revival later that year, and at the Oldtimer Grand Prix in August 2014.
Driven by: Jo Schlesser and Guy Ligier. First race: Enna-Pergusa, 9 Aug 1964. Total of 25 recorded races.
Malcolm Cook (UK) 2014
Brabham BT10
F2-10-64
Having driven a Brabham BT6 in 1963, David Prophet moved to Lotus in 1964, buying a Lotus 32, before changing his mind in July and buying a new BT10. Picko Troberg drove this car at Karlskoga and Syd Fox at Vallelunga. Also raced by Prophet in the Springbok series in December 1964 and January 1965. Prophet retained this car for F2 in 1965 and in 1966. Unknown after October 1966.
Driven by: David Prophet, Picko Troberg and Syd Fox. First race: Dunboyne, 18 Jul 1964. Total of 46 recorded races.
Unknown
Brabham BT10
F2-11-64
This car is listed as going to Ocura Trading (Japan), a company that specialised in importing western technologies and machinery to enable Japanese industry to recover after WWII. Nothing more known.
Unknown
Brabham BT10
F2-12-64
Mike Costin of Cosworth Engineering bought this car later in the 1964 season and raced it a handful of times with its usual Cosworth SCA engine. It appeared in a libre race with a 1500cc Cosworth prototype engine at Silverstone in June 1965 and then in F3 spec with Cosworth's new MAE engine in September 1965. In August 1966, it appeared again with the prototype FVA F2 engine and was Cosworth's test car for the FVA in 1967. In 1968 it was sold to Bill Jones who entered it in F2 for Chris Meek. It then went to John MacDonald (Hong Kong) for 1969 and was raced across for the next three seasons, firstly with the FVA engine and later with a Ford twin cam when four-valve engines were banned. Retained by MacDonald until 2007 when he advertised it. Sold by McDonald to Paul Woolley (Solihull, Warwickshire) in 2013. Undergoing a rebuild as at October 2014 with a view to returning to the circuits in 2015.
Driven by: Brian Hart, Mike Costin, Chris Meek and John MacDonald. First race: Oulton Park, 19 Sep 1964. Total of 26 recorded races.
Paul Woolley (UK) 2014
Brabham BT10
F2-13-64
Walter Habegger (Oberönz, Switzerland) bought a Brabham late in 1964 and used it in Formula 3. However, photographs show that his F3 car was a BT10, not a BT9 as had been supposed. He converted the car to 1600cc Ford twin-cam power and used it in Swiss National events in 1965 but it is likely to have been the car he also used in selected F3 events. Habegger acquired a new BT16 later in 1965 but the BT10 was retained as part of his Midland Racing Team in 1966 and raced once by Arnold Seiler at Payerne in June and later in the year by Paul Blum (Frick, Switzerland). Raced in Swiss events and in minor F2 events by Blum in 1967, at which point it was identified as F2-13-64. Then to Willy Schöni (Konolfingen, Switzerland) for 1968, retaining its twin cam engine, and then to Charles Riesen (Bern) for 1969. Then via George Hedinger to Gebrüder Messerli who retained it for over 30 years. Bought by Raphaël Weber (Corgémont, Switzerland) in 2005 and restored, appearing in historic events since 2011. Retained January 2014
Driven by: Walter Habegger, Arnold Seiler, Paul Blum, Willy Schöni and Charles Riesen. First race: Wunstorf, 13 Sep 1964. Total of 31 recorded races.
Raphaël Weber (Switzerland) 2014
Brabham BT10
F2-14-64
Acquired late in 1964 by Dennis O'Sullivan and only used twice in F2 specification. Converted to F3 specification and raced by O'Sullivan through the 1965 season. Subsequently to Geoff Oliver in 1966 and identified by Motoring News (26 Jan 1967 p2) as "ex O'Sullivan". Sold by Oliver to Robs Lamplough (London) in early 1967 after the car had spent some time in Spain. Subsequent history unknown. Joe Maria (White Plains, NY) later bought a car with this number from Joe Mazza and sold it around 2006 through Mark Leonard at Grand Prix Classics to Lincoln Small (UK). At this time it had a F3 Cosworth MAE engine. Raced by Lincoln Small in HSCC racing from 2010 onwards. Raced by Small in the HSCC Classic Racing Cars series in 2013 and 2014. Raced by Small at Silverstone October 2018.
Driven by: Dennis O'Sullivan and Geoff Oliver. First race: Crystal Palace, 5 Sep 1964. Total of 23 recorded races.
Lincoln Small (UK) 2018
Brabham BT10
F2-15-64
This car is listed as going to Prince Motor Co. (Japan). Prince Motor Co was a Japanese automobile manufacturer of the period, best known at the time for its Skyline cars. It built its first racing car, the R380 sports car, in 1965 but this was based very heavily on a new Brabham BT8 chassis (chassis SC-9-64) and the BT10 may have been bought with the intention of building a single seater. Prince merged with Nissan in 1966. Nothing more known.
Unknown
Brabham BT10
IC-6-64
Having driven a late-season Brabham BT6 for Scuderia Veloce in 1964, Greg Cusack bought a new Brabham BT10 which carried the non-standard plate 'IC-6-64' and fitted it with a 1500cc Ford twin cam engine for ANF1½ in 1965. The car probably came via Brabham's Australian agent Alec Mildren Pty Ltd. Cusack retained this for the first few months of 1966 and then sold it to Don Macdonald for racing in New Zealand in 1967 and 1968. It then went to Wayne Murdoch for the 1968/69 season and he returned with the car for the 1970 Internationals but it was then described as a BT18. The car was then acquired by Frank Radisich, converted to Formula Ford spec and sold to Peter Mahoney who raced it from 1971 to 1973. It may then have been the car raced by Ron Duirs in the 1974/75 season. Then unknown until acquired by Richard Armstrong (New Zealand) as a rolling chassis in 1977, who planned to turn it into a hillclimb car with a Lotus-Ford twin-cam engine, but other commitments put paid to those plans. The car has remained in storage with Richard ever since, and, in 2017, his intention was to restore it to NZ National Formula specification.
Driven by: Greg Cusack, Don Macdonald and Wayne Murdoch. First race: Warwick Farm (R5), 14 Feb 1965. Total of 24 recorded races.
Richard Armstrong (New Zealand) 2017
The mystery cars
Such was the popularity of the BT10, nearly all the cars can be tracked as far as 1966. Excluding the two Japanese cars about which so little is known, F2-8-64 was the first to vanish after the 1965 Boxing Day Brands Hatch meeting, followed by F2-2-64 and F2-3-64 in early 1966. F2-9-64 and F2-4-64 all disappeared in the middle of the 1966 season, and F2-1-64 and F2-10-64 at the end of the season. Three more, F2-14-64, F2-6-64 and F2-7-64 vanished during 1967. Without doubt, many of these cars, particularly the ones that had been converted to F3 spec, will still have been racing in Europe and are amongst the masses of F3 Brabhams which have not yet been identified. The cars in F3 spec when last seen were F2-1-64, F2-2-64, F2-3-64, F2-4-64, F2-6-64, F2-7-64 and F2-14-64.
However, some of the cars still in F2 spec with 1-litre Cosworth SCA engines may well have gone to the US via Fred Opert to race in SCCA Formula C or to be fitted with a Ford twin cam for Formula B. We now know that F2-5-64 went to the US, still with its SCA engine, and was raced by Allen Treuhaft from 1967 onwards. The other BT10s in F2 spec when last seen in Europe were F2-8-64, F2-9-64 and F2-10-64.
The third potential fate for these cars was Formula Ford, which started in 1967 in Britain, and Reg Skeels raced a Brabham BT10 as a Formula Ford in 1968. The first Formula Fords reached SCCA racing in the US in 1968 but were not recognised as a separate class by the SCCA until 1969, so had to run in Formula B that first season. The only Brabham driver to score points in SCCA Nationals in 1969 was Jeff Shannon, in Cal Club.
Chassis
History
Current owner
Brabham BT10
'the Jaime Piera car'
Spanish driver Jaime Piera raced a Brabham during 1966, identified from a photograph as a BT10. Piera is reported to have used the car in hillclimbs but when he next appeared in F3, it was in a John Willment Lotus. Nothing more known.
Driven by: Jaime Piera. First appearance: 24 Apr 1966.
Unknown
Brabham BT10
'the Chris Jackson car'
Chris Jackson raced a red-and-gold Brabham in Formula 3 in Britain in 1966, generally only in minor events. Jackson only raced it until August 1966, returning in 1967 with a new BT21 entered by Barrie Payne Auto Scuderia. The F1 Register books give the chassis number of his 1966 car as F2-4-64, but as that car had been comprehensively wrecked in South Africa in 1965, this seems likely to be a typo. Nothing more known.
Driven by: Chris Jackson. First race: Brands Hatch, 8 May 1966. Total of 6 recorded races.
Unknown
Brabham BT10
'the Billy Reid car'
Billy Reid (Bangor, County Down) raced a 1600cc Brabham Ford twin cam in hillclimbs in Northern Ireland in 1967. He first appeared at the IMRC Enniskerry Hill Climb in late April, finishing fifth, but at the Omagh MC's Syonfin Hill Climb in June he hit the bank at McDermott's Bend and rolled the car, suffering two broken fingers. Motoring News called it a "1598 Brabham BT18 t/c" but it seems unlikely that it was so new. Autosport just called it a 1.6 Brabham. Irish motor racing historian Simon Thomas remembers it as being a BT14. Later owner Ed Irvine initially described it as a "BT12" but thinks BT10 may be correct and his memory is that the car had a longer wheelbase and cockpit and had been built for a very tall person. Thomas adds that Reid only hillclimbed the car a couple of times so its activities in 1968 and 1969 are unknown. Irvine (Conlig, County Down), the father of later F1 star Eddie Irvine bought the car from Reid and ran it in the Formula Impala category in Northern Ireland in 1970 with a 1-litre engine. Sold as a rolling chassis to John Wood and moved to England, where it was identified by Alain Fenn at MRD as a BT10 during a rebuild. Wood used it in Monoposto in 1971, 1972 and 1973. Then to Peter Ashley, who ran in sprints and hillclimbs in the southwest of England from late 1973 to 1975. Subsequent history unknown.
Driven by: Billy Reid, Eddie Irvine, John Wood and Peter Ashley. First race: Enniskerry, 29 Apr 1967. Total of 11 recorded races.
Unknown
Brabham BT10
'the Mike Hiss car'
Mike Hiss (Laurel, MD) moved into a Formula B at the start of 1967 with an unidentified Brabham. Photographs show that it was a BT9 or BT10 and as most BT9s moved into FC, not FB, this is more likely to have been a BT10. He first appeared at the SCCA National at VIR in April and then took impressive third-place finishes at the first two rounds of the new Continental Championship in May and June. He then "demolished" the car in a spectacular series of flips during practice for the National at Bridgehampton in July. When he returned, he drove a BT21A and it is assumed that the crashed car was too heavily damaged to be repairable.
Driven by: Mike Hiss. First race: Virginia International Raceway, 30 Apr 1967. Total of 3 recorded races.
Wrecked 1967
Brabham BT10
'the Bob McKay car'
A Brabham BT10 bought from Bob McKay by David Irwin (Evergreen, CO) of Lime Rock Motorsports and restored. David could not find any identifying numbers on the car. Later sold to Joe Maria (White Plains, NY) who Irwin believed still had it in 2007.
Unknown
In addition to the above, unknown Brabham BT10s were driven by Mike Beckwith, Brian Peake, "El Abulense", Giorgio Pianta and Reg Skeels.
Acknowledgements
My thanks to Chris Townsend, David McKinney, Bryan Miller, Philippe Demeyer, Steve Wilkinson, Michael Oliver and Alan Brown for their work keeping track of these cars, and to Fred Amey, Johannes Kistler, Raphaël Weber and Richard Armstrong for the information they have provided. Thanks also to Ted Walker for the use of his photographs, and to the owners past and present who have contributed information via the 10 Tenths and Autosport forums and via Facebook.
These histories still have gaps, and any help would be gratefully received. Please email Allen at allen@oldracingcars.com if you can add anything.
These histories last updated on .