Brabham BT10 car-by-car histories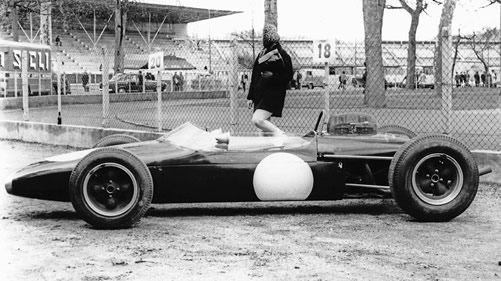 For the new 1964 1000cc Formula 2, MRD built the new Brabham BT10, a short-chassis evolution of the BT6, which rivalled the Lotus 32 as the leading F2 car of 1964.
The first new 1964 Brabhams to emerge were the Formula 3 BT9 design and only one BT10, a works car for Denny Hulme, was ready for the Pau F2 race in early April. A second car appeared for Jack Brabham at Aspern a week later, as did a first Ford Austria car for Jochen Rindt. Other customer cars would appear later, including two cars for Roy Winkelmann Racing and an Écurie Ford France car for Jo Schlesser. Jim Clark and the Lotus 32 started the season on top but Rindt's win at Crystal Palace in mid-May showed that the BT10s could match the Lotus and from Reims in July onwards, Jack Brabham's own car was established as the car to beat. Jack ended the season virtually tied with the Scot; each had four wins, two second places and three pole positions. A number of cars were sold near the end of the season, including those of Walter Habegger and Dennis O'Sullivan which were primarily for use in F3. A further car was built for Tasman racing where it wore the non-standard plate 'IC-6-64', and two cars headed off to Japan where they would inform Japan's budding racing car industry.
In 1965, Charlie Lucas acquired three BT10s and converted them for Formula 3 where they were highly successful, leaving very few BT10s in F2 in 1965.
If you can add anything to our understanding of these cars, please contact Allen Brown (allen@oldracingcars.com).
Chassis
History
Current owner
The mystery cars
Such was the popularity of the BT10, nearly all the cars can be tracked as far as 1966. Excluding the two Japanese cars about which so little is known, F2-8-64 was the first to vanish after the 1965 Boxing Day Brands Hatch meeting, followed by F2-2-64 and F2-3-64 in early 1966. F2-9-64 and F2-4-64 all disappeared in the middle of the 1966 season, and F2-1-64 and F2-10-64 at the end of the season. Three more, F2-14-64, F2-6-64 and F2-7-64 vanished during 1967. Without doubt, many of these cars, particularly the ones that had been converted to F3 spec, will still have been racing in Europe and are amongst the masses of F3 Brabhams which have not yet been identified. The cars in F3 spec when last seen were F2-1-64, F2-2-64, F2-3-64, F2-4-64, F2-6-64, F2-7-64 and F2-14-64.
However, some of the cars still in F2 spec with 1-litre Cosworth SCA engines may well have gone to the US via Fred Opert to race in SCCA Formula C or to be fitted with a Ford twin cam for Formula B. We now know that F2-5-64 went to the US, still with its SCA engine, and was raced by Allen Treuhaft from 1967 onwards. The other BT10s in F2 spec when last seen in Europe were F2-8-64, F2-9-64 and F2-10-64.
The third potential fate for these cars was Formula Ford, which started in 1967 in Britain, and Reg Skeels raced a Brabham BT10 as a Formula Ford in 1968. The first Formula Fords reached SCCA racing in the US in 1968 but were not recognised as a separate class by the SCCA until 1969, so had to run in Formula B that first season. The only Brabham driver to score points in SCCA Nationals in 1969 was Jeff Shannon, in Cal Club.
Chassis
History
Current owner
In addition to the above, unknown Brabham BT10s were driven by Mike Beckwith, Brian Peake, "El Abulense", Giorgio Pianta and Reg Skeels.
Acknowledgements
My thanks to Chris Townsend, David McKinney, Bryan Miller, Philippe Demeyer, Steve Wilkinson, Michael Oliver and Alan Brown for their work keeping track of these cars, and to Fred Amey, Johannes Kistler, Raphaël Weber and Richard Armstrong for the information they have provided. Thanks also to Ted Walker for the use of his photographs, and to the owners past and present who have contributed information via the 10 Tenths and Autosport forums and via Facebook.
These histories still have gaps, and any help would be gratefully received. Please email Allen at allen@oldracingcars.com if you can add anything.
These histories last updated on .