Brabham BT11/22 car-by-car histories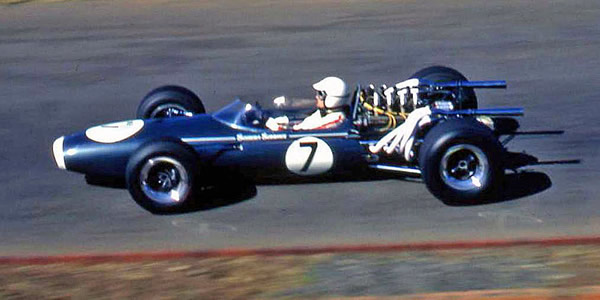 Two cars were built in late 1965 to the same pattern as the Brabham BT22, but for some reason they do not appear in Brabham records. One was sold to South Africa, and the other was raced by Denny Hulme in F1 in 1966.
The difficulty with these two cars, and presumably the reason that they do not appear in Brabham's production records, is that they used the chassis plates "F1-1-64" and "F1-2-64" from the pair of 1.5-litre Brabham BT11s used by BRO, Brabham's F1 team, in 1965. They are called BT11/22s here, but that is not an official designation. The current owner of "F1-2-64" calls his car a BT11/19, as the BT22 was a BT11 with BT19 suspension. This was not the first time MRD had been guilty of reusing chassis plates: the BT11A that Jack Brabham raced in the 1965 Tasman series had worn the chassis plate "F1-2-63" from BRO's old Brabham BT7, which had been sold to Jo Bonnier.
The two new cars used the same BT11-style spaceframe chassis, but were fitted with the larger 2.7-litre Coventry Climax FPF engine, which had been used in the Tasman series, and was now seen as a possible stop gap engine for use in the new 3-litre Formula 1 for 1966. Of the two cars, "F1-2-64" was sold to Scuderia Scribante in South Africa for Dave Charlton to race in the local F1 series. It was later fitted with a 3-litre Repco V8, and raced on in South Africa until 1970. It returned to England in the mid-1990s, and has appeared regularly in historic racing since then. The other car, "F1-1-64", was used by the works F1 team and driven by Denny Hulme until his Brabham BT20 was ready. It was then raced by Hulme in the 1967 Tasman series, after which it was sold to Rorstan Racing for Paul Bolton to drive. It remained with Rorstan Racing as a backup for some time, but has not been seen since it was advertised by the team in March 1971.
Car
Total
Race
Starts
Grand
Prix
Starts
Grand
Prix
Wins
First Race
Present Location
21
4
South African Grand Prix
(1 Jan 1966)
Unknown - last seen in New Zealand in 1971
35
2
Rand Grand Prix
(4 Dec 1965)
United Kingdom 2020
The existence of these two cars has been known publicly since Duncan Rabagliati listed them in a letter to Motoring News on 22 Jan 1970, but some subsequent reference works have omitted them. Doug Nye's "Cars in Profile No 3, F1 Repco Brabhams" in November 1972 referred to "F1-2-64" as a "'ghost BT22" and described "F1-1-64" as "a rather mysterious device", but in his 1986 "Autocourse History of the Grand Prix Car 1966-85", he treated the BT11/22s as being the same cars as the 1964-65 BT11s. Other excellent works omitted them, including David Hodges' "A-Z of Formula Racing Cars" (1990) which gave the one-off BT22 as being Hulme's 1966 F1 car; and Mike Lawrence's "Brabham Ralt Honda - The Ron Tauranac Story" (1999) which referred to Hulme's 1966 BT22 as "a modified BT11". It was almost as if authors had lost confidence in Rabagliati's explanation as the years went by. One reason for this could be that if the two works BT11s had not been modified into the BT11/22s, then where had they gone? They disappear completely from the racing record just as the BT11/22s appear, so it becomes tempting to think that they have to be the same cars. However, BT11 F1-1-64 was used as an exhibition car during 1966 before becoming David Hepworth's 1967 hillclimb car; and F1-2-64 had been clearly identified by Rabagliati as the car bought by BMW for testing record breaking in 1966, which had remained with BMW ever since. They had not disappeared; they were just not in the usual places.
Please contact Allen Brown (allen@oldracingcars.com) if you can add anything to our understanding of these cars.
These histories last updated on .