Brabham BT11A car-by-car histories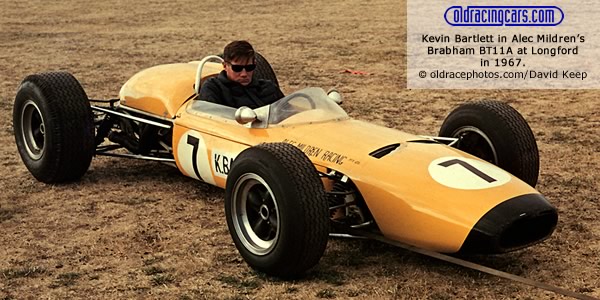 The Brabham BT11As were built with 2.5-litre Coventry Climax engines for Tasman racing and for European hillclimbs. One of them later appeared in two F1 South African Grands Prix.
In the mid-1960s, the Tasman series was one of the most important series of races in the world outside F1, and a number of F1 drivers and teams entered the series during F1's "winter break". Brabham had built a customer car for Frank Matich in the inaugural 1964 series, as well as one for Jack Brabham to drive himself, and for 1965, received order from Aussies Bib Stillwell, Alec Mildren, and Dave McKay. The cars were effectively the same as the Formula 1 BT11, except for the larger engine and stronger Hewland HD5 gearbox. Stillwell dominated the 1965 Gold Star series in his chassis IC-2-64, taking three wins, and it was then sold to Alec Mildren for Frank Gardner to use in the 1966 Tasman races as his Maserati-engined BT11A was not working out as planned. The former Stillwell car raced on in New Zealand until 1970, and was raced by Jackie Stewart on one occasion. Meanwhile, Gardner had driven Mildren's BT11A IC-3-64 (which carries the "IC-1-64" chassis plate) with a standard Climax engine in 1965, before the abortive Maserati adventure, and the car was then returned to Climax power for Kevin Bartlett to drive in 1967 and 1968. Dave McKay's IC-4-64 was raced by Graham Hill in the 1965 Tasman series, and was then used by Spencer Martin to win the 1966 and 1967 Gold Star titles.
Two other BT11As were built: one for Charles Vögele to use in hillclimbs in Europe, and one for Jack Brabham to race in the 1965 Tasman series. Vögele's chassis IC-1-64 later went to South America and was raced with 5000cc Chevrolet and 1600cc Renault engines before returning to the UK for historic racing. Brabham's own chassis IC-5-64 wore the "F1-2-63" chassis plate that was taken off a Brabham BT7, and it still confuses onlookers to this day. After the Tasman series, it was sold to South Africa for Piet de Klerk to drive, the South African F1 series having adopted the 3-litre formula one year early. It was later raced by Luki Botha and Jackie Pretorius, both of whom entered it in the South African GP.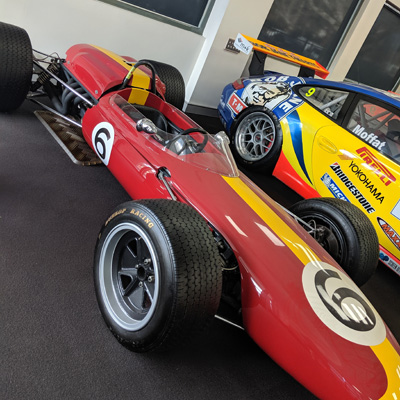 The chassis plates on these early Brabhams did not always reflect their actual identity. The identities here are those recorded by George Thornton, the MRD works manager, and do not necessarily agree with the chassis plates worn on the cars. As noted above, IC-5-64 has always worn the chassis plate "F1-2-63" (off a BT7) and IC-3-64 has always worn the plate "IC-1-64".
These cars have been a particular interest of the author's since the mid-1980s, and I am most grateful to the late David McKinney, the late John Blanden, Bryan Miller, Ted Walker, Denis Lupton and others for their help over many years of keeping track of them. Although the histories of all five BT11As is well-established, several of the cars have disappeared from public view in recent years, and any updates on their whereabouts would be appreciated.
Please contact Allen Brown (allen@oldracingcars.com) if you can add anything to our understanding of these cars.
These histories last updated on .