Brabham BT12 history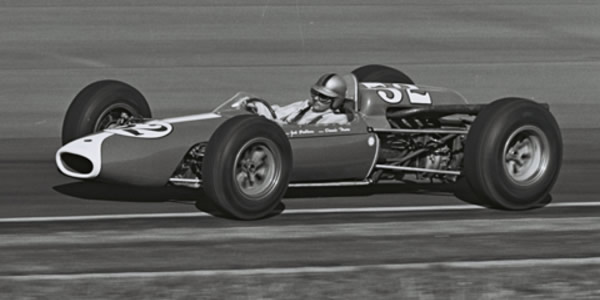 The Brabham BT12 was very short-lived but exceedingly influential. Built by Brabham for the 1964 Indianapolis 500, the car was destroyed in testing but its design would be copied for Mario Andretti's very successful Brawner-Hawks.
Jack Brabham had kicked off the rear-engined revolution in 1961 with the Cooper T54 and he returned to the Indy 500 in 1964 with a car built by his own new company. Designed by Ron Tauranac, the BT12 followed the layout of the new F1 BT11 but was lengthened to accept the 252 ci Offy engine. The car was commissioned by John Zink and carried support from Indiana company Urschel. Like all Zink's cars, it was known as the Zink Trackburner.
Brabham got the car into the race without problem, qualifying 25th, but was out early with fuel tank damage from the race's opening lap incident. The car was then handed over to Jim McElreath to drive for the rest of the season and after a change of springs it turned in some very impressive qualifying performances, taking pole position at Trenton and starting on the front row at the same track later in the year, but was unable to manage a decent finish. In September it was hired by Firestone for tyre testing and was badly damaged in an accident. It was repaired by Zink mechanic Dennie Moore and resumed the series but was damaged again at Trenton. A week later, on 1 October, while testing at Indianapolis, the Brabham was badly damaged after McElreath spun at Turn 1 and hit the wall. The car burst into flames and McElreath was seriously burned.
There was little point in repairing the frame as it was made of mild steel and would not be legal under new USAC rules for 1965 so Zink did a deal with veteran mechanic Clint Brawner to fabricate two copies of the Brabham, one for Moore to build up for Zink's team and one for Brawner to build up for Mario Andretti to drive. Both the resulting Moore-Offy and Hawk-Ford would prove highly successful.
If you can add anything to our understanding of these cars, please contact Allen Brown (allen@oldracingcars.com).
Chassis
History
Current owner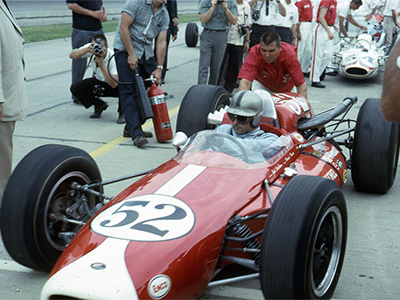 New for Jack Brabham to drive at the 1964 Indy 500 as the #52 Zink Trackburner Special. Then raced by Jim McElreath later in the season but either retired or significantly delayed in each of his races. Crashed in testing in September and repaired but then crashed more seriously while testing at Indianapolis and retired from competition. It was then given to Clint Brawner so he could make copies. Many years later, following Clint Brawner's death, his workshop was inherited by his nephew Tom Brawner and the old BT12 was found lying in a corner. Tom Brawner used it to build a replica of the 1965-type Hawk chassis in 1990 after which the Brabham was sold to Mike Welland in Vancouver. He started to restore the car to its original condition but never completed the rebuild and instead it was reportedly sold to Bruce McCaw about 1998. However, this story appears to be untrue as Nereo Dizane (Sydney, NSW, Australia) reports buying the BT12 from "an elderly gent in Canada" who had owned the car for about ten years, placing this at around 2000. Dizane had the car restored by Lou Russo and drove it at Phillip Island in February 2002 and it was driven at the Goodwood Festival of Speed by Jack Brabham in 2004. Dizane died in 2004, aged only 53, but his collection of cars has been kept together by his wife Anna Dizane (Wantirna, Victoria).
Driven by: Jack Brabham and Jim McElreath. First race: Indianapolis Motor Speedway (R3), 30 May 1964. Total of 5 recorded races.
Anna Dizane (Australia) 2014
These histories last updated on .