Brabham BT22 history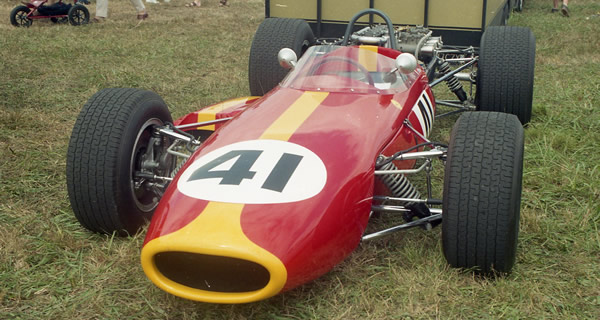 The one "official" Brabham BT22 was sold to Ernie Powrie for libre racing, but quickly snapped up by Jim Palmer for racing in New Zealand, where it has remained ever since.
The Brabham BT22 was the last in a series of "Intercontinental" designs, built for 2.5-litre 4-cylinder Coventry Climax engines, and sold primarily for the International races in Australia and New Zealand. This new 1966 car was a development of the well-triangulated spaceframe chassis used in the 1964-65 Brabham BT11 and BT11A, but fitted with the more up-to-date suspension of the Formula 1 BT19. In all respects, this BT22 appears to have followed the design of the two BT11/22s that were produced by MRD at the end of 1965. This car was sold to Ernie Powrie, who raced it in club libre events in Scotland and the north of England in the summer of 1966 before damaging the engine. He did not race it again, and it was sold to George Palmer for his son, regular New Zealand Gold Star winner Jim Palmer, after a deal to buy a Ferrari had fallen through. Palmer did not find that the old Climax engine was as competitive as he had hoped, so the car was sold to Jim Kennedy of Greymouth on South Island, but he rarely raced it. It remained unused for three years before Kennedy sold it to Danie Lupp, who used it in hillclimbs and occasional circuit races in 1972/73. Much of the rear end of the BT22 was used on a sports car later in the 1970s, but the car was meticulously restored during the late 1980s and early 1990s by Roger Munns, and has been raced by him in historic events in New Zealand.
Car
Total
Race
Starts
Grand
Prix
Starts
Grand
Prix
Wins
First Race
Present Location
11
BARC (Yorkshire Centre) Formule Libre Race
(12 Jun 1966)
Roger Munns (New Zealand) 2017
Please contact Allen Brown (allen@oldracingcars.com) if you can add anything to our understanding of these cars.
These histories last updated on .