Brabham BT23D history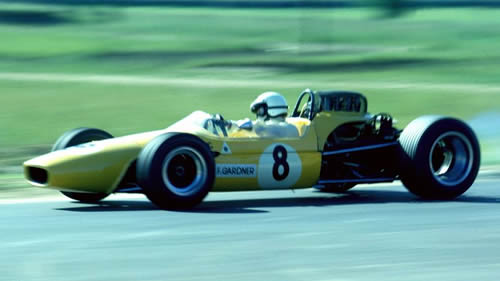 The Brabham BT23D was a special BT23 derivative ordered by Alec Mildren to take his pair of 2.5-litre Alfa Romeo Tipo 33 V8 engines in Tasman racing. It was driven by Frank Gardner in 1967/68 and by Kevin Bartlett in 1968/69.
Alec Mildren had raced in Australian Gold Star events in the late 1950s and early 1960s and after retiring from driving, had entered a series of cars for Frank Gardner. This started with a Brabham BT6 with Ford twin cam engine in 1964 and then a Brabham BT11A-Climax in 1965. As he was using customer cars, he looked for an edge with his engines and tried out a 2.5-litre Maserati engine in 1966, with no success. For 1967, he took on Kevin Bartlett as a second driver and to drive his team's cars in the domestic season, when Gardner was racing in Europe. He acquired an ex-F2 Brabham BT16 for the 1967 Tasman series but Bartlett preferred the BT11A for the domestic season.
Mildren was also the Australian agent for Alfa Romeo and had a good relationship mwith Carlo Chiti, head of Alfa's racing arm, Autodelta. During 1967, Mildren did a deal with Chiti to receive a pair of T33 engines that had been bored out to 2.5-litres for a sports prototype project. These would be combined with a purpose-built version of the highly-successful Brabham BT23 F2 car.
All and any help would be gratefully received. Please email Allen at allen@oldracingcars.com if you can add anything.
Chassis
History
Current owner
The one-off BT23D was built for Alec Mildren Racing for Tasman racing and fitted with a 2.5-litre Alfa Romeo Tipo 33 V8. It debuted in Frank Gardner's hands at the Warwick Farm Gold Star race in Dec 1967 and was then raced by Garder in every race of the 1968 Tasman series. Kevin Bartlett took over the drive for the 1968 Australian Gold Star season and the 1969 Tasman series. It was then sold to Jim Abbott who acquired a 5-litre Traco Oldsmobile engine from Frank Matich and built what was claimed to be the first Formula 5000 in Australia. It was displayed at Abbott's Melbourne Racing Car Show and thereafter mainly used in hillclimbs. It was sold to Gavin Sala for the 1974 Victorian hillclimb season, and was then sold to Peter Neilsen, who had Gordon Dobie restore it to its original Alfa Romeo specification. Its racing career ended after the death of a later pilot, Chris Murphy, but the remains were acquired in 1985 by Paul Moxham who had it fully restored with its original Autodelta engines. It was advertised by oldtimeraustralia.com from 2011 to 2015, noting that it had been owned by the same person for 31 years. Still on display in the The National Motor Racing Museum (Bathurst, NSW) in March 2017.
Driven by: Frank Gardner, Kevin Bartlett, Jim Abbott and Gavin Sala. First race: Hordern Trophy, 3 Dec 1967. Total of 22 recorded races.
National Motor Racing Museum (Australia) 2017
These histories last updated on .