Brabham BT23E history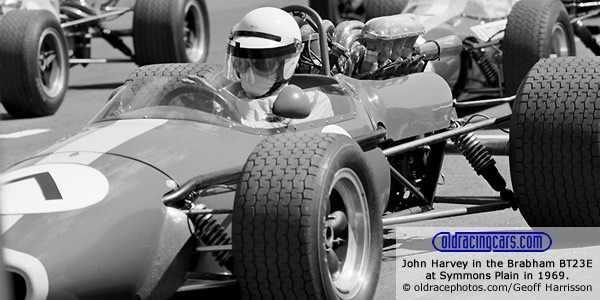 Brabham built a new Tasman car for 1968, the Brabham BT23E, again based on the BT23 Formula 2 design and powered by a 2.5-litre Repco 830 V8.
Jack Brabham made only very limited appearances in the 1968 Tasman series so only raced the BT23E twice, at Warwick Farm and Sandown Park in February. The car was then sold to Bob Jane Racing and driven by John Harvey, but he was injured in a massive accident in practice on his first outing in the car. The car was repaired before Harvey was injured so it was driven by Ian Cook at Lakeside in July and then by Allan Moffat at Sandown Park in August but Moffatt crashed it again and it was out of action until the 1969 Tasman series. Harvey raced it through the 1969 Australian Gold Star series, winning one race and finishing second in another but retiring from four races. He raced it again in the 1970 series, winning at Symmons Plains in March.
Chassis
History
Current owner
Built for Jack Brabham to use in the 1968 Tasman series and fitted with a 2.5-litre Repco V8. Sold to Bob Jane Racing but crashed by John Harvey in practice at Bathurst in April. Crashed again by Allan Moffat in practice at Sandown Park in September. For Harvey again in the 1969 Australian Gold Star, the 1970 Tasman series (Warwick Farm and Sandown Park only) and for the first race of the 1970 Australian Gold Star (won at Symmons Plains March 1970). Then sold to Bob 'Woody' Curran and fitted with a Ford twin cam for ANF2 racing in Tasmania from 1971 to 1977. From Curran to David Madrers in the early 1980s and started restoration before selling to Bill Marshall in 1983 who completed the restoration and used it in historic racing in Australia. Then sold via Ray Delaney (Melbourne, Australia) to Art Valdez (Torrance, CA) in late 1990, and remained in his collection for many years, until sold to the Rare Metals consortium in the UK in 2017. Bought from the consortium by Aaron Lewis (Australia) and rebuilt for him by Tony Ditheridge's Hawker Racing (Milden, Suffolk).
Driven by: Jack Brabham, John Harvey, Jim Palmer, Ian Cook, Bob Jane, Allan Moffat and Bob Curran. First race: Warwick Farm "100", 18 Feb 1968. Total of 16 recorded races.
Aaron Lewis (Australia) 2020
These histories last updated on .