Brabham BT23F history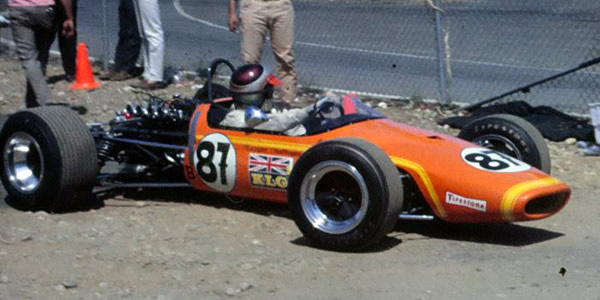 The BT23F was a version of the popular BT23 F2 design built for SCCA Formula B in 1968 as an alternative to the F3-based BT21C. Only one was built, for Bill Gublemann, but two very similar cars were built with different gearboxes as the BT23G.
Like the Formula 2 BT23, the BT23F used the Hewland FT200 gearbox which was designed specifically for Cosworth's new FVA F2 engine. The otherwise identical BT23G used the older Hewland Mk 5 which had been designed in 1963 for the Lotus twin cam. The FT200 would have been slightly stronger and only slightly heavier and slightly more expensive.
All and any help would be gratefully received. Please email Allen at allen@oldracingcars.com if you can add anything.
Chassis
History
Current owner
Sold to Bill Gubelmann (Oyster Bay, NY) and fitted with a Vegantune Ford twin cam engine for SCCA 'Pro' and NEDiv Formula B. Raced through 1968 and retained for a few races in 1969 as Gubelmann's BT29 was late arriving. Sold to Al Justason (Toronto, Ontario, Canada) who used it in both the Canadian and US Pro series in 1970 and again in the Canadian FB series in 1971. Sold to Michael Houselander who appeared at two Canadian national events in 1972, Later sold to 'Dino Delousis' who fitted a turbocharged 2-litre Ford Pinto engine for libre events but found the car to be undrivable and stored it from about 1974 to 2004 when sold to Dave Darrow (Mississauga, Ontario) and fully restored. Retained until 2007 when sold via race-cars.com to Murray Bryden (Melbourne, Australia). Sold to David Kloster (Kinglake, Victoria) September 2011.
Driven by: Bill Gubelmann, Al Justason and Michael Houselander. First race: War Bonnet (US R2), 16 Jun 1968. Total of 30 recorded races.
David Kloster (Australia) 2014
These histories last updated on .