Brabham BT26 car-by-car histories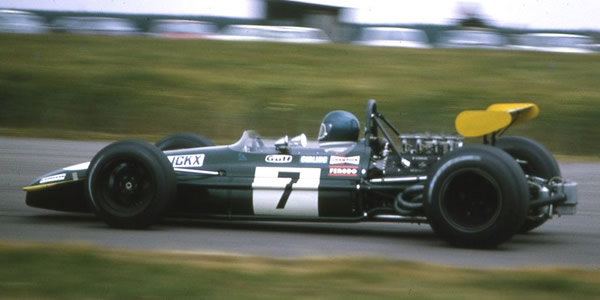 The 1968 Brabham BT26 was a huge disappointment, let down by its unreliable Repco V8 engines. Re-equipped with Cosworth DFVs for 1969, the cars were transformed and Jacky Ickx won two GPs.
Ron Tauranac continued to resist the move towards monocoques, but his 1968 Brabham BT26 used a stressed skin spaceframe to add stiffness. The car was powered by Repco's latest four-cam RB860 V8s, but these proved very unreliable. The Cosworth DFV in the Lotus 49s was now performing perfectly, and Repco simply could not compete. World Champion Denny Hulme had already seen enough of Jim Clark's Lotus 49 disappearing into the distance in the second half of the 1967 season, and he jumped ship: leaving for McLaren who would have new customer Cosworth DFVs for 1968. Brabham recruited Jochen Rindt, lately of Cooper in F1 but a dominant force in F2. Jack Brabham remained the lead driver and he received BT26/1 at the 1968 Spanish GP, with BT26/2 following later for Rindt, and BT26/3 arriving mid-season to give the team a spare. The cars were quick, as Rindt showed in practice at Zandvoort where he qualified second, and at Rouen where he took pole, but were dreadfully unreliable, and the only points finishes were in Germany where Rindt was third, with Jack Brabham fifth.
For 1969, MRD started with BT26/2 and BT26/3, but the Repcos had been replaced with Cosworth DFVs. Brabham did not believe in spare cars, so the prototype had been sold, and Frank Williams ran it for Piers Courage in F1 in 1969, also with DFV power. Rindt had jumped at a chance to join Lotus, and he was replaced in the second works BT26 by Jacky Ickx. Jack Brabham won the International Trophy in the spring but was injured in a testing accident that destroyed BT26/2, and a single car was run for Ickx for the next few races. The Belgian had been getting steadily quicker as Goodyear's tyres improved, and he now flourished, taking second place at the British GP in the new BT26/4, then winning from pole at the Nürburgring, and winning again at Oulton Park's Gold Cup. A broken engine put him out of contention at Monza, but he was on pole again at Mosport Park and won comfortably, with a returning Jack Brabham second. The two BT26s were on the front row for the Mexican GP, but had to settle for a 2-3 finish behind Hulme's McLaren.
The two remaining works BT26s were then sold off, together with a spare frame that was described at the time as 'BT26/5'. All four cars are accounted for today.
Car
Total
Race
Starts
Grand
Prix
Starts
Grand
Prix
Wins
First Race
Present Location
47
22
Monaco Grand Prix
(26 May 1968)
Australia 2020
12
10
Belgian Grand Prix
(9 Jun 1968)
Written off, Silverstone test session 1969
24
13
Gold Cup
(17 Aug 1968)
Private Collection (USA) 2020
10
7
British Grand Prix
(19 Jul 1969)
ROFGO Collection (UK) 2014
Brabham BT26/5
(no races recorded)
Belgium 2017
Please contact Allen Brown (allen@oldracingcars.com) if you can add anything to our understanding of these cars.
These histories last updated on .