Brabham BT3 history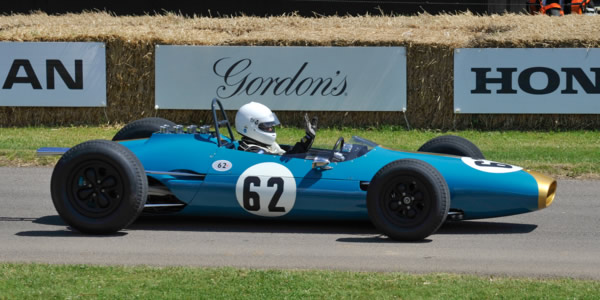 The first of the Formula 1 Brabhams made its race debut at the German GP in August 1962. Jack Brabham only raced the turquoise-and-gold car in five Grands Prix, but won two non-championship F1 events with it.
After Motor Racing Developments had produced their run of Formula Junior cars for 1962, attention turned to the company's first GP car. Designed by Ron Tauranac and constructed at the MRD factory in Byfleet, the Brabham BT3 was a totally orthodox affair: an 18-gauge steel spaceframe attached to a Coventry-Climax 1.5 litre V8, a Colotti-Francis Type 34 six-speed gearbox and Dunlop tyres. It followed the company's design philosophy of a stiff heavily triangulated chassis, relatively high roll centres, low spring rates and the smallest possible frontal area. Safety and reliability were key considerations. Suspension was outboard all round, with double wishbones and coil springs, modified Standard-Triumph uprights, and 13 inch front and 15 inch rear wheels.
The new car made its first appearance at the British GP at Aintree in July where Jack Brabham ran it in practice. He raced it for the first time at the German GP two weeks later where he retired. He then finished third at the Oulton Park Gold Cup, fourth at the US GP and then second at the non-championship Mexican GP, a most impressive set of results for the new marque. Brabham built two new BT7s for 1963, but the BT3 was retained as a team spare and used by Jack Brabham to win the non-championship Grands Prix of Solitude and Austria that autumn.
Car
Total
Race
Starts
Grand
Prix
Starts
Grand
Prix
Wins
First Race
Present Location
25
7
German Grand Prix
(5 Aug 1962)
Germany 2022
For 1964, the BT3 was sold to Brighton garage owner Ian Raby, and raced in F1 events fitted with a BRM V8 engine. He retained the car for 1965 but raced it mostly in non-championship events and even in libre racing. It was sold to Tony Dean in Leeds at the end of 1965 who wanted the BRM V8 for sports car racing, and the rest of the BT3 was quickly sold on to David Hepworth in nearby Brighouse for hillclimbing. Hepworth fitted a a 4.6-litre Chevrolet V8 and used it in British hillclimbs in 1966 but without any great success. It was then sold to John Scott-Davies in February 1967, and then on to Tim Stock a few months later for circuit racing but appeared only rarely. It then went to US dealer Fred Opert to be exported to the Americas, but instead was sold back to Hepworth who offered it on to Tom Wheatcroft for his collection. Restored by Tony Merrick at Wheatcroft's workshops during 1970, it was on display in Wheatcroft's Donington Museum when it opened in 1973, and was ever present in the museum for nearly 40 years until the collection started to be disbanded after Wheatcroft's death. Marco Rollinger of Luxembourg bought it in 2012 and prepared it for historic racing.
There is a detailed article on what later became known as the BT3 in Autosport 14 Dec 1962 pp820-822.
Please contact Allen Brown (allen@oldracingcars.com) if you can add anything to our understanding of these cars.
These histories last updated on .