Brabham BT35 Formula Atlantic and Formula B car-by-car histories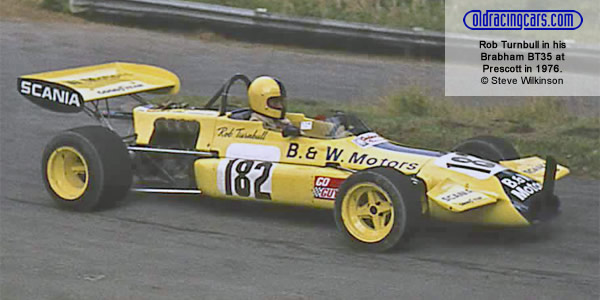 The Brabham BT35 was built in 1971 for Formula Atlantic, Formula B and Formula 3. It was a development of the successful BT28 and BT29 models.
As this was a multi-formula model, similar to the March 722 a year later, it is dealt with here by separating the Formula B and Formula Atlantic cars from the Formula 3 cars. Although all three models used Ford twin cam engines, and were technically very similar, there was actually very little overlap between the two groups of cars: F3 cars were not rebuilt for Formula Atlantic and vice versa. As most of these cars were built for FB in the US, where there was no F3 category, it works best to regard them as entirely separate groups. There was also a group of five BT35s built for hillclimbs; three of which were built with Ford twin cam engines and the two were built with larger capacity engines.
Mike Lawrence's book 'Brabham + Ralt + Honda: The Ron Tauranac Story' (Motor Racing Publications Ltd, 1999) lists four types of BT35: the Formula Atlantic BT35A with Ford twin cam engine, Hewland FT200 gearbox and inboard rear brakes; the Formula B/Atlantic BT35B which differed in having outboard rear brakes; the Formula 3 BT35C with smaller wheels and a Hewland Mk 8 gearbox, and the hillclimb BT35X which had a variety of engines but all had heavy-duty driveshafts, FT200 gearboxes and Formula Atlantic-size wheels. This page is therefore concerned with the BT35As and BT35Bs, even if we cannot easily tell which were the ones with inboard brakes and which had outboard, and with the three 1600cc hillclimb cars. Separate pages on the BT35C Formula 3 cars and the two larger-capacity hillclimb BT35Xs will follow in due course.
The first challenge is to work out how many were built. Lawrence's book contains a table showing 27 F3 cars built in 1971, plus 10 Formula Atlantics and 4 hillclimb cars. In another table, it shows 3 BT35As, 7 BT35Bs, 27 BT35Cs and 4 BT35Xs. The immediate problem is that these groups only add up to 41 cars, and BT35 chassis numbers are known to have gone to at least 49. If chassis 13 was not built, as seems likely, then the last chassis number should have been BT35/42. However, a chassis BT35/43 is known to have raced in England from October 1971 onwards, and it appears that a further batch of cars was built for 1972, primarily for Italian F3 customers, with chassis numbers going up to BT35/49. A letter on MRD letterheading dated 22 March 1972 states chassis numbers up to BT35/52!
Regardless of which was a BT35A and which was a BT35B, the total of ten such cars in the 1971 production does not correspond with the number of cars running in Formula Atlantic and Formula B in 1971, which appears to have been either 14 or 15. The number of observed F3 cars in 1971 is about 21 or 22, so the number of BT35As and BT35Bs appears to have been understated by about five, and the BT35Cs correspondingly overstated by about five. We then have to add the 1972 production of BT35s, one of which appears to have been a UK hillclimb car, and the others for Italian F3.
The next complexity is that the four BT35Xs may not have been in the same numbering system. Lawrence's book says that one of these was built with a 1.8-litre Cosworth FVC and one with a 5-litre Repco engine, which would be chassis BT35X/1 and BT35X/2 respectively, but the other two were built with Cosworth twin cam engines, just the same as the BT35As and BT35Bs. These are likely to have been Mike Hawley's BT35/35 and Bob Marsland's car, the number of which is unknown but may well be BT35/23, but that leaves a puzzle in the form of Gray and Agnes Mickel's BT35/44, which appeared at the start of 1972. This again suggests that all the cars above chassis BT35/42 were somehow omitted from published summaries. Hawley's, Marsland's and the Grays' cars are covered here.
In North America, first owners are only known for seven Formula B cars but we know BT35s were also raced in FB in 1971 by four or five more drivers: Steve Harris, Russ Tyndall, James Gutfreund and Mike Hall, and perhaps Tom Moore. We can expect that one of those five was driving BT35/41, the history of which is not known before 1973, but the other three or four of them must represent cars that are completely unknown as Formula B BT35s. That brings the total number of Formula Atlantic and FB cars in Britain and North America to 14 or 15, the uncertainty being Moore's car.
Apart from the known Formula B or Formula Atlantic BT35s on this page, the 1600cc hillclimb cars, and the known Formula 3 BT35s listed elsewhere, we must assume that the other seven chassis numbers about which nothing is known were also built: BT35/11, BT35/17, BT35/24, BT35/25, BT35/27, BT35/29 and BT35/37. At least four of those will be those unknown Formula B cars, and two might be the hillclimb cars known by BT35X chassis plates.
Chassis
History
Current owner
Brabham BT35s in 1971
The 14 or 15 Formula B or Formula Atlantic BT35s in 1971, broken down by where they were at the end of the season, were:
Britain: BT35/6 (Nick Cook), BT35/8 (Ed Reeves), BT35/43 (Bob Gerard)
Canada: BT35/10 (Brian Robertson), BT35/18 (Roy Folland), BT35/19 (Maurice McCaig), plus (maybe) the unidentified cars of Tom Moore.
USA: BT35/9 (Nick Craw), BT35/31 (Mike Hansen), BT35/32 (Raúl Pérez Gama), BT35/39 (Allan Lader), plus the unidentified cars of Steve Harris, Russ Tyndall, Jim Gutfruend and Mike Hall, one of which is likely to be BT35/41.
Also closely related were the two 1600cc hillclimb cars that had appeared in 1971: Mike Hawley's BT35/35 and Bob Marsland's car that might turn out to be BT35/23.
Chassis
History
Current owner
Brabham BT35s in 1972
Of the 14 or 15 Formula B or Formula Atlantic BT35s that we know about in 1971, 12 can be tracked onwards into 1972:
Britain: BT35/6 stayed with Nick Cook, BT35/8 was retained by Ed Reeves and then sold to Australia, and BT35/43 remained with Bob Gerard's team.
Canada: Brian Robertson's BT35/10 went to Al Justason; Roy Folland's BT35/18 went to Bill Eagles; Maurice McCaig retained BT35/19; and Tom Moore's car, if it was a BT35, was only seen briefly.
USA: Nick Craw's BT35/9 went to to Bob Schutt; Mike Hansen and Steve Marx retained their shared BT35/31; Raúl Pérez Gama's BT35/32 went to Gordon Strom; Allan Lader's BT35/39 is believed to have gone to Frank Fitch; and both Jim Gutfruend and Mike Hall retained their cars, leaving just two that are unknown after 1971: the cars of Steve Harris and Russ Tyndall.
Only two mystery Formula B/Atlantic BT35s appear in 1972: the car of Turner Woodard in Indianapolis, Indiana; and Terry Allard's late-season car in California. Woodard's is most likely to have been Steve Harris's car from Fort Wayne, Indiana, just 120 miles away, but could also have been Russ Tyndall's, 200 miles away in the Chicago area. Terry Allard's is more of a puzzle, as the three Californian BT35s, Mike Hansen's BT35/31, Gordon Strom's BT35/32 and the Pacifico BT35/39 of Frank Fitch, all appeared alongside it in Allard's debut race. The car that fits best is Russ Tyndall's.
Of the three 1600cc hillclimb cars: Mike Hawley still had BT35/35; Bob Marsland still had his car (suspected to be BT35/23); and Gray and Agnes Mickel had BT35/44.
Chassis
History
Current owner
Turner Woodard (Indianapolis, IN) raced a Brabham BT35 in SCCA Regionals and Nationals in 1972. He was entered at #76 by Motor Sport Associates, Cicero, Indiana. He was also entered by Motor Sport Associates for a few events in 1973, but it is not known whether he turned up for any. However, he scored 15 points in CenDiv Formula B in 1973, suggesting he ran the BT35 for most of that season at least. Subsequent history unknown.
Driven by: Turner Woodard. First race: Road America, 18 Jun 1972. Total of 6 recorded races.
Unknown
Terry Allard (Newbury Park, CA) raced a Brabham BT35 in SCCA events in 1972 and 1973, first appearing in the Pro event at Riverside in September 1972. It cannot have been Mike Hansen's BT35/31 or the Pacifico BT35/32 of Frank Fitch, as both were at that same race. In early 1973, a blue/red BT35 was advertised in Finish Line from an 805 area code, which matches Allard's location, saying it had seven races from new. Both the colour and the number of races make it a very good match for the car raced by Russ Tyndall (Addison, IL) in 1971. Allard retained the car for SCCA Regionals and Nationals in 1973, when the car was blue-white and wore #70, scoring 14 points and qualifying for the Runoffs. Unknown after the end of 1973.
Driven by: Terry Allard. First race: Riverside (R8), 24 Sep 1972. Total of 5 recorded races.
Unknown
Brabham BT35s in 1973
To recap where we were with the 14 or 15 Formula B or Formula Atlantic BT35s that were identified in 1971, 12 could be tracked into 1972, and three mystery cars joined them. Most of those can then be tracked further into 1973. There were also three 1600cc hillclimb cars to add to these. It makes most sense to group the cars by location:
Britain: Nick Cook's BT35/6 went to Rob Turnbull, Ed Reeves' BT35/8 had gone to Australia, and Bob Gerard's BT35/43 went to Harry Gilbert. All of the 1600cc hillclimb cars were still with their original owners, Mike Hawley still had BT35/35, Bob Marsland still had his car (suspected to be BT35/23) and Gray and Agnes Mickel still had BT35/44.
Canada: Al Justason retained BT35/10; Bill Eagles' ex-Roy Folland BT35/18 went to Scott MacKenzie; and Maurice McCaig's BT35/19 went to Hugh Cree. Tom Moore's car had only been seen briefly in 1971, and we still cannot be sure it was a BT35.
USA: Bob Schutt retained BT35/9; Bill Cooper bought BT35/31; Gordon Strom retained BT35/32; Frank Fitch's ex-Allan Lader BT35/39 largely disappears but Fitch may have retained it; Jim Gutfruend's car went to Joe Freeman; and Mike Hall's car disappeared. The cars of Steve Harris and Russ Tyndall had already disappeared after 1971. Of the 1972 mystery cars, both Turner Woodard and Terry Allard retained their cars in 1973.
Australia: BT35/8 had arrived in Australia from the UK.
We have some additional information to add to the puzzle in 1973, as we know that BT35/41 was with David Ralston (Elmhurst, IL) in August 1973. This fits best if it had been the car raced by Mike Hall (Chicago, IL) in 1971 and 1972. The relatively high chassis number of BT35/41 is consistent with the relatively late first appearance of Hall (25 July 1971). Alternatively, it could have been the car of Steve Harris (Fort Wayne, Indiana) or Russ Tyndall (Addison, Illinois). Ralston's home town of Elmhurst, and Tyndall's of Addison are both, like Hall's, in the Greater Chicago area.
There are also several new mystery BT35s in 1973. The one we know most about is the car acquired by Astro Sports after Scott MacKenzie's accident in BT35/18. If Tyndall's car had gone to Terry Allard, as hypothesised above, Mike Hall's had gone to David Ralston, and Steve Harris's car had gone to Turner Woodard, then there isn't a car left to go to Astro Sports. The implication of that logic is that either Tom Moore's car was a BT35 after all, or that Astro Sports acquired just a new frame, not a whole car. Note that Moore's sponsor Astro Shield, a brand of car polish, was not connected to Bryant Cougle's Astro Sports chain of sports good shops, a name derived from the Gloucester Astros ice hockey team. The other two new mystery BT35s in North America were both hire cars, one hired out by Fred Opert in March and July, and one hired out by Pierre Phillips in Portland in May. Opert's could have been BT35/41 before it went to Ralston in August 1973, and Phillips' could have been the Fitch BT35/39. Note that the BDA-powered "BT35" raced by Mike Gill at Bushy Park in Barbados in February 1973 was the ex-Jimmy Fuller Brabham BT28.
Chassis
History
Current owner
Fred Opert Racing ran a Brabham BT35 hire car on a couple of occasions during 1973: for Ernesto Soto at Caracas in March 1973, and for Bertil Roos at Mosport Park in July 1973. A picture of Soto with the car shows that it was red, with yellow wings, Marlboro decals, and wearing Soto's usual #81. Nothing more is known of this car.
Driven by: Ernesto Soto and Bertil Roos. First race: Autodromo de San Carlo, Caracas, 18 Mar 1973. Total of 2 recorded races.
Unknown
Pierre Phillips's Pierre's Auto Racing (Portland, OR) rented a Brabham BT35 to Cam McKenzie (Squamish, British Columbia) for the opening round of the Players Canadian Formula B series at Westwood in May 1973. McKenzie reported to the press that the car was a pig, and did not reappear with it. Given the location, the the ex-Allan Lader/Frank Fitch BT35/39 would be the most likely car. Nothing more known.
Driven by: Cam McKenzie. First race: Westwood (R1), 27 May 1973. Only one recorded race.
Unknown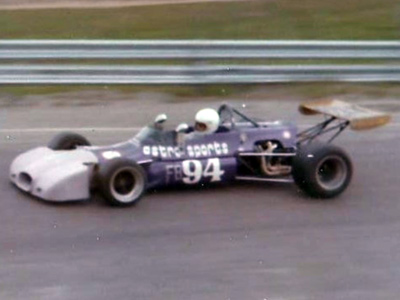 Bryant Cougle, an Ottawa sports team owner, owned a Brabham BT35 to be driven by Scott MacKenzie in the 1973 Canadian FB series, entered by Cougle's Astro Sports. MacKenzie crashed the car, believed to be BT35/18, at its second race and both driver and car were unable to continue the season. Cougle owned a second BT35, and this was raced by Ric Forest as an Astro Sports entry at Mosport Park in July. Bertil Roos then drove it at Debert, then Forest returned to the seat for Gimli, winning the race. Forest also drove it at Mosport Park and Trois-Rivières, and in between these races, it was driven by Dave McMillan in two SCCA Pro FB races at Road America and Watkins Glen. Astro Sports did not return to competition in 1974, and Cougle filed for bankrupcy in January 1975. The subsequent history of the Brabham is unknown.
Driven by: Ric Forest, Bertil Roos and Dave McMillan. First race: Mosport Park (R4), 2 Jul 1973. Total of 7 recorded races.
Unknown
Brabham BT35s from 1974 onwards
In Britain, Rob Turnbull was still a regular class winner using BT35/6 in Sprints, and John Wingfield was giving BT35/43 a second lease of life by fitting a Cosworth FVC engine for libre racing. Two of the 1600cc hillclimb-spec BT35s were still going strong, as David Render was also a regular winner in Sprints in BT35/35 and Jim Campbell was using BT35/44 in Scottish speed events, but Bob Marsland had replaced his BT35 with a new Chevron B27.
Three more cars appeared this season: Robert Sunderland had BT35-23 which he shared with Peter Kaye in hillclimbs, Mike Allen in West Yorkshire had a car in hillclimbs and Terry Drury in the south of Ireland used a Brabham in Formula Atlantic. It was previously believed that the Sunderland/Kaye car was the ex-Nick Williamson/Iain McLaren BT35X/1, but the original evidence for that cannot be found, and it may have been supposition. It now seems quite plausible that Sunderland had acquired the ex-Marsland car. The Mike Allen and Terry Drury cars may have been older Brabhams updated to BT35 specification.
Chassis
History
Current owner
Mike Allen (Halifax, West Yorkshire) raced a 1.6-litre Brabham BT35 in speed events in 1974, appearing at Harewood in July 1974. This car later went to David Winstanley (Winsford, Cheshire) who first raced it an Aintree at the end of September 1975 and entered it for the Oulton Park Formula Atlantic race a week later. Nothing more known.
Driven by: Mike Allen and David Winstanley. First race: Baitings Dam, 12 May 1974. Total of 2 recorded races.
Unknown
Terry Drury (Clondalkin, County Dublin, Ireland) ran a Brabham BT35 in Irish Formula Atlantic in 1974, racing at Mondello Park and Phoenix Park, and also appearing on the entry list for races at Kirkistown. Nothing more known.
Driven by: Tom Drury. First race: Mondello Park, 14 Jul 1974. Total of 3 recorded races.
Unknown
In addition to the above, unknown Brabham BT35s were driven by Bob Snelson and Simon Clark.
In addition to the above, unknown Brabham BT35s were driven by John Montano and Alain d'Avanzo.
Acknowledgements
I have been researching the Brabham BT35s for so long, it's going to be impossible to acknowledge all the sources and all the other researchers who have made it possible to get this far. I met Ted Walker of the Brabham Register in 1985, and we were certainly swapping notes about these cars in the late 1980s. My correspondence with Bryan Miller and Denis Lupton in Australia also dates back to the 1980s, and I cannot remember exactly when I first met the late David McKinney, another greatly valued early source of information. Chris Townsend, soon to take on the role of OldRacingCars.com's Junior Formulae Editor, applied his expertise to this subject from 2002 onwards, and a thriving discussion grew up on the 10 Tenths forum between 2003 and 2008, where Andrew Fellowes took a leading role on the BT30s, BT36s and BT35s alongside Chris, Ted, Bryan, David, Jeremy Jackson, Steve Wilkinson, Philippe Demeyer, Bob Slusher, Andrew Thorpe and a host of others. In the 15 years between that forum winding down and this page finally being published, most of the above names have continued efforts to make sense of the data. My thanks to all the many owners and other contributors who have added to our knowledge of this subject over this period.
These histories last updated on .