Brabham BT39 history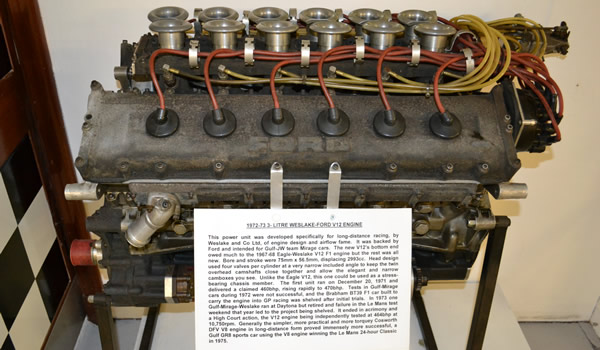 Built using a F2 chassis mated to Harry Weslake's new V12 engine, the Brabham BT39 was used for a single test at Silverstone in August 1972. Graham Hill was the driver, and he quickly concluded that the engine was not ready to race.
The Weslake V12 was conceived in 1970 as a result of a meeting between Harry Weslake, Stuart Turner, then Ford's motorsport director, and Len Bailey, the designer of the Ford GT40. For some time, there had been an interest in using Ford's Cosworth-built DFV F1 engine in sports car racing, but Keith Duckworth had opposed the idea. Weslake was keen to build a new engine, having been responsible for the V12 that had powered the Eagle F1 cars from 1966 to 1968, and succeeded in striking a deal with Ford boss Walter Hayes and John Wyer of JW Automotive, who was in charge of Gulf's sports car operation. Weslake would develop a new 3-litre V12 engine to wear the Ford badge, and be fitted to a car designed by Len Bailey and to be run by JW Automotive for Gulf. The engine used an aluminium alloy block and was configured for long-distance running, unlike the DFV. When the Weslake Type 190 first ran on Weslake's dyno in December 1971, it recorded 450 bhp, almost identical to the well-developed DFV. Initial tests went well but Weslake became over-enthusiastic and in June 1972 did an "exclusive" deal with MRD to run the engine in F1, although the deal was not announced until August. In the meantime, the details of the V12 were announced to the press in July, and Autosport printed a three-page technical description by John Bolster (Autosport 27 Jul 1972 pp28-30). Power was now said to be 455 bhp, with 470 bhp envisaged in F1 spec.
When the Brabham deal was announced two weeks later, MRD's plan was to produce an interim car to run at the Italian Grand Prix, before producing dedicated cars for the 1973 season. Bernie Ecclestone had designer Gordon Murray draw up a Weslake rear end for the 1972 Brabham BT38 Formula 2 car, and the car was tested with a V12 engine at Silverstone at the end of August 1972. The hugely experienced Graham Hill was the driver and although only limited information was made available to the press, it quickly became clear that the test had been a disaster. Murray later commented to Motor Sport that "It wasn't a fair test of the engine because the car was so awful, a lash-up. Graham said it was just diabolical". Although little was said publicly, the test ended any prospect of Brabham using the engine in F1. The car was reportedly scrapped.
Gulf struggled with the engine when they attempted to use it in the Mirage M6 sports cars in 1973, and Ford pulled the plug on the project at the end of the season. BRM then tested the engine in February 1974, to see it had any potential to replace their P142 V12 design, but again only a single test was required to confirm that it did not. The Weslake block was still at BRM's old engine shop at Folkingham Airfield when the author nearly stubbed a toe on it in 1991.
Car
Total
Race
Starts
Grand
Prix
Starts
Grand
Prix
Wins
First Race
Present Location
(test session)
(31 Aug 1972)
Scrapped 1972
There really is not a lot that can be said about the Brabham BT39, but if you have any additional information, please contact Allen Brown (allen@oldracingcars.com).
These histories last updated on .