Brabham BT4 car-by-car histories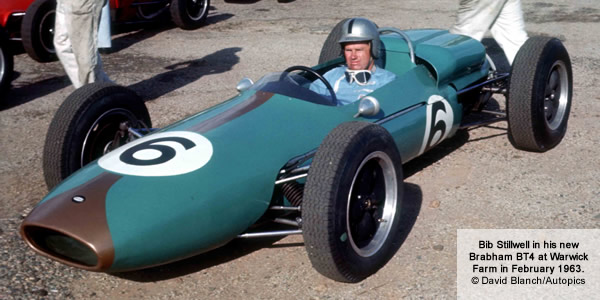 After the success of the 1962 Formula Junior and Formula 1 cars, MRD built a car for the season of Formule Libre races in New Zealand and Australia. Three were built for this series and a fourth for European hillclimbs.
Since venturing to Europe in 1956 to race for Cooper, Jack Brabham had remained a keen supporter of the series of Formule Libre races held around January and February each year in New Zealand and Australia respectively. He had brought ex-works Coopers back for these races every year from 1957 to 1962 and had won at least one of the major Internationals almost every season. The 1963 series of races would be preceded by the Australian Grand Prix at Caversham on 18 November 1962 and MRD built a car specifically for these races, based on the chassis of the new F1 BT3 but with the largest Coventry Climax engine available, the 2.7-litre FPF engine that had first been developed for Jack's venture to the Indianapolis 500 with Cooper in 1961.
Although Jack retired the BT4 at Caversham, the car was clearly ideal for the series now that the flow of customer Coopers had tailed off, and Jack quickly arranged to sell the first BT4 to Australian driver David McKay as soon as the January New Zealand races were over. He would then deliver a new BT4 for fellow Aussie Bib Stillwell, the newly crowned Australian Gold Star champion, and build a third one for his own use in the February Australian races. Jack Brabham won the Levin International in New Zealand in the first car and then won the 1963 Australian Grand Prix, just four months after the 1962 edition, at Warwick Farm in February in the new car. A couple of months later, at the start of the European season, a fourth BT4 was delivered to Swiss hillclimb specialist Charles Vögele.
If you can add anything to our understanding of these cars, please contact Allen Brown (allen@oldracingcars.com).
Chassis
History
Current owner
These histories last updated on .