Brabham BT4 car-by-car histories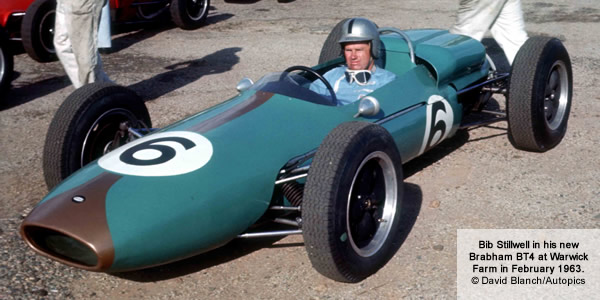 After the success of the 1962 Formula Junior and Formula 1 cars, MRD built a car for the season of Formule Libre races in New Zealand and Australia. Three were built for this series and a fourth for European hillclimbs.
Since venturing to Europe in 1956 to race for Cooper, Jack Brabham had remained a keen supporter of the series of Formule Libre races held around January and February each year in New Zealand and Australia respectively. He had brought ex-works Coopers back for these races every year from 1957 to 1962 and had won at least one of the major Internationals almost every season. The 1963 series of races would be preceded by the Australian Grand Prix at Caversham on 18 November 1962 and MRD built a car specifically for these races, based on the chassis of the new F1 BT3 but with the largest Coventry Climax engine available, the 2.7-litre FPF engine that had first been developed for Jack's venture to the Indianapolis 500 with Cooper in 1961.
Although Jack retired the BT4 at Caversham, the car was clearly ideal for the series now that the flow of customer Coopers had tailed off, and Jack quickly arranged to sell the first BT4 to Australian driver David McKay as soon as the January New Zealand races were over. He would then deliver a new BT4 for fellow Aussie Bib Stillwell, the newly crowned Australian Gold Star champion, and build a third one for his own use in the February Australian races. Jack Brabham won the Levin International in New Zealand in the first car and then won the 1963 Australian Grand Prix, just four months after the 1962 edition, at Warwick Farm in February in the new car. A couple of months later, at the start of the European season, a fourth BT4 was delivered to Swiss hillclimb specialist Charles Vögele.
If you can add anything to our understanding of these cars, please contact Allen Brown (allen@oldracingcars.com).
Chassis
History
Current owner
Brabham BT4
IC-1-62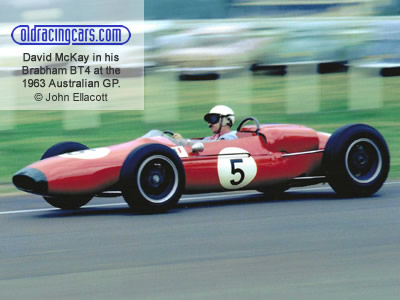 New for Jack Brabham to drive at the November 1962 Australian GP. Used by Brabham in the New Zealand Internationals in January 1963, winning at Levin, then sold to Dave McKay's Scuderia Veloce for the Australian International races the following month. Raced by Graham Hill for McKay in the 1964 Tasman series, winning the Longford race in March. To Len Southward's Lesco Racing Team for Kerry Grant to drive during the 1964/65 season, and for Neil Whittaker in 1965/66. Sold to John McCormack (Davenport, Tasmania) and raced on through the next three seasons. From McCormack to John Blanden (Adelaide, South Australia) in 1978 and extensively rebuilt. To Ken Messenger (Adelaide) March 1982, then to Art Valdez (Torrance, CA) in 1986, and remained in his collection for many years, until sold to a UK consortium in 2017.
Driven by: Jack Brabham, David McKay, Graham Hill, Kerry Grant, Neil Whittaker and John McCormack. First race: Australian Grand Prix, 18 Nov 1962. Total of 38 recorded races.
United Kingdom 2018
Brabham BT4
IC-2-62
New for Jack Brabham to drive in the Australian Internationals in February 1963. Then left with Repco over the Australian winter and used by Denny Hulme in the 1964 Tasman series. Sold to veteran Australian Lex Davison for the 1964 Australian Gold Star but heavily damaged in the accident that took Davison's life at Sandown Park early 1965. Sold with all Davison's equipment to Wally Mitchell and some parts used in the RM1 sports car in which Mitchell was later killed. The frame of the Brabham was not used in the RM1 and this was sold to Fred Wheelhouse and rebuilt as a complete car. Owned by David Sternberg in Tasmania in 1968 and probably the "rebuilt Brabham Climax" that Dave Powell Jnr raced in Tasmania in 1969. Then unknown until reported to be owned by Austin Miller (Launceston, Tasmania) in 1983. Still with Miller in 1995 but by 2000 it had moved to the UK and was owned by John Coombs, who sold it to Frank Sytner. Raced by Sytner from 2001 to 2008 and then sold to David Jacobs (Boulder, CO) and raced in the US until sold to Terry Rush in New Zealand in February 2011. Still in the Rush Collection in 2015 and ran at Manfeild that year. Still with Rush in December 2018.
Driven by: Jack Brabham, Denis Hulme, Lex Davison and Dave Powell. First race: Australian Grand Prix, 10 Feb 1963. Total of 16 recorded races.
Terry Rush (New Zealand) 2018
Brabham BT4
IC-3-62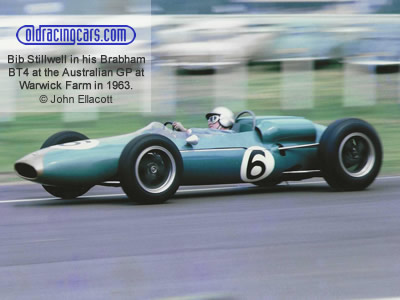 New to Bib Stillwell for the Australian Internationals in February 1963. Used by Stillwell to win the 1963 Australian Gold Star and then, having acquired the 2.7-litre engine from Jack Brabham's BT4, he won the Gold Star again in 1964. Sold to Bill Thomasen in New Zealand and used in NZ Gold Star in 1964/65 before it was sold to Ecurie Palm Court who ran it for Ian Green and John Riley in late-season 1964/65 races and in Australian Gold Star races in August 1965. To Robbie Francevic in time for the 1965/66 NZ season and then quickly sold again, this time to Syd Jensen. Jenson leased it to Jim Boyd for the 1967 Internationals and then sold it to Bryan Faloon in March 1967. Raced and crashed many times by Faloon before he joined the Rorstan team for 1969/70 and the BT4 was finally retired. Sold by Faloon's estate to David Manton in 1981, then to Richard Hook (Auckland, NZ), who restored the car to its original Tasman specification and used it in historic racing in 1990. Then through four other historic racers until bought by the Minshaw family in 2005. Raced by Jason Minshaw from 2005 onwards. Raced by Jason Minshaw at the Silverstone Classic July 2014. Bought from the Minshaws by John Emery (Beaconsfield, Buckinghamshire) in September 2018, and restored over the 2018/19 winter for racing in 2019.
Driven by: Bib Stillwell, Bill Thomasen, John Riley, Jim Boyd and Bryan Faloon. First race: Australian Grand Prix, 10 Feb 1963. Total of 31 recorded races.
John Emery (UK) 2019
Brabham BT4
F1-4-63
New to Charles Vögele (Neftenbach, Switzerland) in April 1963 for European hill climbs. Raced in Swiss, French, Belgian and Luxembourg events over the next 12 months, dominating the 1963 Swiss championship. Kept as a spare car for the latter part of 1964 and then sold during 1965 to Gérard Pillon (Geneva, Switzerland) and fitted with a 3.5-litre Buick V8. To Charlie Schuster (Dijon, France but then living in Lausanne, Switzerland) for 1967 but then unknown until reappeared with Jean-Pierre Adatte (Geneva, Switzerland) in 1971, still with its Buick engine. Next seen in 1973, wearing very non-standard bodywork and raced in club slaloms by René Jacquot (Héricourt, France). Then unknown until acquired by Thierry Charles (Metz, France) about 1990. From Charles to dealer Christophe Pund of Le Galerie des Damiers (Cassel, France) 2000 and then via Simon Hadfield (Shepshed, Leicestershire) to John Harper (Kineton, Warwickshire). Fully restored by Harper and used in UK historic racing for over ten seasons. To John Evans (Wolverhampton, West Midlands) 2013. Raced by Evans at the HSCC Super Prix at Brands Hatch 2015.
Driven by: Charles Vögele, Gérard Pillon, Jean-Pierre Adatte and René Jacquot. First race: Swiss Championship Round, 7 Apr 1963. Total of 21 recorded races.
John Evans (UK) 2015
These histories last updated on .