Brabham BT7 car-by-car histories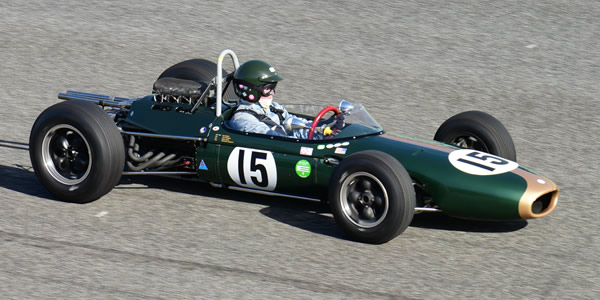 MRD produced two Brabham BT7 F1 cars for 1963, for team boss Jack Brabham and new recruit Dan Gurney. Gurney won the team's first World Championship race in a BT7 at the French GP in 1964.
Ron Tauranac's BT7 design was a development of the BT3, but was longer and slimmer, lacking the tubby appearance of its elder sibling. One of the most important changes was the use of Mike Hewland's new lightweight transaxle, replacing the Colotti used on the BT3. The new car also had modified rear suspension, with the lateral link and wishbone inverted from the BT3, and was finished in green-and-gold, instead of the BT3's turquoise. Gurney received the first BT7 and was immediately competitive, qualifying second and finishing third at Belgium in May. Brabham's BT7 was then ready and he ran second at the Dutch GP before retiring, after which Gurney inherited that position to the finish. The BT7s led 1-2 at the British GP, but both retired, and Gurney also led at Monza. The team was unlucky not to win at least one GP that year, and finished the season third in the Constructors Championship.
The BT7s were retained at the start of 1964, and Jack won two non-championship races at Silverstone and Aintree that spring. In championship events, the team remained dogged by unreliability, until finally winning a deserved Grand Prix win when Gurney won in France after Jim Clark's Lotus retired. Jack Brabham's Brabham BT11 was then ready, and his BT7 was sold to Jo Bonnier, but Gurney stayed with his BT7, winning a second GP in Mexico at the end of the year.
Car
Total
Race
Starts
Grand
Prix
Starts
Grand
Prix
Wins
First Race
Present Location
29
23
Monaco Grand Prix
(26 May 1963)
United Kingdom 2017
46
28
Dutch Grand Prix
(23 Jun 1963)
Unknown - last seen in US early 1970s
Bonnier continued to race his ex-Jack Brabham F1-2-63 in 1965, after which it was sold to American Harry McIntosh for Formula A. The fate of that car remains unknown, but it should be noted that its chassis plate was used on a Brabham BT11A, chassis IC-5-64, which Jack Brabham raced in Australia in 1965, and that has caused confusion ever since. Meanwhile BRO retained F1-1-63 as a backup car, driven several times by Denny Hulme in 1965, and it was then sold to a hillclimber who never used it. It emerged again in 1977, when it had a Buick engine in the back, and was eventually restored for historic racing.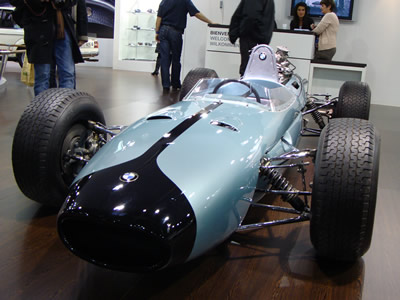 The car recently restored by BMW with an Apfelbeck engine and said to be a BT7 is a bit of a mystery. It was originally acquired by BMW for engine testing in late 1965, so cannot be the car that went to Bonnier and then to the US, so if it is a BT7, it can only be F1-1-63. That would mean that the car now used in historic racing which has a solid history back to 1977, must have been misidentified. Photographs of BMW's car testing in 1966 show radius rod mounts that are much closer together, as on the BT11, so it seems more likely that BMW's car is a BT11. However, investigations continue - or will when we get some time.
Please contact Allen Brown (allen@oldracingcars.com) if you can add anything to our understanding of these cars.
These histories last updated on .