Brabham BT8 car-by-car histories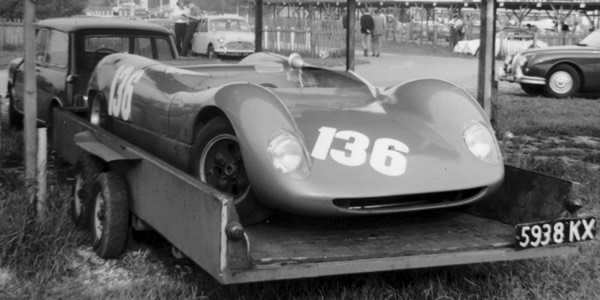 Twelve Brabham BT8 sport racing cars were built from 1964 to 1966. Most were fitted with 2-litre Coventry Climax 4-cylinder engines, but one was fitted with a BRM V8 engine, and Jack Brabham's own car had a 2.7-litre Climax.
Brabham had built a BT5 sports car in 1963 and the two cars had been quite successful. The first (SC-1-63) went to Ian Walker for Frank Gardner and Paul Hawkins to drive and was bought for 1964 by Peter Sachs (see Vintage Motorsport 1/92, 2/92 and 3/92 for more on this car). In 2001, this car was bought from Buzz Dyer by Bob Lee. The second (SC-2-63) went to Ed Zeller and was wrecked in an accident at Monza. However, this car appears to have survived.
The BT8 was a development of the 1963 car and nine were built the first year, with another two being built in 1965 and a final car, for Willment, following in 1966. Another sports racing Brabham, the BT17, would follow, but flopped and MRD concentrated on single-seaters thereafter.
This research was conducted between 1993 and 1994, and was originally based in large part on an article in Vintage Motorsport (November/December 1991 p48). Lincoln Small now maintains records of the current owners of each car and would welcome any updates. He can be contacted at . Thanks already to Lincoln, David McKinney, Ted Walker, Marcus Pye, Robs Lamplough, Darryl Clarke, Barrie Smith, Fred Ashplant, Brendan Roberts and Eli Solomon for updates.
Chassis
History
Current owner
Brabham BT8
SC-1-64
Built for 1964 season and exhibited at Earls Court Motor Show, fitted with a 2-litre Climax. Bill Knight and Arthur Owen (UK) 1964. To Robs Lamplough (UK) late 1964 and raced in the North American Internationals later in 1964, still fitted with the 2-litre Climax. Sold to Judy Kondratieff (US) for Bart Martin to drive, and fitted with a 289ci Ford V8. The car was first raced in this form at Stockton 12-13 June 1965, then at Kent in June and Cotati in July, but Martin crashed the car at Candlestick Park 8 August 1965, and was killed.
Destroyed 1965
Brabham BT8
SC-1-64-R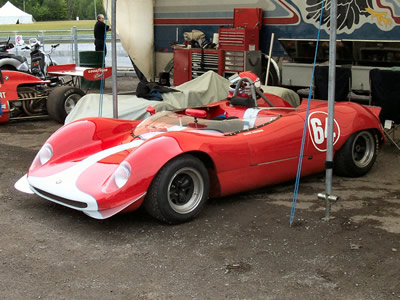 A replica of SC-1-64 built by Philippe de Lespinay (US) 1991. Sold to Mark Simpson (Stratford, CT) in 2003. Offered at a Bonhams auction at Quail Lodge in August 2009, where it was described as "a revival of the original". Advertised by Fantasy Junction on behalf of Simpson in 2013.
Mark Simpson (USA) 2013
Brabham BT8
SC-2-64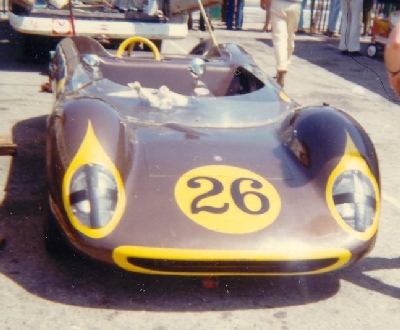 Built for 1964 season, and fitted with a 2-litre Climax. Entered by Stirling Moss Automobile Racing Team for Hugh Dibley to drive in British sports car events in 1964, then in the North American Internationals from September onwards. To Max Wilson (UK), and raced in UK events in 1966. Last recorded when advertised in Autosport in February 1967.
---
Malcolm Douglas (Edmonton, Canada) 1968 (and possibly 1967, as yet unproven): First seen on 21 Jul 1968 in a Quebec Regional Championship event at St. Jovite; advertised in Autoweek 26 Jul and 11 Oct 1969. To Norbert Ball (Canada) 1969 - Don Armstrong (Canada) 1971 - Darryl Clarke (Canada) 1975 - Mark Reid (Canada) 1976 - via Bill Sainsbury (Canada) 1983 to Rob Grant (UK) 1984 - Rick Hall (UK) 1992 - John Harper (UK) 1993. This car owned by 'A Morrall' 1996, and advertised for sale 2000 by Alasdair Southall (possibly still owned by Morrall). Owned by Peter Mullen in 2005 and being offered for sale by Gregor Fisken. Acquired by Peter Harburg (Brisbane, Queensland, Australia) shortly before the Goodwood Revival in 2006. Also raced by Harburg at Goodwood 2011.
Sold via William I'Anson Ltd to a US owner in 2013.
United States 2013
Brabham BT8
SC-3-64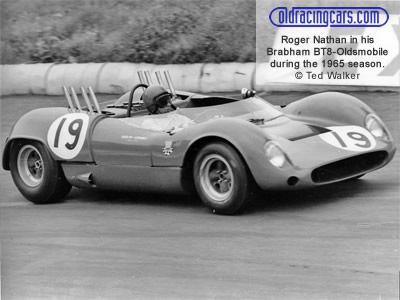 Built for 1964 season, fitted with a 2-litre Climax, and sold to Roger Nathan, who raced raced in British events through 1964. Retained for 1965 when it was fitted with a 4.5-litre Oldsmobile V8 engine. To Jeremy Morgan (aka Jeremy Delmar-Morgan) for the 1966 season, with Climax engines. To Barrie Smith (UK) 1967 (bought with two engines: a 2-litre FPF and a V8 Climax F1 engine stretched to 2 litres); sold to the US … imported from the UK by William Ashplant (brother of FB racer Fred) 1967 … Dave Fenton (US) - Kevin Smith (US).
To Ed Loveday (Avon, Mass.) 1970 or 1971, who blew the Climax V8 engine, so fitted a Hart twin-cam. Loveday also rebodied the car during his ownership. Sold to Jim Mullen 1978, who ran it with a Cosworth BDA. To J Richard Greer (Columbus, OH) early 1980s, and used to SCCA CenDiv titles in 1983 and 1986. Said to be still with Greer in 1993, who was by then in his early 60s. Subsequent history unknown.
Unknown
Brabham BT8
SC-4-64
Built for 1964 season, and fitted with a 2-litre Climax. Raced by Jackie Epstein (UK) in 1964 at the Targa Florio and at the Canadian GP in September. Then to Tommy Hitchcock for the North American Internationals in October 1964, for Nassau in December 1964, and for British events in 1965. To Clive Lacey for 1966, still using its Climax engine, and raced for several seasons. To David Capstick in 1969, and raced by Keith Grant in the Motoring News/Castrol Sports GT Championship series in 1970. Sold to Australian Bib Stillwell, who was then resident in the US, in 1984. To collector Art Valdez (Torrance, CA) 1993, and remained in his collection until sold to a UK consortium in 2017.
United Kingdom 2017
Brabham BT8
SC-5-64
Built for 1964 season, and fitted with a 1.9-litre BRM V8. Raced by Jack Brabham in the Goodwood Lavant Cup in March 1964, then shipped to Team Rosebud, the racing team started in 1962 by wealthy Texan Tom O'Connor (Victoria, TX). The car was raced by Trevor Taylor at Riverside and Laguna Seca in October, but O'Connor then lost interest in racing, and the team was disbanded. Several cars, including the Brabham, were later donated in about 1967 to the "tech shop" at the local Victoria Public School.
---
How the cars left the school is still a mystery, but the first name associated with the Brabham is "Boyd Grice". The Brabham was owned by Paul Scott (US) in the early 1970s, and then passed via Darryl Johnson 1973, Dee Johnson 1974 and Steve Pike (Australia) 1989 to Steve Tillack (US) in 1993. To Duncan Dayton (US) 2000: being restored by Sid Hoole (Kimbolton, UK) 2001. Retained 2004 but crashed at the Goodwood Revival meeting. It was auctioned by Bonhams in September 2014, who noted that it had been owned by Bobby Rahal after Dayton. Subsequent history unknown. With Paul Alexander in July 2018.
Paul Alexander (UK) 2018
Brabham BT8
SC-6-64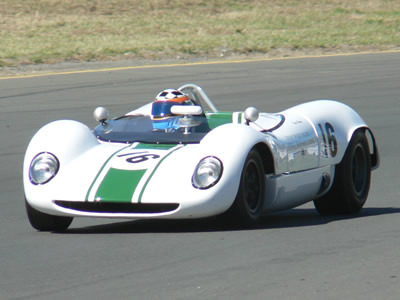 Built for 1964 season, and fitted with a 2-litre Climax. Entered by David Buxton's Team Elite (Derby) for Bob Anderson and Denny Hulme in UK events in 1964. The car was painted in Team Elite's usual colours of white with three green stripes. Sold to Sid Taylor Racing for 1965, but raced again by Hulme in Internationals, and by Taylor himself at other events. Hulme won the Tourist Trophy at Oulton Park in May with a 2.2-litre Climax in this car, beating the much larger Lola T70s and McLaren M1As. To Geoff Breakell for 1966 and early 1967. To Anthony Ward later in 1967. Subsequent history unknown.
---
"Robert Harvey" … It reappeared in a car scrapyard belonging to Bill Broome (Columbia, SC), still with a Climax engine and Hewland gearbox, but the engine had a blown head gasket. It was bought in 1976 by Road & Track photographer Bill Warner (Jacksonville, FL), who drove the car in a Historic Sports Racing Series event at Watkins Glen in September 1978, one of the first historic events in the eastern US. Later to Mike Taradash (Palos Verdes Estates, CA) 1988 - Ben Murillo (Sausalito, CA) 1988 - Julio Palmaz (San Antonio, TX) 1999.
---
Edith Arrowsmith (Scottsdale, AZ) raced a white BT8 with green stripe, bearing Sidney Taylor's name and usually wearing #16, in historic events from 2007 to 2011. At Monterey in 2007, the car was entered as SC-6-64. Subsequent history unknown.
Edith Arrowsmith (USA) 2011
Brabham BT8
SC-7-64
Built for 1964 season, and fitted with a 2.75-litre Climax engine. A Brabham Racing Organisation entry for Jack Brabham at the Brands Hatch Guards Trophy in August 1964, then at Riverside in early October. After the Riverside race, David Morris purchased the car from Brabham for Cliff Hayworth to drive, but an arrangement was made for Brabham to drive it once more at Laguna Seca. There Brabham blew the engine, so the 2-litre engine from Robs Lamplough's SC-1-64 was fitted. Lampough then drove the car at Candlestick Park and at Nassau, where he crashed it heavily into a palm tree. The car was rebuilt on a new chassis at the Brabham factory. Morris entered it for Porsche driver Alan Johnson at Laguna Sece in 1965, but he rolled it in practice.
It was then sold to Dr Tom Tobin. He and Patrick Ryan rebuilt the car and fitted a Traco Oldsmobile V8 engine. Later to Chuck McConnell - David Koehn (Milwaukee, WI) - Jim Herlinger by 1972, who fitted a Porsche engine - Hank Fallek - David Larson - Roland Davies - Robin DuPree by 1979, when it gained a LeGrand body. Then to Kerry Morse, and then Phillippe de Lespinay by 1987. De Lespinay had the car completely restored by Joe Cavaglieri and Jack Smith, and drove it for the first time in 1991. The car was now red and wore #91, the number used by Jack Brabham at Laguna Seca in 1964.
Subsequent history unknown, but believed to be the car entered at Monterey Historics by Paul Shea 1996 and 1999.
---
This car advertised by Mark Leonard of Grand Prix Classics (La Jolla, CA) in April 2018.
Unknown
Brabham BT8
SC-8-64
Built for 1964 season, and fitted with a 2.7-litre Climax engine. Sold to Jack Hinkle (Wichita, KA) late 1964, but no known races until a SCCA National at Tucson in March 1965. Raced by Hinkle in SCCA events in 1965 and 1966, but he flipped the car at Lake Afton 21 Aug 1966, and although Hinkle escaped with face and chest injuries, the Brabham was very heavily damaged. The remains were sold to Bunny Ribbs (San Jose, CA), but destroyed in a garage fire. Some surviving components are reported to have gone via Don Orosco (Fresno, CA) to Milt Janzen (San Francisco, CA).
Destroyed
Brabham BT8
SC-8-64-R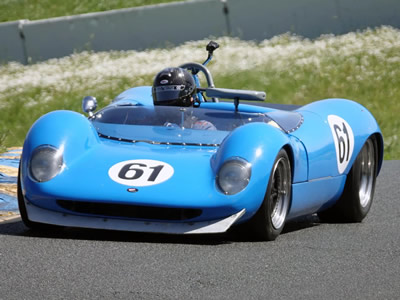 A replica of SC-8-64 built by Jack Smith and Joe Cavaglieri (US) in 1989, about the same time they extensively restored SC-7-64 for Philippe de Lespinay. To Milt Janzen (San Francisco, CA) - David Smith (US): retained 1993. Subsequent history unknown.
---
Presumably the BT8 raced by Tom Byrnes (Ross, CA) at the Monterey Historics in 1997. Byrnes car was entered with this chassis number at the Monterey Historics 1999. Also seen at the Monterey Historics in 2002 and in 2010, and at the Rolex Monterey Motorsports Reunion in August 2011. Raced by Byrnes at HMSA Laguna Seca in June 2012, and at the Rolex Monterey Motorsports Pre-Reunion in August 2016.
Tom Byrnes (USA) 2016
Brabham BT8
SC-9-64
Sold to the Prince Motor Company in Japan in 1964, and used as the basis for the Prince R380 sports racing cars. However, the BT8 chassis was copied to create the R380s, and where that original Brabham chassis is today remains unclear. It was reported in 1993 to still be in the hands of Prince Motor Company, which had been merged into Nissan in 1966. Its current location is unknown.
Unknown
Brabham BT8
SC-1-65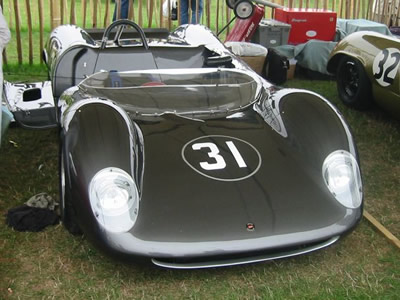 Built for 1965 season. New to Harvey (John?) Timken (US) 1965 with 2-litre Climax for Lew Kerr to race in the SCCA's E Sports Racing category, winning the 1965 national championship. Kerr headed to Europe for a season of F3 in 1966, again sponsored by John Timken, and the use of the BT8 in 1966 is unknown. Said to have been driven by Skip Barber in 1966 and then to George Barber, who raced a BT8 in 1967, but Barber is also reported to have had the ex-Peter Revson BT8 (also also the ex-Peter Sachs BT5).
The ex-Lew Kerr Brabham is next seen with Bill 'Mac' Flannigan (Georgetown, CT), when used in NorthEast Division BSR in 1971, qualifying for the Runoffs. Flannigan scored points in BSR again in 1972. Subsequent owners are reported as "Howard Terpak", Stan Vigil, and Steve Griswold before it was acquired by Robs Lamplough (UK) by 1986. Then to John Casado (US) 1987 - Steve Griswold (US) 1988 or 1989 - Mike Harrison (UK) 1994 … from Rick Hall to Lincoln Small (UK) 1999, and restored. Raced by Lincoln at HSCC Brands Hatch 16-17 June 2018. Sold to the Barber Vintage Motorsports Museum in 2020.
Barber Vintage Motorsports Museum (UK) 2020
Brabham BT8
SC-2-65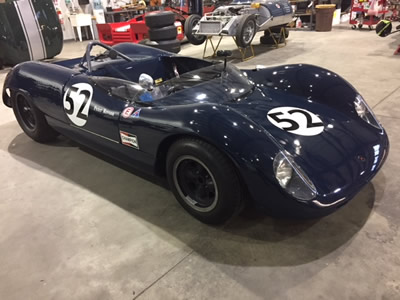 Built for 1965 season. Bill Kay 1965 with 2.0-litre Climax for Peter Revson - Skip Barber (Carlisle, MA) 1966 - Peter Helferick (Long Grove, IL) 1967 - Fred Opert (Paramus, NJ) - Bill Mitchell (Cheshire, CT) 1968: second in 1968 SCCA B Sports/Racers runoffs; also at 1969 and 1970 Runoffs; ran in 1971 Nationals with Alfa engine - Dave Headley (US) 1975 or 1976 - Rob Lamplough (UK) 1978 - Oliver Harris (UK) - Roger Baites (UK) about 1984 - Mike Harrison (UK) 1987 - Bruce McCaw (US) 1993. Sold by John Beasley at H & H Auction (Olympia 7 May 2003) to Graham Horder: blew engine in testing at Silverstone 2003 and car stored - Brendan Roberts early 2005. Sold by him via Mark Leonard of Grand Prix Classics (La Jolla, CA) to Jeff Lewis (Newport Beach, CA) in early 2007, and run for him by Hall & Hall.
According to the KTR Racing website, Bob Gett (Boston, MA) purchased the car in the UK in 2010, and ran it in the 2011 Goodwood Revival before returning it to the US. In early 2018, the car was bought from Gett by Dan Chapman (San Antonio, TX), and raced at Road America in May 2018.
Dan Chapman (USA) 2018
Brabham BT8
SC-1-66
Built for 1966 season. Willment (UK) 1966 for Tony Dean - Peter Crossley (UK) 1967 - Richard Thwaites (UK) 1974 - Don Orosco (US) mid-1980's - Robert McClenagan (Knoxville, TN) around 1996-98. From McClenagan by Charles A. Ferrell (Oklahoma City, OK) in 2013. Retained January 2016.
Charles A. Ferrell (USA) 2016
Brabhams in SCCA racing 1965-1973
In 1965, Jack Hinkle won D Modified (DM) in Midwest Division in SC-8-64, and Lew Kerr won E Modified (EM) in Northeast Division in SC-1-65, both with 36 points implying four straight wins. In 1966, Hinkle again won DM in Midwest, and Skip Barber was third in E Sports Racing (ESR) in Northeast Division. In 1967, Pete Helferich was second in ESR in Central Division in SC-2-65, and Ron Hunter was fourth in ESR in Midwest in a BT5. The SCCA categories changed for 1968, with E Sports Racing becoming B Sports Racing (BSR). Bill Mitchell dominated BSR in Northeast Division in SC-2-65, and John Sharrigan was also listed as having scored a single point in BSR in that division in a "Brabham", actually his "Brahma" clone. In 1969, Mitchell again won BSR in Northeast Division in SC-2-65, with Sharrigan fifth in the points table in the Brahma still being described as a Brabham. Mitchell won his third successive title in SC-2-65 in 1970, but was the only Brabham to score points across the US. In 1971 Bill 'Mac' Flannigan finished third in Northeast Division in SC-1-65, one place ahead of Mitchell in SC-2-65. Flanigan was fourth in Northeast in 1972, with Ed Loveday two places further down the table in SC-3-64. Loveday scored points again in Northeast BSR in 1973, the last appearance in the points tables by a sports racing Brabham.
Please contact Allen Brown (allen@oldracingcars.com) if you can add anything to our understanding of these cars.
These histories last updated on .