BRM P109 history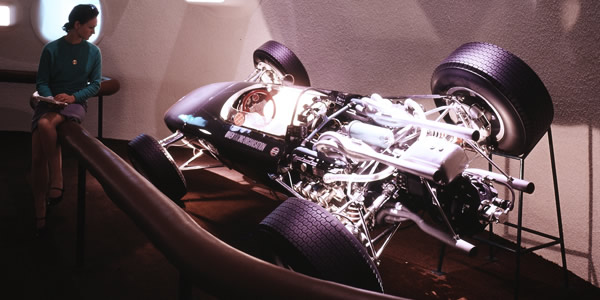 A BRM P109 show car was built with a H16 engine for display at EXPO 67 in Montreal during 1967.
The 1967 International and Universal Exposition, better known as EXPO 67, was held in Montreal, Canada from April to October 1967. It was probably the most successful World Fair of the 20th century, and had more visitors than any equivalent fair up to that time, 60 participating countries, and 90 pavilions. The British had started the idea of World Fairs with The Great Exhibition of 1851, and had revived them after World War II with Festival of Britain in 1951, so were well represented in Montreal. One of the pavilions featured British Industry, and this, it must be remembered, was at a time with the British car industry was at its peak. British companies were dominant in Formula 1, and BRM provided an H16 F1 car for the exhibit. This P109 was built especially for EXPO 67.
After the exhibition, the P109 was returned to Bourne and remained in storage until BRM folded in 1978. The car was then transferred to what became known as the Owen Collection, and was auctioned in 1981 together with a number of V16 and V12 cars, where it was bought by a high-profile oil executive. The P109 was later on display at the York Motor Museum in Western Australia from the mid-1980s onwards, before returned to the UK in the early 2000s. It was in storage in March 2017.
Car
Total
Race
Starts
Grand
Prix
Starts
Grand
Prix
Wins
First Race
Present Location
BRM P109
(no races recorded)
Private Collection 2019
Please contact Allen Brown (allen@oldracingcars.com) if you can add anything to our understanding of these cars.
These histories last updated on .