BRM P139 car-by-car histories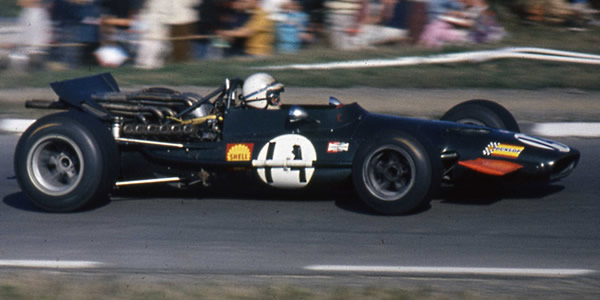 After John Surtees had established that the P138 was uncompetitive, he was instrumental in getting a revised P139 produced mid-season. This had only minor changes to suspension geometry and increased fuel capacity, and results did not significantly improve.
Alec Osborn had taken overall responsibility for car design at BRM in October 1967, reporting to Chief Engineer Tony Rudd, so Osborn was listed as the designer the new P139 for 1969, despite the lack of significant changes to Len Terry's original design. Rudd's main aim with the new car was to move the fuel load towards the middle of the car, much as Bernard Boyer had done with the successful Matra MS80, so the car was fatter in the middle. The first car was ready in time for the Dutch GP, but team leader John Surtees did not believe it was race-ready and used the old P138 instead. This triggered an upheaval at Bourne with Rudd being sacked, and Peter Wright's P152 "aerofoil car" being abandoned.
The team skipped the French GP to work on the P139, and by the time it returned for the British GP, the rear of the P139 had been radically strengthened, all the suspension pick-ups had been lowered, and the fuel load had also been repositioned lower in the monocoque. The car was now said to be 150 lbs lighter than the P133, and down on the weight limit. Surtees qualified sixth and started magnificently to run third on the opening lap, but it all ended very quickly when the suspension collapsed at Stowe, and he limped back to the pits to retire. The German GP was even worse, with the P139 leaking both oil and petrol and being withdrawn after practice. New chief engineer Aubrey Woods and newly-recruited chassis designer Tony Southgate then got to work on the car, and performances started to edge in the right direction. A second P139 was produced for Jackie Oliver to drive at the Italian GP, where Tim Parnell had taken over as BRM team manager. Surtees qualified tenth out of 15 in 139-01, with Oliver only one place behind him in 139-02. Surtees lost four laps due to lengthy pit stops, but was able to get some miles on a P139 at last, and finished the race eight laps down in 11th place. In Canada, neither P139 qualified in the top ten, and both retired early with engine problems. Things were little different in practice at Watkins Glen, and Oliver was again out early with ignition problems, but Surtees kept going and as others hit problems, he came through into third place at the finish, albeit two laps down on the leaders. This was, by some distance, the best performance by a P139. Surtees ran a new 139-03 at the Mexican GP, but cannot have been impressed when Silvio Moser was able to pass him in his antique Brabham BT24. Oliver managed sixth in 139-02 at this race. As soon as the season finished, Alec Osborn was released by BRM, engine designer Geoff Johnson having already jumped ship for a job at British Leyland. Reports that gearbox designer Alex Stokes had gone proved erroneous.
New Southgate-designed P153s were built for 1970, and the only appearances of a P139 were when George Eaton raced 139-02 twice as a third team entry. The other two were sold off to enthusiasts. After many years in the Rubery Owen collection, 139-02 was sold at auction to Tom Wheatcroft, and spent the next 25 years in the Donington Museum. In May 2017, the current owners of all three P139s are known, but as none are in the public domain, their names are not revealed here.
Please contact Allen Brown (allen@oldracingcars.com) if you can add anything to our understanding of these cars.
These histories last updated on .