BRM P207 car-by-car histories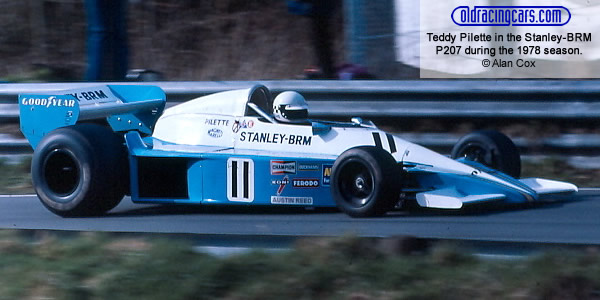 The BRM team ended its participation in F1 with the 1977 BRM P207. Now entered as Stanley-BRM, in honour of team owner Louis Stanley, the 'Stanley Steamer' is a contender for the worst F1 car ever built.
After Louis Stanley's F1 operation had missed almost the whole of the 1976 season, the team made a very unexpected come-back in the rarefied setting of London's Dorchester Hotel in December 1976, where "Big Lou" revealed that he had hoodwinked London-based Swiss watchmaker Rotary Watches into sponsoring an all-new Stanley-BRM P207 for 1977. The key words from the car's announcement were conventional, big, strong and heavy, with the emphasis on heavy. The word "if" was also used a lot, especially in connection with claims that the new BRM P202 V12 now produced 488 bhp, about half way between a Cosworth DFV and a Ferrari flat-12. Larry Perkins was resplendent in his Rotary Team BRM blazer, and would drive the car. Freelance designer Len Terry, who had been out of F1 for a good many years, was listed as the car's designer.
Autosport described the car's first test session as something of a disaster, but even this was trumped when the car was too wide to fit in the hold of the aeroplane flying it out to the Argentine GP. A bigger plane was found, and the P207 was taken out to Brazil for the next GP, where it lost most of practice with a variety of problems, the key one being overheating. Perkins was six seconds a lap slower than anyone else, but was allowed to start the race as only 22 cars were present. The P207 boiled itself dry in a single lap of the race, and was pushed away. An old P201 was used in South Africa after the P207 blew its only engine in testing, so the new car next ran at the Race of Champions, where it was 120 lbs overweight, had intermittent fuel pressure and was just plain slow. There were slower cars in practice, but Perkins had had enough, and opted not to race. He was followed in the cold seat by Conny Andersson, Guy Edwards and Teddy Pilette during the European F1 season, but none of them came close to qualifying for a race, and as a general rule the P207 was slowest of all. Pilette, a loyal supporter of the team, admitted that it wasn't just the engine that was bad, it was all bad. The Italian GP was BRM's last appearance in front line F1.
Car
Total
Race
Starts
Grand
Prix
Starts
Grand
Prix
Wins
First Race
Present Location
1
1
Brazilian Grand Prix
(23 Jan 1977)
New Zealand 2017
19
Aurora AFX British F1 Championship Round
(24 Mar 1978)
United States 2017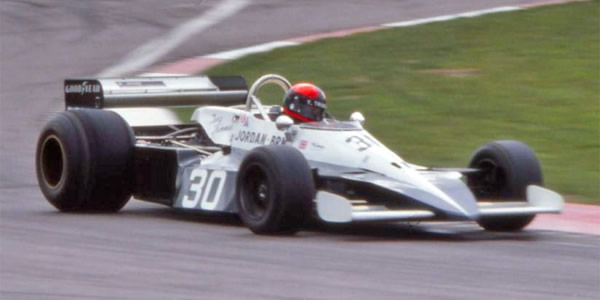 In 1978, Stanley-BRM moved into the British F1 series, competing with second-hand F1 and F2 cars, where Pilette could at least get a start. On a couple of occasions, the car even lasted to the finish and at Oulton Park in June, Pilette astonished onlookers with a fine run to fourth place, setting the fastest lap of the race along the way. After BRM finally closed its doors that autumn, the pair of P207s was sold to John Jordan, who entered them for Tony Trimmer to drive in the 1980 British series. A P207 was one of the first cars to race in HSCC Historic F1, in 1982, and that car later reappeared in Historic Grand Prix in the US. The other P207 was restored by John Jordan's former mechanic and sold out to New Zealand.
Please contact Allen Brown (allen@oldracingcars.com) if you can add anything to our understanding of these cars.
These histories last updated on .