Caldwell D8 history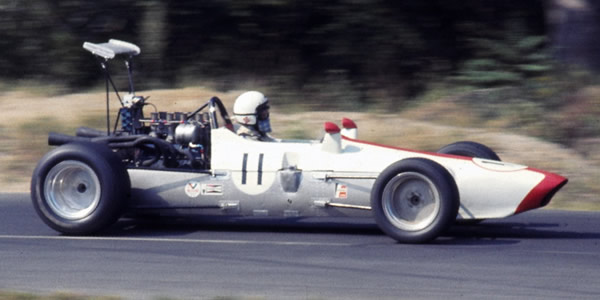 The one-off Caldwell Formula A was built by Ray Caldwell's Autodynamics company of Marblehead, MA, best known as the builder of the Autodynamics Formula Vee cars. Brett Lunger and Sam Posey drove the car, but without success.
In 1967, Caldwell made the big step up from Formula Vee to Can-Am, with his Group 7 monocoque Caldwell D7. The car impressed commentators with its highly unusual solid front axle and a de Dion rear suspension but the first car was destroyed in a massive testing accident at Lime Rock. Driven by Sam Posey, who financed the operation, and Brett Lunger, the car struggled for speed and reliability but did achieve some reasonable results in USRRC events. It was eventually replaced with a customer Lola T160.
The Formula A D8, built for 1968, seemed an obvious extension but it was neither Posey's nor Caldwell's priority and managed nothing better than Posey's seventh place at Lime Rock.
If you can add to our understanding of this car, or know anything of its history after 1968, please contact allen@oldracingcars.com.
Chassis
History
Current owner
Caldwell D8
'001'
Entered by Autodynamics Corp. for Brett Lunger, and first seen in a SCCA National at Lime Rock on 6 July 1968, where Lunger crashed. Later appeared in the Us Pro series driven by Lunger (at Mosport Park 25 Aug 1968, Donnybrook 22 Sep 1968 and Laguna Seca 12 Oct 1968) and by Sam Posey (at Lime Rock 2 Sep 1968). The car was 'retired' after 1968 season. Subsequent history unknown.
Driven by: Brett Lunger and Sam Posey. First race: Lime Rock, 6 Jul 1968. Total of 5 recorded races.
Unknown
Caldwell withdrew the D8 at the end of 1968 and refocused on the new Formula Ford category, where the Caldwell D9 won the 1969 SCCA Runoffs, and Formula Vee for 1969. The team continued with Posey in Formula A using Eagle and McLaren customer cars. Jack McCormack, Caldwell's FA project manager, would stay with Posey as team manager in the ChampCarr team in 1971/72, later becoming a constructor in his own right with the 1974-76 Talon F5000s.
Sources include Autosport 21 Mar 1969 pp22-23, 28 Mar 1969 p5 and Can-Am by Pete Lyons pp58-59.
These histories last updated on .