Colt 1970 Indy car-by-car histories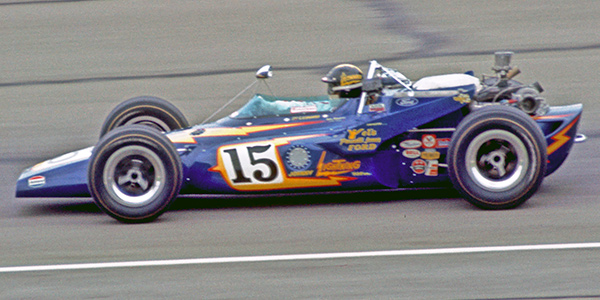 Led by George Bignotti, the Vel's Parnelli Jones Racing team built a new car for 1970, heavily based on the team's Lola T150. Driver Al Unser won the Indy 500 in one of these Colts and dominated the USAC championship.
Al Unser had been very successful in the Vel's Parnelli Jones team's Lola T150 in the latter half of the 1969 season, winning three races and adding three second-place finishes. For 1970, the team's veteran chief mechanic Bignotti decided to fabricate the team's own evolution of the Lola at the team's workshops in Torrance, California, the resulting cars to be called Colts. It was said at the time that Bignotti acquired a new T150-series monocoque from Lola and had two copies made from that template by Joe Fukushima, the team's shop manager and chief fabricator. The new Colts were intended for the super-speedways at Indianapolis and Ontario, and it appears that the Lola monocoque was also built up as a hybrid Colt-Lola for lead driver Al Unser to use on shorter tracks, but its exact usage is still being researched.
The Colt monocoque itself held 59 gallons of fuel, only slightly different to the 56 gallons held by the Lola T150, and an external tank was bolted to the left side of the monocoque to hold a further 15, with one last gallon held in the collector tank which brought the total fuel load up to USAC's maximum of 75 gallons. The car was designed specifically for Ford's turbocharged 150 ci V8 engine, then producing 780 bhp at 9600 rpm. Hewland's LG500 4-speed gearbox was retained from the Lola design. The car was ready for the start of the season and was extensively used in Firestone tyre tests before the Indy 500. Unser was fastest throughout Indy practice, taking pole position, and then winning the race in a new record time. However, this turned out to be the only race the car won in 1970, as Unser used other cars in the stable when he won at Phoenix, Indianapolis Raceway Park, Milwaukee and Trenton.
If you can add to our understanding of these cars, or have photographs that we can use, please email Allen at allen@oldracingcars.com.
Chassis
History
Current owner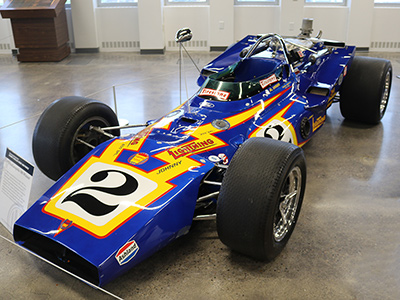 A brand new car fabricated by George Bignotti's crew for 1970, and raced by Al Unser for Vel's Parnelli Jones Ford as the #2 Johnny Lightning 500 Special. Unser dominated the 1970 Indy 500 in this car, and he also raced it at Ontario later in the season. This is believed to have been Unser's car for the early 1971 races, winning three of them. It was then the backup car that Unser drove at Pocono and Michigan in July, and at Milwaukee in August, where during a battle between Unser and his brother Bobby for the lead, the Colt suddenly swapped ends and hit the barrier, leaving the car "a mangled wreck". The damage was sufficient that the car was retired, but was later restored to its 1970 colours and used as a show car, before spending many years in the VPJ Collection's private museum in Torrance, CA. It returned to the Speedway for a race day celebration in 2010, and was acquired by the IMS Museum in May 2012 together with the rest of the VPJ Collection. Ran at the Goodwood Festival of Speed in 2011. On display in the Speedway Museum alongside the 1971 Indy 500-winning 1971 Colt in May 2012, August 2016, June 2017 and July 2019. On display at Monterey in August 2021., but back in the museum in September 2021.
Driven by: Al Unser. First race: Indianapolis Motor Speedway (R4), 30 May 1970. Total of 10 recorded races.
Indianapolis Motor Speedway Museum (USA) 2021
A second 1970 Colt built for Joe Leonard to drive for Vel's Parnelli Jones Ford as the #15 Johnny Lightning 500 entry. Leonard only used the car at the Indy 500, Milwaukee in June which he won, and Ontario in September. Photographs show that for the first few races of 1971, Leonard drove the Colt-Lola that Al Unser had used on mile tracks in 1970. Leonard then used his new 1971 Colt at the Indy 500, at Milwaukee in June, and at Pocono, but at Michigan in mid-July he was back to an older car, presumably this 1970 car. After damaging that car against the wall at Michigan, he was reported to be driving Unser's 1970 short track car again at Milwaukee in August before returning to his new 1971 Colt for the last three races of the season. Subsequent history unresolved but photographs suggest this was the car sold to the Fejer Brothers and George Eaton in July or August 1971.
Driven by: Joe Leonard. First race: Indianapolis Motor Speedway (R4), 30 May 1970. Total of 4 recorded races.
Unknown
The hybrid Colt-Lola
Chassis
History
Current owner
As well as his new 1970 Colt, Al Unser had two other similar cars available to him for the 1970 season, one for one-mile paved ovals such as Phoenix, Trenton, Milwaukee and Langhorne, and one for the road races at Sears Point, Continental Divide and Indianapolis Raceway Park. Photographs show that Unser used the same car on all the one-mile ovals and at Michigan, and that this was not his new 1970 Colt and was not his road-racing car, which has been identified as the team's remaining Lola T150. This extra "mile car" appears to have been built on a new Lola monocoque, presumably the same tub that was acquired so that it could be copied to create the 1970 Colts. According to press reports, this "Colt" was new for the Jimmy Bryan 150 at Phoenix in March 1970. He used it at eight races in 1970, winning three. This car was then raced by Joe Leonard in the early races of 1971, and is likely to be the car driven by Leonard at Milwaukee in June 1971, described in press reports as "Al [Unser]'s '70 backup car". Subsequent history unresolved.
Driven by: Al Unser and Joe Leonard. First race: Phoenix International Raceway (R1), 28 Mar 1970. Total of 13 recorded races.
Unknown
The 1970 Colts in 1971
Exactly how the two 1970 Colts and the hybrid Colt-Lola were used in 1970 and 1971 remains the subject of detailed study. As the team's surviving Lola T150 had been updated to the latest bodywork and was also now called a Colt, there is little in contemporary reports to show how the four cars were used in 1970. Two more 1971 Colts were built for the following season, but the updated Lola T150 was sold to Agajanian-Faas Racers, so that should have left five cars in the stable for Bignotti to choose between, and only close examination of photographs of the cars at every race is resolving how they were used. Al Unser's 1971 Colt was taken out of service after the Rex Mays Classic in June 1971 so that it could be converted to turbo Offy power, which left Unser driving his 1970 Colt at Pocono and Michigan, but he also had the 1970 Colt-Lola available. Leonard also drove his 1970 Colt at Michigan but crashed it, leaving the team with something of a shortage of cars going into the Tony Bettenhausen 200 at Milwaukee in mid-August. As well as the T150 that had been sold to Agajanian-Faas Racers, another car had been sold to George Eaton who would make his debut in the car at Milwaukee. Despite the shortage of cars, it appears that Eaton's deep pockets and the connections between Bignotti and the Fejer Brothers had allowed them to acquire the ex-Leonard 1970 Colt.
As the 1971 Colts had the larger fuel capacity needed for the 500-mile races, the team was likely to have planned to keep those two cars aside for the California 500 three weeks hence in September and use older machinery at the Milwaukee Mile. Unser was in his 1970 Colt-Ford but the press reported that Leonard would be in "Unser's 1970 Mile car". That shows that Unser's 1970 Mile car had not been the Lola T150, as that had already been sold, so must have been the 1970 Colt-Lola as a "mile car". Despite the reports, photographs from the Milwaukee race weekend show that the team decided to risk Leonard's 1971 Colt instead. , The 1970 Colt-Lola remained with VPJ as a backup until the end of the season.
To exacerbate the team's problems, Unser wrecked his 1970 Colt at that August Milwaukee race, so the team finished the season using their 1971 Colts at every race. Bignotti's crew built up a third 1971 Colt monocoque during this time, but it was not needed until the start of the 1972 season.
The unresolved cars
Although the history of Al Unser's 1970 Colt after 1970 is relatively clear, the fate of the Joe Leonard 1970 Colt requires deeper investigation. The car does not appear to have been used after Leonard's accident at Michigan in July 1971, but in an interview about the team's cars in 1972, Vel Miletich made no specific mention of this car, implying that it had not been destroyed and that it was one of the three cars that the team had sold. The three cars sold were Lola T150 SL150/2 sold to Agajanian Faas Racers in early 1971, and two unidentified cars that were the same shape as 1970 Colts: one sold to George Eaton in mid-1971 and one sold to Salt Walther for early 1972.
Mike Lashmett, a junior crew member with VPJ in 1971, recalls that Fukushima preferred to use countersunk rivets for parts of the chassis that were in the airstream, whereas the Lola monocoques were made with normal domed rivets. Motoring News mentioned this when the cars first appeared, commenting on their very close similarity to the Lola except that they were "flush-rivetted on the outer skin" (Motoring New 28 May 1970 p6). Based on this difference, photographs suggest that Eaton had been sold the 1970 Leonard Colt and that Walther acquired the 1970 Colt-Lola.
Chassis
History
Current owner
In 1971, Canadian department store heir George Eaton acquired a "Colt" from the VPJ team and it was run for him by the Fejer Brothers in the last few races of the USAC season. It was variously described as the car driven by Joe Leonard in the 1971 Indy 500 and the car used by Al Unser to win the 1970 Indy 500. It was probably neither, and its most likely identity is the 1970 Colt driven by Leonard in the 1970 Indy 500. Eaton returned for 1972, when the car was described as a "1971 Jones", but failed his rookie test and announced his retirement from motor racing two weeks later. The car then passed to Jim Hurtubise, whose crew chief George Morris made some modifications to the chassis, including square sidepods and a chisel nose. The car was described as a 1969 Lola in press reports prior to the Indy 500, where Hurtubise was too slow to qualify. He did race it at Pocono in July, when it was wearing Miller High Life livery. At this point, the old car was finally put to one side. Mike Lashmett kept track of this car, and reports that it remained with Hurtubise until his death in 1989, after which it was bought from the estate by dealer/collector Chuck Haines (St Louis, MO). It remained in Haines' collection for many years until being sold to a Swiss owner. In August 2015 Reto Kuprecht (Zurich, Switzerland) advertised a partly rebuilt Lola T150, quoting the chassis number SL150/1, but describing it as the Eaton/Hurtubise car. He sold the car to Roger Ehrbar (Güttingen, Switzerland), who was continuing the restoration in November 2020.
Driven by: George Eaton and Jim Hurtubise. First race: Milwaukee Mile (R9), 15 Aug 1971. Total of 6 recorded races.
Roger Ehrbar (Switzerland) 2020
Salt Walther (Dayton, OH) acquired a car from the VPJ team for 1972 which was described as a 1970 Lola. Walther qualified at Phoenix on 18 March but was bumped, and then crashed the car in a Firestone tyre test at the Indianapolis Speedway on 24 March. Hal McCoy, in an article about Walther for his hometown Dayton Daily News on 26 March, said that "the Lola was built in England, then three cars were copied off it by the Jones folks and dubbed P. J. Colts". Walther's chief mechanic George Morris repaired the car, and Walther qualified comfortably for the 500 in 27th position, only to retire from the race on the first lap with magneto failure. Walther's next event in the car was at Michigan in July, where he again qualified comfortably but was eliminated when he totalled the car in a pre-race crash with Lloyd Ruby, the same person who had bumped him at Phoenix. Having previously claimed that the $15,000 Lola had taken all the money he had, Walther immediately bought a McLaren M16 from Roger Penske for a reported $75,000. Mike Lashmett says that the Lola chassis was buried on father George Walther's property.
Driven by: David "Salt" Walther. First race: Indianapolis Motor Speedway (R3), 27 May 1972. Only one recorded race.
Wrecked 1972
Acknowledgements
My thanks to Michael Ferner, Simmo Iskül, Luis Mateus and others for their work deciphering these cars. Also to Simon Hadfield and Ian Blackwell for their contributions, to Gerald Johnson for information and photographs from Bill Enoch's archive, and to Brian Speake. Thanks also to Mike Lashmett, co-founder of the Vintage Indy Registry and a crew member with VPJ in 1971, who has maintained a strong interest in these cars. His interview with Tim Matthews at The Museum of American Speed in 2018 is available on YouTube and is well worth watching.
Newspaper reports have been particularly helpful, especially Ray Marquette in the Indianapolis Star 11 May 1970 page 31, and Hal McCoy on the Walther car in the Dayton Daily News 26 Mar 1972 page 77.
These histories last updated on .