Connew PC1 history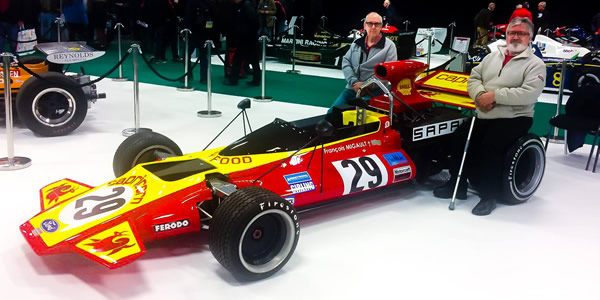 The story of Connew is one of an extraordinary project by F1 draughtsman Peter Connew and a small ground of friends to build a F1 car in a lock-up garage. Against all the odds, François Migault raced their car in the 1972 Austrian Grand Prix.
Peter Connew worked for the Surtees F1 team as a draughtsman, and was instrumental in turning John Surtees' ideas into the F1 Surtees TS7. From the moment he saw the team's first F1 car, a second-hand McLaren M7C, Connew wanted to build his own F1 car, and later that year started on the drawings of what would become the Connew PC1. The car was a straightforward yet highly competent design incorporating an open 'bathtub' monocoque with inboard suspension actuated by fabricated rocker arms at the front and a variable rate lever system at the back, which proved to be the car's Achilles' heel. The main radiator was mounted in the nose, with the intake on the underside. The first monocoque was built from 18 gauge L72 aluminium, but due to a rule change, the team had to build a second monocoque for 1972 using 16 gauge NS4 aluminium, so the car that raced was actually chassis 002. With no sponsor, Connew and his small band of helpers, led by Roger Doran, and Connew's cousin Barry Boor, had to reduce expense to the absolute minimum, and Connew estimates he got the car to the grid at its first race for an outlay of just £8,000. François Migault joined the project, bringing £3,000 sponsorship which allowed the team to put down a deposit on a Cosworth DFV engine and to buy a Hewland DG300 gearbox.
Migault ran the car in practice at the 1972 British Grand Prix, but a cracked suspension upright stopped him starting the race. After being denied an entry in Germany, the team made its first start at the Austrian GP, where Connew qualified last but had moved up four places before a rear suspension failure put him out of the race. David Purley then hired the car for a Brands Hatch non-championship race at the end of the season, but again failed to start due to an electrical problem. In 1973, the car was converted to Formula 5000 but driver Pierre Soukry was unable to start a race. Tony Trimmer raced it once at the end of the season, but retired with another suspension problem.
Car
Total
Race
Starts
Grand
Prix
Starts
Grand
Prix
Wins
First Race
Present Location
Connew PC1-001
(no races recorded)
Peter Connew (UK) 2018
2
1
Austrian Grand Prix
(13 Aug 1972)
Peter Connew (UK) 2018
The car and its unused spare tub were then stored and remained in Peter Connew's possession through various house moves. In 2014, Barry Boor succeeded in urging Connew to restore 002, and the pair had the car complete in time for the Goodwood Festival of Speed, having been loaned a blown Cosworth DFV engine by Doug Nye, and a Hewland DG300 by Hall & Hall. After further restoration, the car appeared at Race Retro in February 2018. The car is still some way from running condition, with both Peter and Barry expressing concerns about running a car that only has one nose and few other spares. However, plans are being floated to reform the original supporters' club and crowd-fund a project have the car run at Goodwood.
Please contact Allen Brown (allen@oldracingcars.com) if you can add anything to our understanding of these cars. A longer story about the Connew project appeared in Motor Sport August 1986 pp832-835, written by Mike Lawrence, and is highly recommended.
These histories last updated on .