Cooper T54 history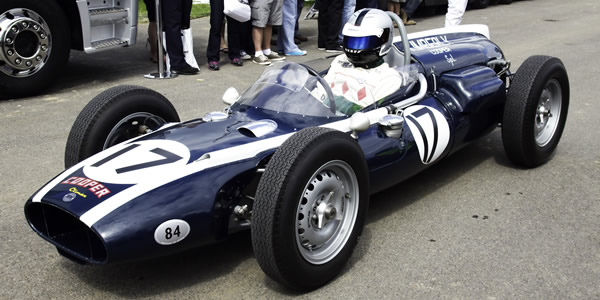 The 1961 Cooper-Climax Indianapolis 500 car turned USAC racing on its head and started the rear-engined revolution which would change the 500 completely over the next five years. Jack Brabham drove the (relatively) tiny T54 in the 1961 500, running as high as sixth and finishing ninth.
The rear-engined revolution at the Indianapolis 500 was inadvertently triggered by Rodger Ward, the 1959 Indy 500 winner, who entered an adapted Kurtis Kraft dirt track midget racer for the US Grand Prix at Sebring. He was given No 1 by the organisers and was sure that the midget's superior cornering ability would blow away the Cooper F1 cars which were on the verge of winning the World Championship. His confidence lasted all the way to the first corner of the first lap of practice when the Coopers of Brabham and Bruce McLaren left him in their dust. He qualified last and last by some distance. To his credit, Ward saw that these rear-engined F1 cars could succeed at the 500 and he convinced John Cooper to try out one of them at the Speedway. The following October, Cooper shipped one of the cars to Indianapolis where Jack Brabham ran at 128 mph on only his second lap. The Indy Chief Steward, Harlan Fengler, black flagged the Cooper for going too fast! When Fengler finally accepted that Brabham had experience of driving quickly, he was allowed to set laps at 143 mph and, the next day, at 144.8 mph. Pole position at the 1960 race had been 146 mph. The 2.5-litre Cooper was little more than half the weight of the 4.2-litre roadsters and drank fuel at about a quarter of the rate, reducing the need for pit stops. Cooper and Brabham knew they had a contender. Before they left, a deal was done with Kleenex boss Jim Kimberley to sponsor a car for the 1961 500.
Coventry Climax were persuaded to create a 2.7-litre version of their FPF engine and Cooper designed a new car based on the T53 but with a longer wheelbase to satisfy USAC regulations, although the USAC technical committee proved very cooperative and waived the length regulation. Dunlop provided special tyres and wheels for the project. Jack Brabham had to fly backwards and forwards between Indianapolis and the Monaco GP but still managed a practice lap of 146.5 mph and qualified on the fifth row with a four-lap average of 145.1 mph. He ran as high as sixth in the opening stages of the race but the Dunlop tyres were not as durable as the team had hoped so he could not run at full speed. Brabham still averaged 134.1 mph for the full 500 miles, and placed ninth.
There is more on this car on Philippe de Lespinay's website. If you can add anything to the history of the Cooper T54, especially where it was between 1965 and 1990, please contact Allen Brown (allen@oldracingcars.com).
Chassis
History
Current owner
Entered for Jack Brabham in the 1961 Indy 500 and qualified 13th. Ran well in the race and finished ninth. Returned to the Speedway in 1962 but only on display in the museum as Jim Kimberly focused his efforts on the new Mickey Thompson cars. Then sold to Kjell H. Qvale, the BMC distributor from San Francisco, and fitted with an Aston Martin Le Mans sports car engine for the 1963 Indy 500 as the #48 Cooper Special. Although underpowered, the car's handling was excellent and Pedro Rodriguez qualified only to be later bumped. It was next seen in 1965 when Don Radbruch (Palo Alto, CA) had fitted a Buick engine and was running it in local SCCA Formula A events. It was then advertised by Dick Terrell (San Bruno, CA) in April 1966. According to later owner Philippe de Lespinay, it was owned in the 1970s by Bob McLease (Seattle, WA) who sold it to Tony Soleski (Tacoma, WA). Solecki fitted a Chevrolet engine and it was raced for him by Darrel Lopeman until crashed badly at Spanaway in 1975. The remains were used by team mechanic Robert Wintrip to build a special but all that was left, including bodywork, corners, and much of the frame, were sold to 1990 to de Lespinay (Newport Beach, CA) and Robert Arnold. The chassis was reconstructed using Dave Friedman pictures and the car was restored in time for the 1991 Monterey Historics where it was driven by Sir Jack Brabham. Later seen at the 1994 Goodwood Festival of Speed, 2006 Monterey Historics, 2010 Pebble Beach Concours d'Elegance, 2011 Goodwood Festival of Speed, and 2016 Historic Indycar Exhibition. Sold at auction at Monterey in August 2018 to Rob Dyson (Poughkeepsie, NY), and put on display at the Indianapolis Motor Speedway Museum. Won the IMS award at Amelia Island Concours in March 2019. On display in the Saratoga Automobile Museum (Saratoga Springs, NY) in 2020, together with other Dyson Racing cars.
Driven by: Jack Brabham, Pedro Rodriguez and Don Radbruch. First race: Indianapolis Motor Speedway (R2), 30 May 1961. Only one recorded race.
Rob Dyson (USA) 2020
A previous version of this page said that the T54 was raced by Frank Ballard in Indy racing in early 1964. Photographs of Ballard's car have shown that it was an older Cooper T51, with a 4-cylinder Maserati engine.
The Cooper T53 backup car
As a backup to the Cooper T54 in 1961, Cooper also took along one of the their 1960 F1 cars, believed to be F2-12-60, which was fitted with centre-lock hubs, 15-inch wheels and standard F1 tyres. The car did not turn a wheel at the 500 and was later sold to Hap Sharp who ran it in exhibitions and assorted libre, Intercontinental and Formula A races over the next four years. It was then seen in minor Formula A races until the end of 1968 and was later advertised in West Virginia. There is now a car in the IMS Museum which is said to be the Indy backup car, donated to the museum in 1969 and restored as a replica of the T54 but as this overlaps with the history of the car in West Virginia there is some doubt as to whether it is actually that car.
These histories last updated on .