Cooper T71/73 history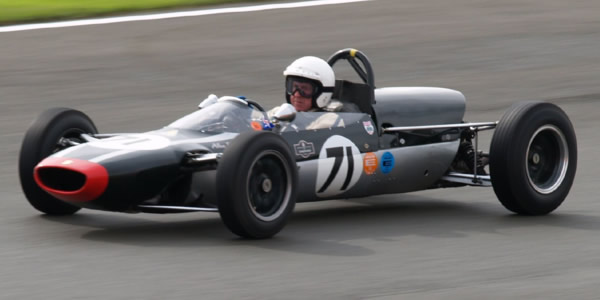 A one-off car built up by Bob Gerard Racing using a combination of F1 T73 and F2 T71 components, this car has always been known as the T71/73. It was raced in minor F1 races but also in libre, in F2 and even in F3.
Leicester's Bob Gerard was a very successful racer in the 1950s, finishing second in the 1949 British GP in his ERA 'B' Type and also winning major F1 races at St Helier and Douglas in 1949, at Douglas again in 1950, at Gamston Airfield and Castle Combe in 1951, and at Charterhall in 1952. After retiring in 1958, he set up Bob Gerard Racing, giving a number of young drivers their first break. By 1962, "Mr Bob" was running a Cooper that his Parrs of Leicester had built from a Formula Junior Cooper T59 chassis mated to a 1.5-litre Holbay Ford engine which could be used in F1 races or, with a change of engine, in Formula Junior. For 1964, that trick was repeated but using a F1/F2 chassis and a 1.5-litre Ford twin-cam engine.
If you can add anything about this car, particularly the period from 1971 to 1997, please contact Allen Brown (allen@oldracingcars.com).
Chassis
History
Current owner
Although given a F1 chassis number, F1-3-64, this car is now seen more as a cross between the F1 Cooper T73 and the F2 Cooper T71. It was built up by Bob Gerard's team and fitted with a 1.5-litre Ford twin cam engine with the intention of using it in minor F1 races and in Formule Libre, especially at Gerard's local Mallory Park. John Taylor raced for Gerard in libre with great success in 1964, in the early-season English non-championship F1 races and at the British GP. Gerard then acquired an ex-works F1 Cooper T60 V8 for Taylor to drive, and the T71/73 was then raced by Alan Rollinson and Taylor later in the season. It was also converted to F2 specification for Taylor to use in a couple of races in September. The car reappeared in F1 spec again in 1965 for John Rhodes, as a F2 for Taylor, as a 1650cc libre car for Taylor, and then even as a F3 car for Bob's son Julian Gerard. It was not used again until late 1966 when Chris Lambert raced it as a F2 and then it became Julian Gerard's regular libre car in 1967. It was finally sold at the end of 1967 to Bob Wenz (Los Gatos, CA) who raced it in SCCA Formula B from 1968 to 1972. It then went to Bob Korst and was "laid up" for 20 or so years until Alan Baillie (Henley-on-Thames, Oxfordshire) acquired it and brought it back to England. He restored it to 1.5-litre F1 specification with a Ford twin cam and raced it from 1997 onwards in historic racing, generally in HGPCA Grand Prix Cars events. It was sold to car dealer Chris Drake (London) for 2018, who also raced it with the HGPCA. Raced by Drake in the HGPCA Pre-66 race at the Silverstone Classic in July 2021.
Driven by: John Taylor, Alan Rollinson, John Rhodes, Piers Courage, Julian Gerard, Chris Lambert and Bob Wenz. First race: Oulton Park, 21 Mar 1964. Total of 40 recorded races.
Chris Drake (UK) 2021
These histories last updated on .