Cooper T73 car-by-car histories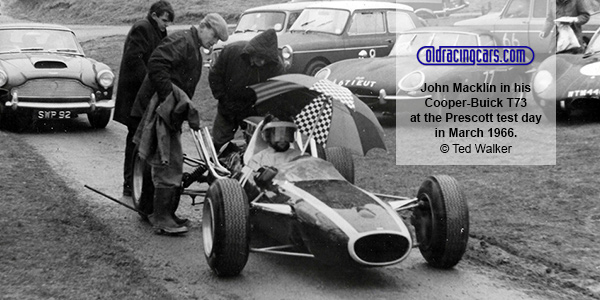 Cooper's 1964 F1 design, the T73, was based loosely on the Tasman slimline T70 design with stressed panels on the floor and sides, but also with rocker arm front suspension and inboard springs. Phil Hill joined Bruce McLaren as team drivers.
1964 was not a happy year for Cooper with the T73 design not proving a great success and a number of staff leaving Cooper for Bruce McLaren's new private company to build sportscars. Bruce himself managed a couple of second place finishes in the T73, at Spa and at Monza, but Phil Hill's season was a disaster, culminating in wrecking two cars in the same weekend at Zeltweg in Austria. Just before the end of the season Charles Cooper died from a heart attack.
To add to the sorry story of the Cooper T73, both cars were destroyed not long after, one of them when John Macklin crashed heavily after his throttle jammed open during practice for a hillclimb at Harewood on 1 May 1966, and the other a year later when the JA Pearce transporter carrying the Cooper and the team's two new Pearce-Martin F1 cars was consumed by fire at Silverstone.
If you can add to our understanding of these cars, or have photographs that we can use, please email Allen at allen@oldracingcars.com.
Chassis
History
Current owner
Team leader Bruce McLaren got the first of the new T73s for the first race of the 1964 F1 season while Phil Hill had to use a 1963 T66. Raced throughout the season. Retained for 1965 when it was used as a T-car by both McLaren and new driver Jochen Rindt, and then raced by Rindt at three late-season races. Sold to hillclimber John Macklin for 1966 and fitted with a 3.5-litre Buick V8. The car was not ready for the opening round of the British Hill Climb Championship at Loton Park in April 1966, so made its first appearance at Harewood the following weekend, where Macklin unfortunately crashed heavily during practice and the Cooper was destroyed.
Driven by: Bruce McLaren, Jochen Rindt and John Macklin. First race: BARC Aintree 200, 18 Apr 1964. Total of 15 recorded races.
Destroyed 1966
Phil Hill's works F1 car for the 1964 season but Hill had a poor season, scoring just a single point. After crashing two cars at Zeltweg, both his usual F1-2-64 and the spare T66, he was effectively fired by Charles Cooper. The car was raced just once by Hill's replacement Jochen Rindt at the start of 1965 and then stayed at the Cooper factory until it was sold to J.A. Pearce for 1966. Pearce fitted a 3-litre Ferrari GTO V12 engine and the car was raced by Chris Lawrence at the British and Germans GPs in 1966 and at two further non-championship events. The car was in the Pearce transporter when it was destroyed by fire at the International Trophy meeting. Contemporary reports say that the Cooper was completely destroyed in the fire but later unconfirmed reports say that it somehow survived.
Driven by: Phil Hill, Bruce McLaren, John Love, Jochen Rindt and Chris Lawrence. First race: Monaco Grand Prix, 10 May 1964. Total of 13 recorded races.
Destroyed 1967
These histories last updated on .