Cooper T77 car-by-car histories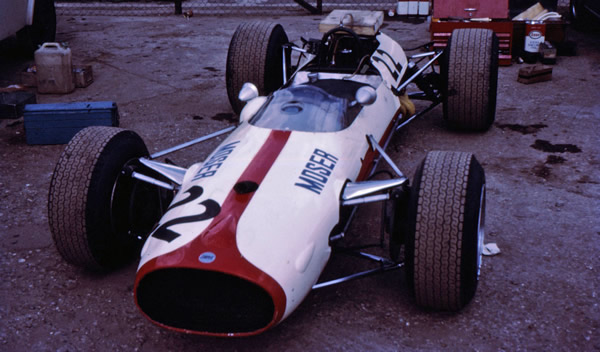 For the final year of the 1500cc Formula 1, Cooper produced the T77, with only minor changes from the preceding T73. Little further development was done during another dismal season. Bruce McLaren was joined as driver by Austrian F2 star Jochen Rindt.
Cooper were just going through the motions during 1965 as the team prepared for the new 3-litre F1 to come in 1966. After Charles Cooper's death, his son John Cooper looked for a buyer, and in April 1965 a deal was done with Jonathan Sieff's Chipstead Group. Following that, a deal was struck with Maserati for supply of engines for 1966, as Coventry Climax had announced that they were pulling out. Designer Owen Maddock had left, leaving draughtsman Eddie Stait to be listed as the designer of the T77, although he also left for McLaren's new operation during 1965.
The two T77s were quickly sold off to hillclimbers although one would return to F1 with an ATS engine in the back. Both vanished in the late 1960s, although a car has recently appeared in Switzerland that is said to be F1-1-65. The other car remains to be rediscovered somewhere in America.
My thanks to Ted Walker of Ferret Fotographics for the use of the photograph.
Chassis
History
Current owner
John Rindt's works Cooper T77 in F1 for 1965. Kept until Monza when Rindt moved to an older T73, having not scored a single point all season. The T77 was sold to Fritz Baumann (Uster, Switzerland) and modified by Alf Francis to take an ATS V8 sports car, increased from 2500cc to about 2700cc. Baumann won the opening round of the 1966 Swiss championship in the Cooper-ATS and it was loaned to Jo Bonnier for the French GP in July but it was so slow during practice that he did not race it. The Cooper was also loaned to Charles Vögele during 1967 for Silvio Moser to use at the Syracuse and British GPs. It was sold to Gildo de Guidi (Schaffhausen, Switzerland) for 1968 and again used in the Swiss championship. Near the end of the season de Guidi raced it at the Gargellen hillclimb in Austria and although he was classified third, it is reported that the car was very badly damaged at this event. The engine and suspension were still in Switzerland in the late 1990s but the chassis may have been scrapped. The car was later restored, and started to appear in historic events from 2012 onwards. In March 2017, Urs Eberhardt reports that the car will be racing in HGPCA events in 2017.
Driven by: Jochen Rindt, Bruce McLaren, Fritz Baumann, Jo Bonnier, Silvio Moser, Charles Vögele and Gildo De Guidi. First race: Race of Champions, 13 Mar 1965. Total of 20 recorded races.
Customer of Urs Eberhardt (Switzerland) 2017
A Cooper works entry for team leader Bruce McLaren in F1 in 1965, finishing third at Spa. Sold to Scottish husband and wife hillclimbers Gray and Agnes Mickel for 1966 and fitted with a 2.2-litre Coventry Climax FPF engine. The pair were not very successful in the car and it was sold off to US racing car dealer Fred Opert at the end of the season. Presumably sold to the US for Formula A although it is possible it was fitted with a Ford twin cam for FB. Subsequent history unknown.
Driven by: Bruce McLaren, Gray Mickel and Agnes Mickel. First race: Race of Champions, 13 Mar 1965. Total of 15 recorded races.
Unknown since 1967
Please contact Allen Brown (allen@oldracingcars.com) if you can add anything to our understanding of these cars.
These histories last updated on .