Cooper T79 history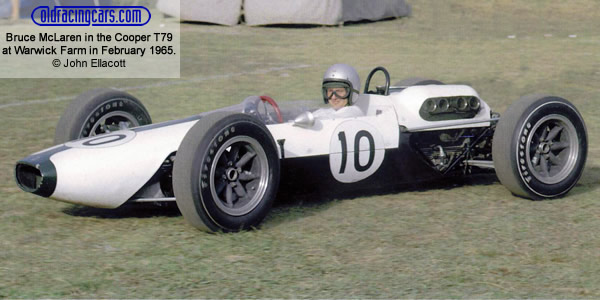 Bruce McLaren Motor Racing returned to the Tasman series for 1965 with an updated design, the Cooper T79. Like the F1 T77 and F2 T75 designs, it had much tidier front suspension distinguished by a radius rod running back from the top of the front upright.
Some doubt remains about the Cooper Type number of the 1965 Tasman car. In 1964, Cooper produced the T70 Tasman car, the T71 F2 car, the T72 F3 car and the T73 F1 car. For 1965, they produced the T75 F2 car, T76 F3 car and T77 F1 car so was the Tasman car actually the T74? There are period references to the Tasman car being the T74 but these were typically shouted down by people quoting from Cooper's official list. However, Cooper produced several official lists and they didn't all agree. The T79 designation is preferred here, but only just.
Only one T79 was built, and this was driven by Bruce McLaren with new teammate Phil Hill driving the surviving 1964 T70. Both were painted white with a single green stripe, the same as the F1 McLarens in 1966. Bruce won the Australian GP in the new car, and also finished second at Wigram and Teretonga to take second place in the championship. The T79 was then sold to John Love who repainted it in works colours, green with twin white stripes, and used it to dominate the South African F1 series from August 1965, when it won its debut race, to May 1967, when Love won the last time he raced it. It was then raced a few more times in South Africa but the arrival of Cosworth DFV F1 cars rendered it obsolete. It was sold back to England in early 1968 where Rob 'Tiny' Littler acquired it for libre racing, and it was still in Love's colours when John Hardman acquired it in 1971.
Please email Allen at allen@oldracingcars.com if you can add anything.
Chassis
History
Current owner
New for Bruce McLaren in the 1965 Tasman series and fitted with a 2.7-litre Climax engine. Won the Australian GP and second at two other rounds. To John Love (Bulawayo, Rhodesia) and raced in South African 3-litre F1 events from August 1965 onwards, and took Love to the South African championship in 1965, 1966 and 1967. So competitive was this car in his hands that he led the South African GP at Kyalami in 1967, eventually coming home in second place. For various other drivers over the next year, then to Rob 'Tiny' Littler in England for libre racing in 1968. Sold to John Hardman (Sheffield, South Yorkshire) in 1971 for libre and hillclimbs. Joined the collection of John McCartney (Bolton, Lancashire) in 1973 and raced in hillclimbs from 1974 to 1983, still in John Love's livery. To Tony Podell (Rolling Hills, CA) by 1988. With Joel Finn (Roxbury, CT) by 1991. Bought from Finn by Bob Woodward (Dubuque, Iowa) in 1997 or 1998. Used in historic racing in the US and England up to 2007, after which it was little used. In 2014, it was reported that Bob Woodward was in a nursing home and that the Cooper was for sale. In late 2016, it was sold by Barbra Woodward to Michael Gans in Switzerland. Run by Gans at the Monaco Historique in 2018 and 2021. Raced by Gans at Spa in September 2022.
Driven by: Bruce McLaren, John Love, Gordon Littleford, Paul Hawkins, Basil van Rooyen, Allen Harris, Jackie Epstein, Rob "Tiny" Littler, John Hardman and John McCartney. First race: Levin International, 16 Jan 1965. Total of 48 recorded races.
Michael Gans (Switzerland) 2022
These histories last updated on .